Bachelor of Social Work
Overview
The BSW Program at Portland State University combines theory with practical, hands-on experience which prepares undergraduate students for careers in social work and related fields and for future graduate studies. Students in our BSW Program gain knowledge, values, and skills to work with individuals, families, groups, organizations, and communities. Our program is committed to centering critical self-reflection, racial equity, and social and economic justice, and we encourage our students to be active citizens and practitioners who embody these values.

The School of Social Work is accredited by the Council on Social Work Education (CSWE). We are the only accredited BSW program in a public higher education institution in Oregon.
The program offers either a Bachelor of Arts (B.A.) or a Bachelor of Science (B.S.) degree with a major in Social Work. Students can attend the program at the Portland campus, or enroll in the BSW Online program.
The BSW Program at Portland State University prepares undergraduates to become entry-level professionals who will work in a wide variety of community-based human services organizations, both public and private. Graduates work in a number areas of practice, including policy and advocacy, direct practice, research, and education. Social workers also work across a diverse array of settings, programs, and initiatives, including child welfare, mental health, healthcare, aging, substance use, immigration, corrections, juvenile justice, and anti-racism, anti-violence, and anti-poverty initiatives.
---
Requirements
An Undergraduate Major in Social Work consists of 75 credits plus a 500-hour field placement.
Download list of program requirements (PDF) »
Prerequisite
90 credits (junior standing): 4 credits Psychology, 4 credits of Human Development, and 4 credits Sociology
Required courses (51 Credits)
SW 301U Introduction to Social Work (4)
SW 339 Introduction to Oppression and Privilege (4)
SW 340 Advocacy for Policy Change (4)
SW 341 Social Justice Practice (4)
SW 350 Human Behavior through the Lifespan (4)
SW 351 Beginning Generalist Practice (4)
SW 400 Field Placement & Seminar I, II, III (4,4,4)* (Please see Field FAQs)
SW 430 Generalist Practice with Groups (3)
SW 431 Generalist Practice with Individuals & Families (3)
SW 432 Generalist Practice with Communities & Organizations (3)
SW 450 Social Work Research & Evaluation I (3)
SW 451 Social Work Research & Evaluation II (3)
Required Elective courses (24 Credits)
Equity & Inclusion Electives (12 credits from BST, NAS, CHLA, or WS)
Upper Division Program Electives (12 credits)
Download list of upper division program electives (PDF) »
Required Field Placement
During senior year, students will complete coursework and a 500-hour (16 hr/week) field placement in a range of human service organizations, preparing students to work effectively with our increasingly diverse communities.

View field placement FAQs »
---
Admissions
Application Dates
Applications may be obtained online between January 1st and March 1 for each fall term. Applications must be submitted or postmarked by March 1st.

BSW Online Program applications are due May 1st. (*BSW Online does not replace the BSW Portland Program for fall 2020.)

We advise students to begin thinking about and preparing for the admissions process as soon as they think social work may be their major. The BSW Program is a professional program and we accept students into the program once a year. We do not have "rolling admissions" or "open admission." If you are currently a junior you may not assume you will get into the program and start in the fall term unless you have applied and have been accepted, so start planning in your sophomore year. It is recommended that you take SW 301U: Introduction to Social Work before you apply so you can make sure this career choice is the best match with your interests, experience, and skills.
Contact our BSW Advisors to answer additional questions you may have after reviewing the material on the website.
Get information about BSW advising »
Application Checklist
Basic Information
Provide current contact Information and personal information (DOB, race/ethnicity, veteran status, etc.).
Select the program option you are applying for, Portland Option or Online Option.
Provide your residency status for tuition purposes.
Please review the Criminal Conviction Statement.
Review the Criminal Conviction Statement »
Educational Information
Be admitted to Portland State University to apply.
Be "junior" status (90 credits) by the term you will be admitted.
Meet the 3 prerequisites (4 credits of PSY, 4 credits of Human Development, and 4 credits of SOC).
Complete and submit your application by due date posted.
List all volunteer, work, and military experience. Please be aware that special attention is paid to experience in social work or related fields, both paid and volunteer.
Submit two (2) letters of reference from individuals who can address and discuss your work history and/or your volunteer experiences; do not have family members, therapists, or friends complete this form
Submit Unofficial transcripts from all colleges/universities attended
Submit a short essay about why you desire to become a social worker
Application Materials
2021 BSW Portland Application Materials
Applications for 2020 have closed. Application materials for the 2021 academic year will be released January 1, 2021.
2021 BSW Online Application Materials
Applications for 2020 have closed. Application materials for the 2021 academic year will be released January 1, 2021.
Contact
Kate Constable »
SSW Academic Advisor
(503) 725-5925
Kim Utschig »
SSW Academic Advisor
(503) 725-8961
Melissa Penners »
BSW Program Assistant
(503) 725-8241

Mollie Janssen »
BSW Online Coordinator and Advisor
(503) 725-5016
---
BSW Information Sessions
Thinking of applying to the BSW or BSW Online Program at Portland State? Want to learn about our Program?
Sessions will be held throughout the year. Please check the events calendar regularly as we continue to add dates and times. The times shown are Pacific Time unless otherwise noted. Space is limited so be sure to RSVP to reserve a seat.
The information sessions will be held virtually via the Zoom video conferencing platform. A link will be provided via email to join the Zoom session 1 or 2 business days before the session. Please RSVP to be added to the list to receive the link for the session you wish to join.

View Events Calendar »
---
---
---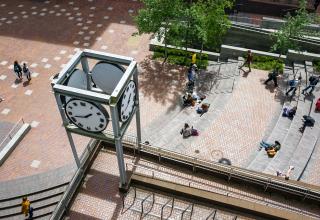 ---