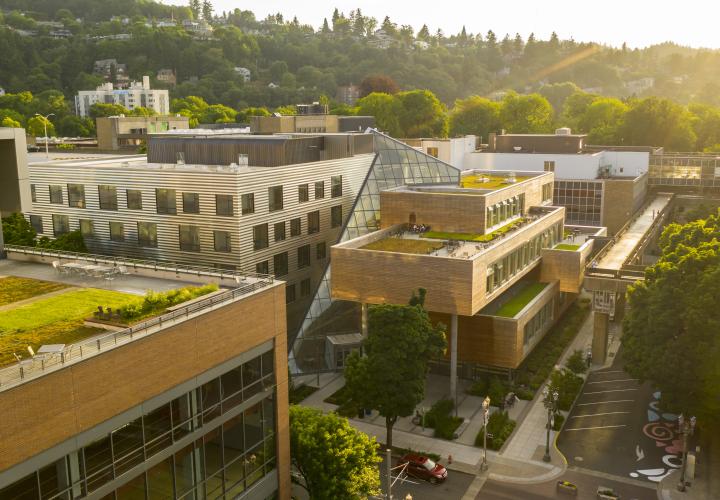 PSU Scholarships
The PSU Scholarship Application is now open. To apply for all Portland State scholarships visit the PSU Scholarship Universe portal. Use Scholarship Universe to submit an application for the thousands of dollars in scholarships PSU will award for the 2022-2023 academic year.
The PSU Scholarship Application for the 2022-2023 Academic Year is now open. To apply for all Portland State scholarships visit the PSU Scholarship Universe portal. 
Applicants will be notified of the results of their scholarship applications at the email address they used on the application by early May.
Portland State University awards hundreds of thousands of dollars in scholarships to students each year through the online Scholarship Application. Scholarships are awarded once each year. We highly encourage students to search for and apply for other scholarship opportunities.
PSU's Scholarship Application is used to award both general (non-degree specific) as well as programmatic, departmental, and college-specific scholarships. These scholarships are mostly cash awards provided through the generosity of many donors. Scholarship recipients will need to submit a thank you note that can be shared with their scholarship donor.
Read our tips for getting letters of recommendation and writing scholarship essays.
---
Notification
Scholarship recipients will be notified of their awards in May via their @pdx.edu email address. The scholarships will be added to financial aid award packages for the subsequent school year. Applicants who were not awarded scholarships will be notified by June via the email address used on their scholarship application. Most PSU scholarships require full-time enrollment (12 or more credit hours for undergraduate and 9 or more credits for graduate) per term. If a scholarship recipient must enroll less than full time, the recipient must contact the department that awarded the scholarship to find out if they are still eligible to receive the award.
---
External Scholarship Resources
Office of Student Access & Completion (OSAC)
Office of Student Access & Completion (OSAC) provides opportunities for scholarships, tuition support, and financial aid. OSAC awards more than $17 million in scholarships annually.
FastWeb Scholarship Database
FastWeb Scholarship Database is the largest scholarship search site. FastWeb compares your information with the database of awards and identifies matches and they will notify you when new awards that match your profile.
Sallie Mae's Scholarship Search
Sallie Mae's Scholarship Search gives you access to more than 5 million college scholarships. You can search for college scholarships that match your skills, activities, and interests based on your profile.
United Negro College Fund (UNCF)
UNCF has helped more than 500,000 students earn their college degrees since its founding. UNCF is the nation's largest private scholarship provider to minority group members. They award more than $100 million in scholarships to students annually.
Scholarships.com
Scholarships.com has a database of more than 3.7 million scholarships and grants. If you set up a profile you can get a list of scholarships that match your information and search for college scholarships by major, athletics, art, ethnicity, race, first-in-family, GPA, state, or name.
Scholarship America
Scholarship America offers a simple and easy scholarship search. You can search by name, location, and availability within a database of hundreds of scholarships. They also offer support for navigating the college search process, accessing financial aid, and understanding how you'll pay for college.
theWashBoard.org
theWashBoard.org connect Washington students with Washington scholarship providers. Whether you'll be attending college in-state or out-of-state, theWashBoard.org can help you find scholarships that match your profile.
College Success Foundation
College Success Foundation provides a unique integrated system of supports and scholarships to inspire underserved, low-income students in Washington State and the District of Columbia to finish high school, graduate from college and succeed.