LSAMP Program
Our Mission
The Louis Stokes Alliance for Minority Participation (LSAMP) Program is committed to supporting the success of students from historically underrepresented groups pursuing and earning a bachelor's degree in Science, Technology, Engineering, and Mathematics (STEM). With support from the National Science Foundation and the Provost's Office at PSU, we provide mentorship, activities, events, and opportunities for students at Portland State University or from our local community colleges.
---
Programs to Check Out
STEM Bridge Program (September 2021)
LSAMP is hosting a STEM Bridge program geared towards supporting LSAMP-eligible* students who want to connect with their peers, learn more about resources to succeed in their STEM major, and build a strong foundation at PSU.
The STEM Bridge program is scheduled for Monday, September 20th through Wednesday, September 22nd. This opportunity is geared towards incoming freshman and transfer students and all participants will receive a $150 stipend to spend on educational materials (textbooks, etc) at the completion of the bridge program. The first day will be virtual and the following two days will be on campus with lunch provided. The bridge program times are:
Monday, Sept 20 - 9:00 AM - 1:00 PM (100% online)
Tuesday, Sept 21 - 9:00 AM - 5:30 PM (on campus, includes 1.5hr scavenger hunt)
Wednesday, Sept 22 - 9:00 AM - 5:30 PM (on campus, includes closing ceremony and networking event)
Space is limited! LSAMP is only accepting 19 students for this program, so fill out our interest form today! UPDATE - We have filled up. If you'd like to join our waiting list please contact lsamp@pdx.edu
Scholars for Success in STEM Program (Fall and Winter terms)
In addition to the STEM Bridge, we have an exclusive opportunity for underrepresented students majoring in any of our Engineering or Computer Science programs. In addition to securing a spot in the STEM Bridge program in September, students part of the Scholars for Success in STEM program will participate in bi-monthly student development workshops throughout the fall and winter terms. These workshops will include industry site visits, resume and scholarship application workshops, and much more. Students will also be paired with a peer mentor from their major or a similar discipline. To learn more and apply visit the Scholars for Success in STEM program webpage.
LSAMP-eligible*: Self-identify as Black/African American, Latino/Latine, Native American, Native Hawaiian, or Native Pacific Islander and declared STEM major.
---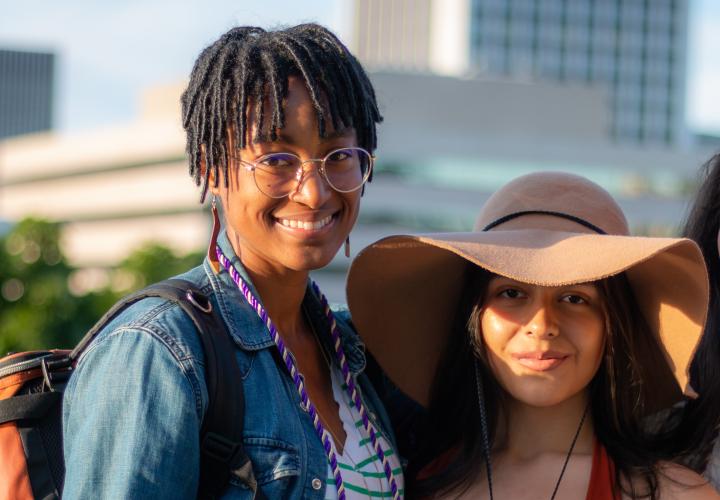 About LSAMP
Since 2009, LSAMP has supported hundreds of students in their academic journey at PSU. These students join our welcoming community of peers and advocates. They regularly use the LSAMP Center, perform independent research in labs, or secure internships in technology and engineering fields.
Resources
Community College Program
Over 100 students have participated in programming offered through our LSAMP Community College Program. Students are mentored by our Community College Liaison who visits Portland Community College weekly. This ensures a smooth transition from community college to your first term at PSU.
Scholarships & More
LSAMP students are encouraged to apply to scholarship, internship, and research opportunities to expand their career options. Staff are available to coach and review your resume, essay, or other submission materials.
Community of Advocates
LSAMP consists of a large community of student, alumni, and faculty advocates. We are guided by a professional advisory council made up of LSAMP alumni, researchers, and industry members. Our student advisory council supports the LSAMP community and provides opportunities for leadership.
PNW LSAMP Alliance
PSU LSAMP is part of the Pacific Northwest LSAMP Alliance. We are a National Science Foundation grant-funded program that includes regional partners in Oregon, Washington, and Idaho. You gain access to LSAMP programming and resources here at PSU and beyond.
Previous
Next
---
Our Students
Briauna Pope
Major: Biology | Pre-Physician Assistant Track
Briauna loves learning, the outdoors, and family. At OHSU she works as a CNA in the Neuroscience ICU and volunteers with Rose Haven, the crisis text line for the PDX community.
Edgar Sanchez Fausto
Major: Environmental Engineering
Completing a dual degree from PSU and Pacific University, Edgar is completing research on atmospheric rivers and secondary extratropical cyclone interactions.
Emmanuel Mensah
Major: General Science
Emmanuel hopes to attend medical school when he graduates. Since transferring from PCC, he's been an active member in PSU's BUILD EXITO and ACCESS programs and will be an Ignite mentor this fall.
Previous Hero Slide
Next Hero Slide
---