Our Mission
The Louis Stokes Alliance for Minority Participation (LSAMP) Program is committed to supporting the success of students from historically underrepresented groups pursuing and earning a bachelor's degree in Science, Technology, Engineering, and Mathematics (STEM). With support from the National Science Foundation and the Provost's Office at PSU, we provide mentorship, activities, events, and opportunities for students at Portland State University or from our local community colleges.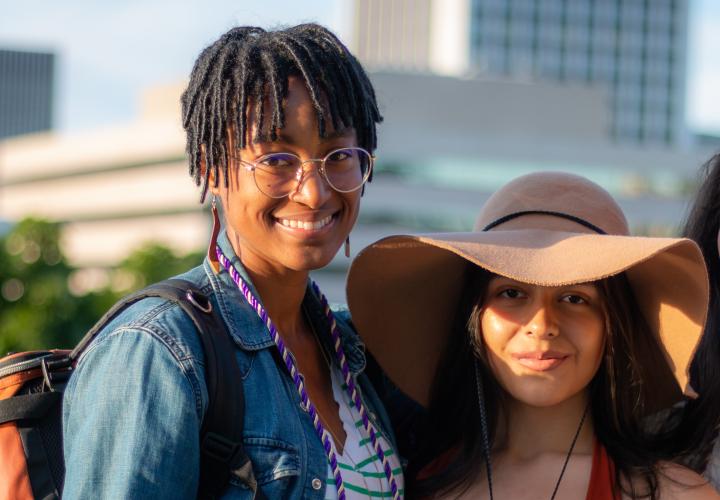 About LSAMP
Since 2009, LSAMP has supported hundreds of students in their academic journey at PSU. These students join our welcoming community of peers and advocates. They regularly use the LSAMP Center, perform independent research in labs, or secure internships in technology and engineering fields.
Resources
Community College Program
Over 100 students have participated in programming offered through our LSAMP Community College Program. Students are mentored by our Community College Liaison who visits Portland Community College weekly. This ensures a smooth transition from community college to your first term at PSU.
Scholarships & More
LSAMP students are encouraged to apply to scholarship, internship, and research opportunities to expand their career options. Staff are available to coach and review your resume, essay, or other submission materials.
Community of Advocates
LSAMP consists of a large community of student, alumni, and faculty advocates. We are guided by a professional advisory council made up of LSAMP alumni, researchers, and industry members. Our student advisory council supports the LSAMP community and provides opportunities for leadership.
PNW LSAMP Alliance
PSU LSAMP is part of the Pacific Northwest LSAMP Alliance. We are a National Science Foundation grant-funded program that includes regional partners in Oregon, Washington, and Idaho. You gain access to LSAMP programming and resources here at PSU and beyond.
Previous
Next
---
Our Students
Malcolm Peavy
Major: Biology
An Atlanta native, Malcolm moved to Portland and transferred to PSU from PCC. He is broadly interested in conservation, ecology, and evolution. Malcolm studies killifish ecology in the Podrabsky lab.
Gerardo Garcia-Becerra
Major: Electrical Engineering
Gerardo is a MECOP intern and is interested in phone and computing advancements. He is also a volunteer for Oregon MESA at PSU. As an avid runner, he's completed marathons and Spartan races.
Derrick Sarfo
Major: Biology
Derrick is interested in medical research and wants to learn more about how the human brain functions. In the Raghavan Lab he studies the growth factors of bacteria that cause Q fever in humans.
Previous Hero Slide
Next Hero Slide
---