Research Centers & Institutes
At Oregon's only urban-serving research university, our students and faculty leverage multidisciplinary approaches to addressing critical issues facing our community. Our discoveries expand knowledge. Our innovations push the boundary of the state of the art. At Portland State, our university research centers and institutes ask, not if, but how, because taking bold action produces bold results.
Transportation Research & Education Center
The Transportation Research and Education Center (TREC) at Portland State University is an interdisciplinary research center that pulls together the voices and expertise of a wide range of backgrounds to collectively shape the ways we move through the world. TREC supports collaborative research and education, informs transportation decision making, and provides transportation insights for strong and thriving communities.
Institute for Sustainable Solutions
At the Institute for Sustainable Solutions, the mission is to develop practical solutions for more livable and sustainable cities.
Digital City Testbed Center
The Digital City Testbed Center focuses on how technologies can make cities "smarter," healthier, and more sustainable.
Homelessness Research & Action Collaborative
The Homeless Research & Action Collaborative at PSU addresses the challenges of homelessness.
Center for Interdisciplinary Mentoring Research
The Center for Interdisciplinary Mentoring Research advances the field of mentoring nationally and internationally.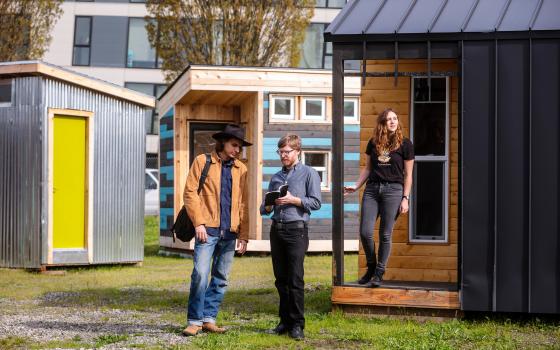 Center for Electron Microscopy & Nanofabrication
The Center for Electron Microscopy and Nanofabrication is a service center at Portland State and a signature research facility of the Oregon Nanoscience and Microtechnology Institute, a collaboration between Oregon's research universities, the Pacific Northwest National Laboratories, and industry partners.