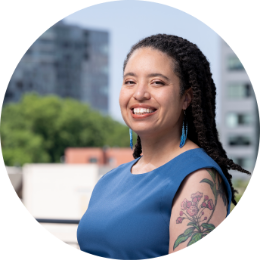 Lisa Bates
---
Associate Professor
Lisa Bates explains who lives where and why. 
Lisa K. Bates, PhD is Associate Professor at Portland State University in the Toulan School of Urban Studies and Planning and is Portland Professor in Innovative Housing Policy. She is also affiliated with PSU's Black Studies department. Her scholarship focuses on housing and community development policy and planning, and her research and practice aims to build new models for emancipatory planning practices and to dismantle institutional racism. Recognition of her work includes the 2019 UAA-SAGE Marilyn J. Gittell Activist Scholar Award and the 2016 Dale Prize for scholarship advancing community self-determination and racial justice.
In Portland, Dr. Bates has served as the co-lead for the Technical Advisory Group on Equity and Civic Engagement for the Portland Plan and on the Creation Committee for the Office of Equity and Human Rights, which address institutionalized racism in city government. She has participated in the Partnership for Racial Equity, a working group convened by the Urban League of Portland to create a Racial Equity Strategy Guide for public agencies. She was also a co-lead for the Housing and Communities committee of the Greater Portland Pulse, a regional indicators project.
Dr. Bates' work includes deep engagements with community-based organizations working towards racial justice and housing rights and supporting Portland's anti-displacement coalition. She also has an advisory partnership with local government partners including research, planning, and policy formulation and evaluation. Her work to describe gentrification and displacement in Portland has been widely cited and used as a model for planning to address neighborhood change. She is currently collaborating with Dr. Amie Thurber to evaluate Portland's ground-breaking policy to support housing opportunities for families displaced over multiple generations of urban renewal.  
Dr. Bates is a 2019 Creative Capital awardee, recognizing her practice at the intersection of art, urban planning, and radical geographic thought. Through collaboration with multimedia artists, the works ask us to develop new visions of Black history, present, and possibility. This radical Black spatial imaginary practice includes the Portland African-American Leadership Forum People's Plan, which asked "what would it be like if your city, neighborhood, community loved Black people?" and the art exhibition and social emergency response center HERE|Humboldt, developed as part of the collective Black Life Experiential Research Group.
Her B.A. is in Political Science from the George Washington University, and she holds a Ph.D. in City and Regional Planning from the University of North Carolina at Chapel Hill. Prior to joining PSU's faculty, she was an Assistant Professor at the University of Illinois at Urbana-Champaign.
In the classroom, Dr. Bates helps students move towards making commitments by actively choosing a stance in the world, values, and how to express them through action. She believes this is particularly crucial in the fields of urban planning and community development. Her approach focuses on working with students to recognize implicit values and surface assumptions in defining "wicked problems," to test their commitments through dialogue and to develop an active anti-racist practice. 
RESEARCH AREAS: 
Housing policy and planning, community development and neighborhood revitalization planning
Education
Ph.D., City & Regional Planning
University of North Carolina at Chapel Hill