Virtual Recreation & Wellbeing
Stay Informed
Campus Rec Connect
Stay connected with our weekly e-newsletter with updates, tips, and resources to help you focus on wellbeing during COVID-19.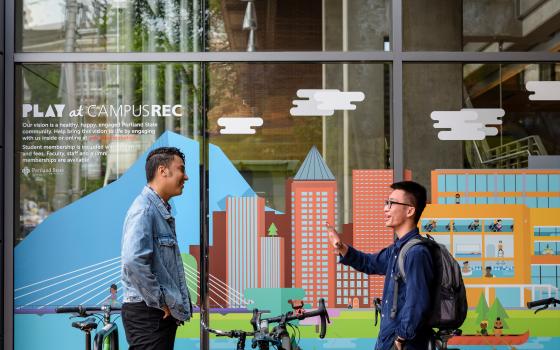 Campus Well
PSU's Campus Well website covers a wide variety of college health and wellbeing topics. Check out the latest featured articles.
Mindful Meanderings Podcast
A podcast that expands your daily mindfulness practice as you walk outside. Episodes range from finding joy to being present.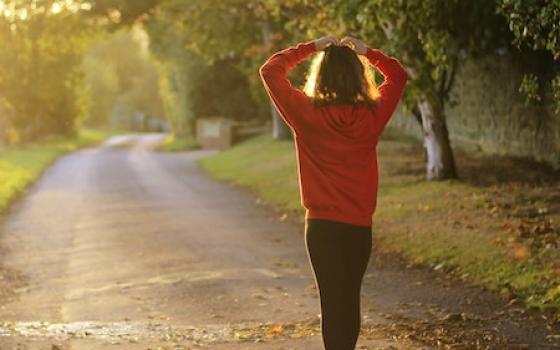 Staying active and connecting with friends and family contributes to holistic wellbeing, reduces stress, and prevents illness. While we aren't physically open, we want to bring the Rec Center to you! Join the Campus Rec community in staying active and engaged during this time of physical distancing with our virtual offerings. In addition to Campus Rec virtual offerings, we have compiled a list of external virtual resources that most closely align with our values of wellbeing and inclusion.
Staying active during the coronavirus pandemic (webpage opens in a new browser)
---
Fitness
Campus Rec Offerings
External Offerings
Down Dog Yoga - A variety of Down Dog apps - Down Dog, Yoga for Beginners, HIIT, Barre, and 7 Minute Workout - that can be completed whenever and wherever is convenient for you. Free for students, teachers, and healthcare workers until July 1, 2021. 
How to Run Safely Amid Coronavirus Concerns - Answers to your most frequently asked questions about running while the coronavirus pandemic continues to spread.
Yoga with Adriene - Free, high-quality yoga videos for all levels, all bodies, all genders, all souls! Classes range from 10-45 minutes, and include yoga for loneliness, stress, and anxiety.
How Swimmers Can Workout Without a Pool - No pool=no excuses! Stay in swimming shape with dryland routines.
Peloton App - Gain access to a full library of classes that can be done from the comfort of home. Take a mix of yoga, meditation, strength, cycling, running and more. 
---
Outdoors
Campus Rec Offerings
Outdoor Workshop Wednesdays - The Outdoor Program is hosting virtual workshops every Wednesday night that cover a variety of topics including Leave No Trace, trip planning, and plant identification. Free; no registration required. A PSU email is required to join the live Zoom call, but workshops will be recorded and available on YouTube. All experience levels are welcome!
Outdoor Scavenger Hunt - Join us for the Outdoor Scavenger Hunt! We will share a challenge theme for you to find while walking around your neighborhood. Check the Outdoor Program Instagram or Facebook for challenge details.
Outdoor Gear Rentals - Need gear to get outside? We've got it ready for you at prices you can afford. Take advantage of your student fees and come down to the Outdoor Program Equipment Center and get just the right gear for your own adventure.
External Offerings
---
Intramural Sports
All virtual events, tournaments, and leagues are free and do not require an IM PLAY Pass. 
Esports leagues - Join us for fun Esports leagues this fall! From FIFA 20 PS4 and Madden 20 to MarioKart Tour League, you can challenge other PSU players and improve your seeding for the single-elimination playoff tournament. Free and open to PSU students, faculty, staff, and Campus Rec members. 
Sports Zoom Chat - Let's take off our masks and talk sports screen-to-screen with other sports fans at PSU! Join Intramural Sports and Rec Clubs staff and other Campus Rec members in an open discussion about sports and current events on Zoom. 
Tuesday Trivia Nights - Test your knowledge each week against your PSU friends in our live and on-demand virtual trivia tournaments! Live trivia starts promptly at 6 p.m. every Tuesday using Kahoot! and will be streamed on Zoom. Open to all, but only PSU students, faculty, and staff are eligible to win prizes.
NFL Weekly Pick' Em - Make watching NFL games even more exciting by picking the teams you think will win each week for weeks 6-17 of the NFL season. Play in one or both the Straight Pick' Em and Against the Spread divisions. Register at IMLeagues.com/pdx and submit your picks by 5 p.m. on Thursday each week.
---
Inclusive Rec
Accessible Offerings
BORP Online Fitness Studio - Access a wide range of free online workouts suitable for people with physical disabilities and movement limitations. 
Accessible At-Home Workouts - These at-home wheelchair basketball workouts are designed for you to complete on your own at home, and focus on strength, coordination, endurance, cardio, and stretching. 
Family-Friendly Offerings
---
Campus Well
The new PSU Campus Well website, brought to you by The Center for Student Health and Counseling (SHAC) and Campus Rec (CREC), covers a wide variety of college health and wellbeing topics. Each week, PSU students receive an e-mail with the latest topics and featured articles.
Wellbeing
Wellbeing at Campus Rec - Campus Rec's wellbeing team engages the entire campus community in various events and programs throughout the year to increase awareness about and improve holistic wellbeing. Learn more about the eight dimensions of wellbeing on our Wellbeing webpage.
Center for Student Health and Counseling (SHAC) - SHAC remains open to receive phone calls at (503) 725-2800 during our normal business hours (Monday-Thursday 9-5, Friday 9:30-5). If you are concerned that you have been exposed or are showing symptoms of coronavirus, contact your healthcare provider or call the SHAC Nurse Line with coronavirus related questions or concerns at (503) 725-2515 or the 24/7 Nurse Advice Line (after hours) at (844) 224-3145.
CDC Mental Health and Coping During Covid-19 - Support yourself through feelings of anxiety and stress with these recommendations from the Centers for Disease Control and Prevention (CDC).
Headspace Meditation - Headspace is a meditation app that provides the basics to meditation for free. Meditation has been shown to help people stress less, focus more, and even sleep better. Focus on meditation and mindfulness in just a few minutes a day.
Science-Based Strategies to Cope with Coronavirus Anxiety - Seven science-based strategies to cope with coronavirus anxiety. 
View Coronavirus Coverage with a Positive Outlook - Five ways to view coronavirus coverage while keeping things in perspective and maintaining a positive outlook. 
Reducing Stigma - Help counter stigma with the CDC's recommendations for reducing stigma in order to create resilient communities. 
Prevent Social Distance Loneliness - Advice for preserving your mental health while avoiding physical proximity.
Mental Health First Aid for COVID-19 Online - This free online class offered by the American Red Cross will help you to build resilience and support yourself and others through the global health crisis by reviewing basic principles of providing psychological first aid.
Financial Resources