Graduate Admissions
Civil and Environmental Engineering
Graduate Admissions
Our graduate program in Civil and Environmental Engineering includes a coursework-only based Master of Engineering program for working professionals as well as the research-based Master of Science and PhD programs.
Ready to take the next step?
Apply for the Graduate program
We are now accepting rolling admissions for our MS, MEng, and PhD programs.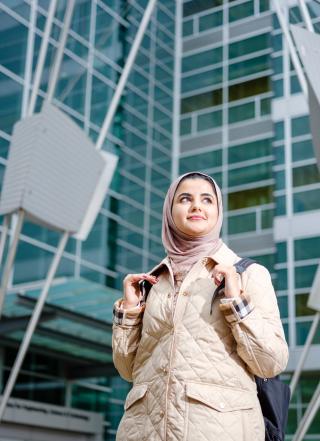 Frequently Asked Questions
Q: How do I apply for Graduate Assistantships and scholarships?
A: If you are interested in Graduate Research Assistantships and Graduate Teaching Assistantships, you will want to apply for our Fall graduate application deadline, which is January 1st of each year. You may also apply for University Scholarships using PSU's Online Scholarship Application; the deadline for graduate student scholarship applications is February 1. Additional scholarship opportunities can be found on the Scholarships and Awards page maintained by the Office of Graduate Studies.
Q: How do I find out more about research opportunities in the CEE Department?
A: Visit our Research page to learn more about our faculty's research specialization areas. Please feel free to contact a faculty member in your area of interest for more information. You can also read recent theses, dissertations, and MS project reports by visiting the PSU Library's online repository, PDXScholar.
Q: May I enroll in graduate courses prior to being admitted to the Master's program?
A: With the permission of the Graduate Chair, a student may enroll in a limited number of graduate credits prior to admission to the Master's program. Up to 16 pre-admission credits may be used toward the Master's degree if the student is admitted at a later date. In order to take pre-admission credits, a student must be enrolled as either a non-degree student (limited to 8 graduate credits/term) or a post-baccalaureate student. If you are interested in taking pre-admission credits, please email ceedept@pdx.edu.
Q: My undergraduate degree is in a field other than Civil or Environmental Engineering. What do I need to do to qualify for admission to the graduate program?
A: Please review this advising website on "Qualifying for Admission to the Graduate Program without a Bachelor's Degree in Civil or Environmental Engineering." If you have any further questions that are not covered in this document, please email ceedept@pdx.edu.
Q: My undergraduate GPA is below 3.0. May I still apply for the graduate program?
A: Applicants with undergraduate GPAs of 2.75 or higher may be considered for conditional admission to the graduate program on a case-by-case basis. If admitted conditionally, a student would need to meet the requirements stated in his or her admission letter in order to continue in the program. Applicants with GPAs below 2.75 should review the Department's Policy for Students Applying to the MS/MEng Program with UGPA < 2.75.