Overview
Medieval Portland gathers resources that are in Portland, Oregon connected with the premodern and early modern past of Europe and the Middle East.
Objects will lead you to locally housed objects from the period
Buildings explore ways our built environment calls upon the medieval past
Experiences highlight performances and reenactments in the area
Teaching and Learning point to ways educators and students might use this site and tap into local resources
Much of the work on this page was created by students in the Medieval Portland Capstone taught by Anne McClanan, Professor of Art History at Portland State University.
Objects
The Medieval Portland database of objects and architecture is currently housed in Artstor's Shared Shelf Commons
Medieval Portland's inclusion in Shared Shelf Commons is through the National Digital Humanities Award. Most of the pre- or early modern works from where we now label Europe and the Middle East housed in the larger Portland, Oregon region are manuscripts and early printed book leaves, but there are also paintings, sculptures, lamps, glass, metalwork, and more.
Read about Medieval Portland on the Artstor blog: Case Study: Medieval Portland by Anne McClanan
The following collections are currently all or partly included:
We gratefully acknowledge the assistance provided by the many people at each institution who have given ongoing and generous guidance to the Medieval Portland Capstone students over the years of the project.
Buildings
In addition to the Medieval Portland objects that have found their way to the Pacific Northwest, the capstone students have also researched aspects of the built environment that have been shaped by the medieval past.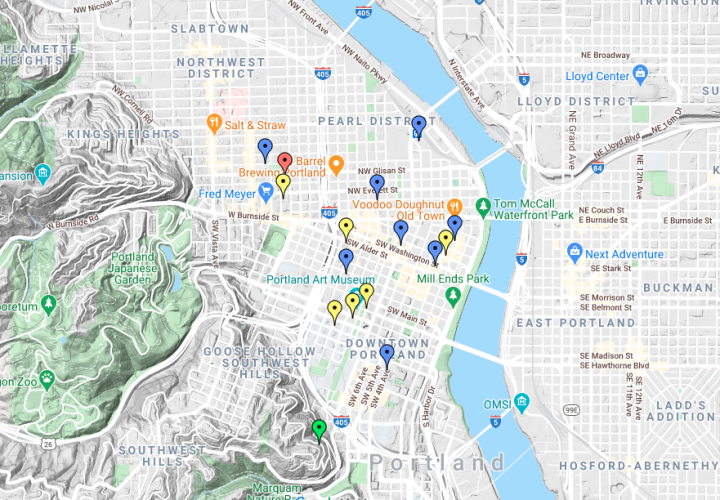 Medieval Portland Walking Map
Our Medieval Portland Walking Map highlights some of the medieval revival buildings of Portland and continues to be expanded as more students uncover new material.
Experiences
Music
The Portland area is lucky enough to have a varied and active set of groups that perform and bring to the area performances of early music.
Teaching
We've developed a number of resources to support teachers (Links to be activated soon)
Study Guides
Assignments
Community Outreach
Learning
We hope that this project has piqued your interest in discovering more about the medieval world. At the university level, courses are taught that delve into this period all across the city, including Lewis and Clark College, Reed College, and the University of Portland, and of course here at Portland State.
You can learn about Medieval Studies in many different ways even within one institution. At Portland State, you can earn a Medieval Studies Minor, focus on the Middle Ages in the Interpreting the Past Cluster, or take individual classes in the Art History, English, History, Music + Theater, and World Languages + Literature programs.
Don't forget the Medieval Portland Capstone, too!