COVID-19 Update:
Our physical office is closed, but we are still here to serve you.
You can contact faculty and staff directly: email us at hist@pdx.edu, or leave a voicemail at 503-725-3917

For information and resources concerning COVID-19 protocols on campus,
consult the College of Liberal Arts and Sciences page: A New Way Forward for Students
---
The study of History cultivates appreciation for the diversity of human experience and fosters empathy for the stories, traditions, cultures, and world views of historical groups and individuals. It also provides the foundation for informed participation in the local and the global community, by teaching its students how to apply critical thinking skills to solving problems.

Studying the past helps us better understand not only where we've been, but where we may be going. Historical knowledge has the power to be both individually and collectively transformative, and there is no better place in the Pacific Northwest to gain a critical understanding of the past than the PSU History Department. Our award-winning and internationally recognized faculty offer courses that span the globe and cover chronological periods from Antiquity to the Present, with concentrations in U.S. history since 1800; modern Europe and East Asia; Latin America, Africa, Russia, and the Middle East; ancient Rome and medieval Europe, environmental history, public history, and more.
---
Upcoming events
Please join us for the final scholarly lecture of the academic year and in…
Add to my Calendar
2021-06-03 13:00:00
2021-06-03 14:00:00
Postrevolutionary Iran: The Leader, The People, and the Three Powers
Please join us for the final scholarly lecture of the academic year and in celebration of Robert Asaadi's new book! Date: Thursday, June 3, 2021 Time: 1:00pm - 2:00pm (PT) About the lecture: How is Iran governed? Is the state accountable to its society? How have Iran's political institutions evolved since the 1979 revolution? Answers to these critical questions are neither as certain nor as fixed as much of the existing literature on this topic would lead one to believe. In this lecture, Robert Asaadi will be discussing his new book publication. To learn more about the text, visit the publication's webpage. About the speaker: Professor Asaadi is an Instructor with a joint appointment in the Departments of Political Science and International & Global Studies at Portland State University. He holds a Ph.D. in Political Science from the University of Minnesota. His teaching and scholarship has been recognized with multiple accolades, including three consecutive Outstanding Teacher Awards in the College of Urban and Public Affairs at PSU, and the Best Faculty Paper Award for the 2019 International Studies Association - West Conference.  Zoom Registration Page Can't wait for Robert Asaadi's lecture on June 3, 2021? Check out his Ted Talk video! What people are saying about Robert Asaadi's new book: Asaadi's book is a must-read for all who aspire to see contemporary Iran as far more complex and nuanced than mere Rogue state in the international system. — Raymond Duvall, University of Minnesota Asaadi's study is firmly grounded in Iran's past and present and thus does not fall victim to wishful thinking but rather offers hope gained by application of the art of the possible. — Amentahru Wahlrab, University of Texas--Tyler It is essential reading for scholars of Iranian and Middle Eastern politics, authoritarian rule and democratization. — Henry Thomson, Arizona State University His nuanced and comprehensive study also tries to look at the future prospects of the Islamic Republic and avoids the simplistic binary that the Islamic Republican system will either collapse or remain unchanged in terms of its structure and policies. — Jubin Goodarzi, Webster University, Geneva In this compelling analysis of the Iranian state, Asaadi uncovers the prevailing tendencies of the country's religio-political governance since the 1979 revolution and argues for both the inevitability and limits of reform. At the same time, Postrevolutionary Iran boldly challenges the reductive notion that Iran is an outlier in comparison with other postrevolutionary states of the twentieth century. — Arzoo Osanloo, University of Washington A study with bravado and acumen on a pivotal country that is too often misrepresented. — Arshin Adib-Moghaddam, University of London  
Online via Zoom (registration link below)
Outreach and Program Coordinator Corinne Hughes cohughes@pdx.edu
Outreach and Program Coordinator Corinne Hughes cohughes@pdx.edu
America/Los_Angeles
public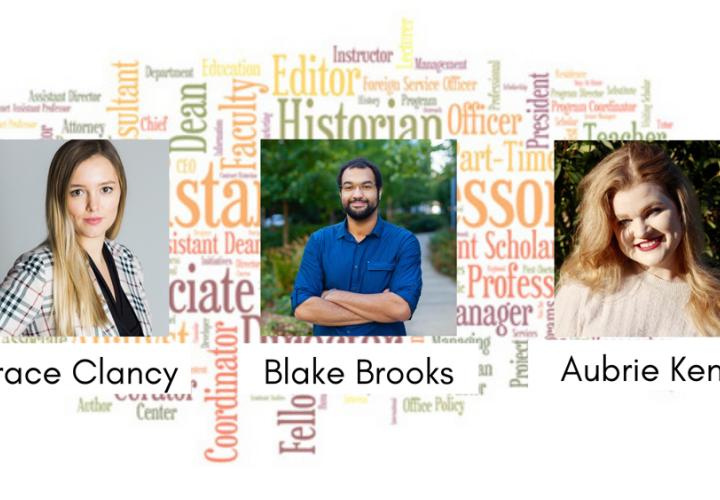 History Majors in the Workplace Recent Alumni Panel
In this conversation, three recent PSU History graduates talk about their experiences on the job market, where they went to work after earning their degrees, and how to sell your skills to potential employers. Professor John Ott, Chair of the History Department, facilitates the conversation.
---
Recent News
May 13, 2021
As the saying goes, history repeats itself, and a quarantine station in Knappton Cove, Washington, sits at the…
May 12, 2021
Kimberly Kahn, psychology faculty, co-authored "Advancing Police Use of Force Research and Practice: Urgent…
May 12, 2021
Jola Ajibade, geography faculty, presented "Centering Justice, Community Voices and Indigenous Knowledge in…
Fall 2020 Department of History Newsletter
Updates from Department Chair, John Ott, Pacific Historical Review Editor, Marc Rodriguez, Graduate Studies Coordinator, Brian Turner, and a report from the new Friends of History President, John Stephens. History student and alumni features, scholarship and award announcements, and news from our faculty.
VISIT
Physical Address:
Cramer Hall, Suite 441
1721 SW Broadway
Portland, OR 97201
Hours:
Monday - Friday, 8:30 a.m. to 5:30 p.m.
Mailing Address:
Department of History
Portland State University
PO Box 751
Portland, OR 97207-0751