Support the School of Art + Design
Creative expression has untold value. It can captivate attention, foster deep learning, forge connections, and inspire curiosity. These are among the most vital human activities of our time.
PSU's School of Art + Design is dedicated to helping students explore the ways that artists and their works function within a larger social context. Driven by a belief in the power of art to shape society, the School of Art + Design and its dynamic faculty provide space for emerging artists, designers, and art historians to question, reflect and create.
With 1,100 undergraduate majors, a vibrant and growing graduate program, and a dedicated faculty of internationally recognized artists, designers and scholars, PSU's School of Art + Design is a place where students from a variety of backgrounds interact, exchange ideas and cross conventional aesthetic boundaries.
These creative experiences do more than prepare students for a workforce that demands creative skills. They foster the critical thinking, problem-solving and collaborative practice that are essential to solving the profound challenges facing our world today.
More Ways to Give
For more information about opportunities to support the School of Art + Design's students, faculty, and programs, contact:
Jaymee Jacoby
Assistant Vice President for Development
503-890-4962 or jacobyj@psuf.org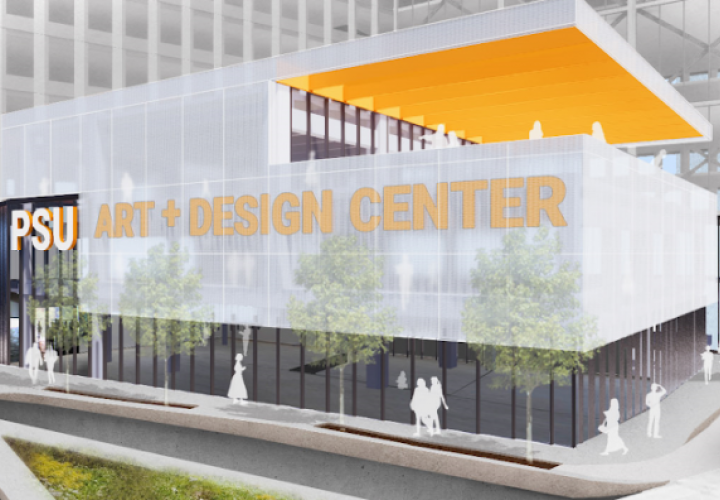 The Gateway Center
Building a place where the doors to new opportunities and partnerships are opened for artists, designers, crafters, and scholars to find value in their work, meet with fellow collaborators, feel inspired and welcomed while maintaining PSU's relentless commitment to access, equity and inclusion.
Family of PSU Art Practice student Lane Martin creates scholarship in…
by College of the Arts

January 26, 2021
The family of Portland State University art student Lane Martin has established an endowed scholarship in memory of Martin, who died during a mental health crisis in an…
New Gift Offers Art Students the Opportunity to Study Abroad
by School of Art + Design

September 28, 2018
The School of Art + Design has a new scholarship for students thanks to a generous gift by Catherine Kumlin and Robert Gamblin, founder of Portland-based Gamblin Artist…
Art scholarship honors couple devoted to each other and education
by School of Art + Design

October 25, 2018
The School of Art and Design is excited to announce a new endowed scholarship. This exceptional gift honors the memory of Leonard and Evelyn Kimbrell who shared a life…