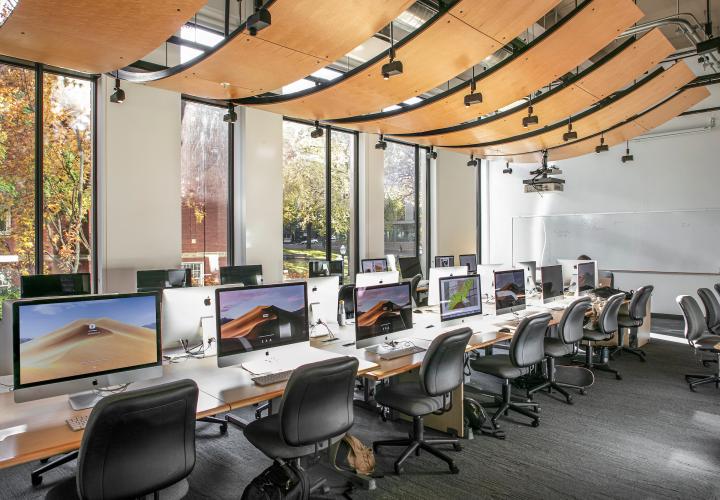 College of the Arts Digital Facilities
Information about locations, hours, and equipment available in our digital facilities and the Materials Lab, our general fabrication workspace.
The Art Building (2000 SW 5th Avenue) is home to the School of Art + Design's main office. Many of our faculty offices are located here, as well as:
AB and MK Galleries
Art History Lecture Hall
Seminar Room
The Creative Suite: A student lounge and workspace
2 Graphic Design Studios
A working studio for graphic design students enrolled in our A+D Projects course.
A large design classroom and presentation space that serves as the venue for workshops and Show & Tell, our graphic design lecture series
Drawing and Mixed Media Studio
Weaving sSudio
Private MFA Studios
The Art Annex (1990 SW 5th Avenue) is located just next door to the Art Building. The two buildings are separated by a covered parking lot breezeway.
3 Graphic Design Studios
The Rad Lab
The School of Art + Design occupies most of the second floor of Fariborz Maseeh Hall (1855 SW Broadway). Many of our Art Practice classes happen in the light-filled studios with high ceilings and tall windows this building holds. Some studios offer gorgeous views the Park Blocks, others face the building's serene interior light well. Faculty offices can be found here as well as:
Core Studios for Space, Surface and Time courses
Photo/Video Studio
Photography Darkroom
Wet Lab for silkscreen printing and textile dyeing
Drawing Studio
Painting Studio
Textiles Studio
Media Arts Center "MAC Lab" and Drop-in Lab
A+D Equipment Office (Audio visual equipment checkout for students enrolled in designated courses)
Student Lounge
The Jordan Schnitzer Museum of Art at PSU is located just below us on the first floor of Fariborz Maseeh Hall.
The School of Art + Design shares some of the facilities in Shattuck Hall (1914 SW Park Avenue) with the School of Architecture. Here you will find:
Printmaking Studio
Sculpture Studio
Materials Lab and Digital Fabrication Studio (shared with Architecture) that includes

Wood Shop
Plaster and cement casting studio
Metals Shop
Foundry