Earn a Music Theory degree from Portland State University and enjoy the benefits of studying in one of the most creative cities in the country. This challenging and diverse program is perfect for students who consider themselves analytical musicians eager to learn everything they can about music. From classes in comprehensive musicianship to studying a wide array of popular genres, our School of Music offers you the opportunity to receive a dynamic education from respected and experienced faculty.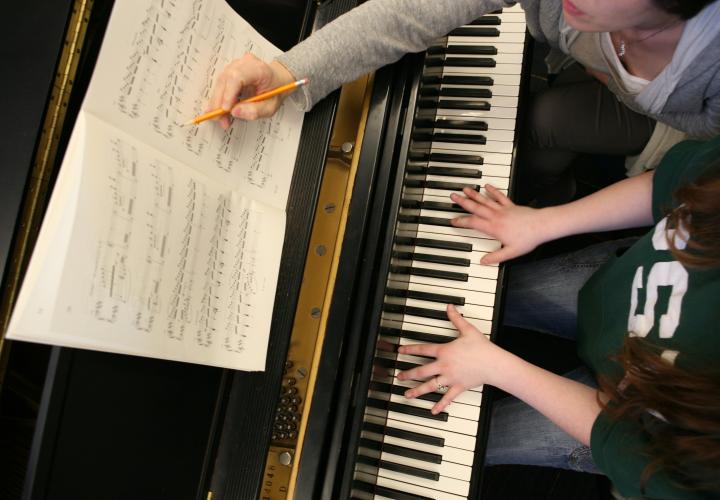 The Bachelor of Arts/Science in Music Theory
For students curious about the inner workings of harmony, melody, rhythm, and form, the PSU School of Music & Theater's music theory program offers students a chance to follow a scholarly creative path in a vibrant musical environment.
Get a Head Start
As early as you can, we suggest that you make connections within our program. The Theory Area Coordinator can help you strengthen your portfolio before applying to the program (even if you are still a prospective student) and answer any questions about the curriculum. The Music Theory degree offers one of the widest selection of course options in the School of Music & Theater. You'll study popular music as well as works by famous composers, learn arranging and recording skills, and build your own interests into your program.
Forge Your Own Path
At PSU's School of Music & Theater, we are proud to offer plenty of freedom in the final project for Music Theory degree students. Of course, we encourage you to focus on what you are most passionate about and to follow your interests in a future career or advanced degree. Consult with your advisor for feedback in a supportive environment that values creativity and individuality.
Diverse Career Opportunities
Many of our Music Theory students go on to seek advanced degrees, to teach music, or to start careers in music criticism. Depending on your interests, from working for a symphony to arranging music, your options in the music field are wide open with this comprehensive degree.
Brad Hansen - Music Theory Area Coordinator
Brad Hansen is an arranger, conductor, composer, pianist, author, and digital media developer. His publications include college texts and dictionaries of multimedia. He has been Music Theory Coordinator in the School of Music & Theater since 2000.