Waste Reduction & Diversion
What PSU is Doing 
All waste cooking oil is locally recycled into bio-diesel.   
Departments can borrow the Campus Sustainability Green Party Kit, a set of durable dishes and silverware for events. Request the kit here. 
Food scrap collection for compost taking place around campus:

Preconsumer waste in all dining locations, and postconsumer in several locations
Department break-rooms 
Student rooms in residence halls 

Water Bottle Refilling Stations around campus reduce waste from disposable plastic bottles.
Electronic waste is recycled by a local company that ensures the waste is not landfilled and employs people with disabilities.
The PSU Reuse Room redistributes donated office and school supplies to the campus community.
The Surplus Property Program redistributes reusable office and classroom furniture to PSU departments.
Chuck-it-for-Charity move out program collects reusable items from students and donates them to charity.
Tray-less dining in Victors Dining Hall reduces food waste by 25-30% per person.
Course catalog, schedule, and directory are no longer printed, and free PDFs are available online. 
Infill of the Community Recreation Field is made from recycled tires 
All In the Hall removed in-classroom waste receptacles, consolidating them in campus hallways. This pairs recycling--and somethings composting--with landfill, which supports proper sorting of materials, and saves PSU money by reducing the number of receptacles that must be serviced.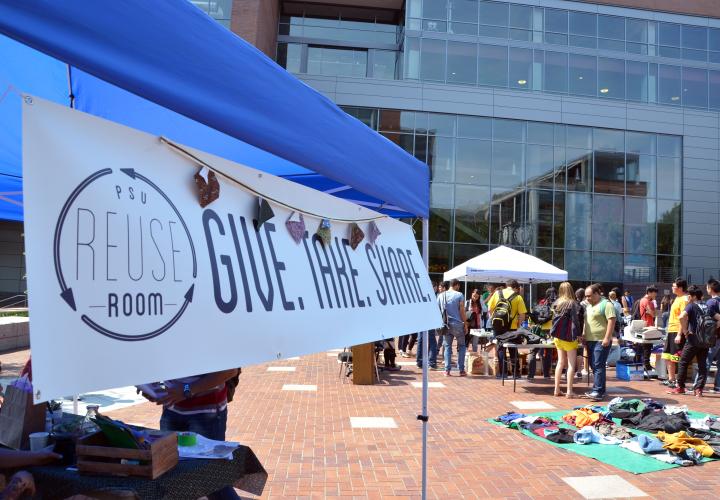 PSU Reuses
Why Reuse? Reusing items reduces waste and supports PSU's sustainability goals. From resource extraction and production to distribution and disposal, the life cycle of an average product has a huge environmental footprint. By choosing durable goods, and reusing existing products, we can minimize impact.
What can I recycle at PSU?
PSU Recycles
All together in one bin: Paper, Plastic, Metal 
Cardboard & paperboard (e.g. cereal boxes)
Manila folders 
Newspaper
Copy paper (any color, staples ok)
Paper grocery bags
Paper towel tubes
Envelopes
Magazines & catalogs
Milk cartons & drink boxes
Shredded paper (bagged only)
Empty plastic bottles (over 6 ounces) 
Tubs (yogurt-styled, cleaned) (over 6 ounces)
Buckets (up to 5 gal., cleaned)
Cans
Clean aluminum foil
Empty aerosol cans
Scrap metal (If small pieces, place in a metal can and crimp shut)
Separate Bin: Glass
NOT ACCEPTED
Coffee cups
Frozen food boxes
Food-spoiled boxes/paper
Pizza boxes
Napkins
Paper towels
Tissues
Takeout containers
Plastic bags
Wrappers
Chip bags
Plastic utensils
Plastic takeout containers
Lids
Drinking glasses ceramic dishware
Broken glass mirrors
Lab glasses
Pyrex
Window glass
Lightbulbs
Download & print signs for your department
What can I compost at PSU?
PSU Composts
Composting food waste is a simple, direct, and effective way to reduce our impact on the environment as individuals, and as a university. While composting food waste is one small piece of a large food puzzle, it remains one of the best ways to reduce the amount of material going to our landfills.
There are many benefits to appropriately disposing of food waste, including:
Reducing greenhouse gas emissions
Creating natural fertilizer for food production
Engaging consumers in sustainable waste habits
Supporting environmentally conscious industries
Food waste is a large issue in this country. At PSU, we are doing the best we can to cut back on consumption and waste habits through sustainable food procurement policies, responsible dining services, and increasing access to composting infrastructure. To help PSU attain its Climate Action Plan goals, please familiarize yourself with the ins and outs of composting at PSU below.
Where & how to compost
As the options for collecting food scraps on campus grow, it is important to know what can be composted and where. At any time, the outdoor green roll carts in waste corrals can be accessed by anyone on PSU's campus.
Look for indoor compost receptacles in the following locations:
Smith Memorial Student Union (SMSU) - Viking food court
Smith Memorial Student Union (SMSU) - second floor lounge
Ondine (OND) - Victor's food court at tray return 
Engineering Building (EB) - Lobby, 3rd floor Atrium, Basement Lounge
Market Center Building - Lobby and 3rd floor kitchen
Academic and Student Recreation Center (ASRC) - first floor upper lobby
Urban Center Building (URBN) - first floor entry, second floor lobby
Compost in your Residence Hall:
Composting options are now available in all residence halls on campus, and will look different depending on where you live.
Each residence hall unit is equipped with a countertop food scraps collection pail. Students are encouraged to collect their own food scraps and compostable material and dispose of them in the green roll carts located next to each trash/recycling dumpster on that side of campus. If your unit does not currently have a countertop pail, please contact sustainabilitycompost@pdx.edu to request one.
East Campus (Ondine, Broadway)

Compost @ Victors! Residents of Ondine and Broadway are encouraged to participate by taking an empty yogurt tub from the dirty dish area in Victor's back to their room to collect food scraps and compostable materials. Disposal is as easy as placing the filled container in the dirty dish rack, and taking a new clean one! The kitchen staff incorporates student food scraps with those from the kitchen and washes the tubs. 

West Campus (Blumel, Epler, St. Helens, King Albert, Parkway Manor, Blackstone, and Stratford residence halls)

Countertop pails! Each apartment unit in the west residence halls (see above) is equipped with a countertop food scraps collection pail. Students are encouraged to collect their own food scraps and compostable material and dispose of them in the green roll carts located next to each trash/recycling dumpster on that side of campus. If your unit does not currently have a countertop pail, please contact compost@pdx.edu to request one.
Montgomery Court Residence Hall (in development)
Compost in your office:
Most departments that have a kitchen/break room have been equipped with a stainless steel receptacles for food scraps that are serviced by custodians three times per week. If your office does not currently have a receptacle, please contact us at compost@pdx.edu.
Compost at Events: If you are serving food at events, please be sure to compost or donate to the PSU Food Pantry any leftover food. Prepackaged food that is unopened or loose produce can be given to the pantry, and any other food scraps can be taken back to break rooms to share with others, or composted at a nearby waste station. If you need an additional bin or have any questions, please reach out to compost@pdx.edu. 
Additionally we are always available for questions, refreshers on compost regulations, and presentations at departmental meetings.
What to compost?
IN - Food Scraps, Plant Debris, and Compostable Fibers
Food Scraps: This means any food product, such as: vegetable peels, fruit cores, egg shells, bones, avocado pits, etc. Even after it's cooked, if you can eat it, or if it comes from something you can eat, it goes in! Because PSU's food scraps get sent to an industrial composting facility, certain items (like meat scraps and bones) are accepted, even though they are usually advised against for small-scale home composting.
Plant Debris: Forget to water your house plant over the break? Pulling dead leaves off the hanging fern? These are great additions to the compost bin. If it small enough, put it in your countertop pail, or bring it directly to a green roll cart located outside of most buildings.
Other Materials: While food scraps are what is most valuable to compost, a few other select items are allowed: Coffee grounds (paper coffee filters OK, but no single-use pods), tea bags, loose leaf tea, and BPI-certified compostable bags. All other "compostable" fibers or to-go containers are not allowed, and when in doubt always leave it out to reduce contamination.
OUT - Everything Else! (Contamination)
Oil and grease
Metal, glass, and clean paper should be recycled appropriately
Waxed cardboard - produce boxes, freezer boxes - are both non-compostable and non-recyclable
Compostable utensils, containers, and other serviceware
Plastics should be recycled appropriately. Beware of plant-based plastics with "green packaging"; just because it's "made from plants" does not mean it's compostable in our program. Find more info on bio-plastics.
Keeping the compost free of contamination is everyone's responsibility. It doesn't take much time to remove foil or plastic from uneaten food.
All in the Hall: A Bin Consolidation Project 
One of the best practices to help people recycle smarter is to always pair trash with recycling.  This thinking has informed PSU's latest effort in the ongoing process of reducing campus waste. Since pairing recycling and trash bins is ideal, and placing a recycling bin in every classroom is unfeasible, trash cans are now migrating out of classrooms to convenient, centralized stations. In other words: It's all in the hall. Your understanding is appreciated.  Please spread the word!
Waste Audits 
Are you a PSU employee and interested in knowing what your department is sending to the landfill? PSU Recycles! staff can help you find out. Not only can we perform a full waste sort of the materials in your building's trash and recycling dumpsters, but we can also advise you what options besides the landfill are available for the materials we find in your trash cans. We also offer departmental walk-throughs to help you set up the most effective recycling system possible. For more information on this service call 503-725-4300 or e-mail recycles@pdx.edu. View reports from past waste audits. 
Waste Reduction & Recycling Presentations 
The PSU Recycles! team understands that one of the most crucial components of waste reduction is educational outreach to our campus community. To meet this objective, we offer waste reduction and recycling presentations for students, staff, and faculty who want to know more about the efforts we are making here at PSU and to address some of the challenging questions about what exactly is recyclable. These presentations can be tailored to your student group, department, or class. For more information on this service call 503-725-4300 or e-mail recycles@pdx.edu.
The following are some key strategies for reducing food waste at home. Through our NSLB program, we recommend a process of Plan, Portion, and then Compost. 
Make a meal plan before going shopping and include quantities of food items to purchase to avoid over purchasing.
Purchase loose produce at the store instead of pre-packaged to get the right quantities you need and maximize freshness on products. This will also reduce on your packaging waste!
Check your fridge before leaving for the store. Choose meals based around what you already have.
Learn proper storage techniques for fruits and vegetables. Did you know certain fruits give off gases that make nearby foods go bad? For more tips, visit savethefood.com
Freeze ingredients or prepared meals you think you might not get to in time.
Prepare perishable foods soon after shopping to save effort later in the week when you may have less time to cook.
Share your food! Donating food that you can't use to your office, friends, family, or PSU's food pantry is always a good way to make sure your food is not going to waste. Know that you are protected by the Good Samaritan Act.
Organize your fridge. Keep a container or section of fridge close to the front designated as the "eat me first" section. 
Learn food dates and what they mean. Sell-by, use-by, and best-buy labels are often meant for grocery stores and not customers, and foods past their dates are likely still perfectly safe to eat.
Choose ugly vegetables. Cosmetic food standards lead to large quantities of perfectly edible produce being thrown out.
If you do have food waste, find a compost location to recycle food nutrients back into our soil.
Waste Management
No Scrap Left Behind
At PSU, we aim to create sustainable food systems that nourish people and the environment, build community, and foster collaboration among key partners on campus. Using the EPA's food recovery hierarchy, we prioritize:
Reduction of food waste through food choices, portioning and awareness.

Donating any uneaten food to those in need.

Recycling any wasted oil for energy recovery.

Composting any food that is unable to be utilized or donated.

The NSLB program supports this vision by working at the highest points in the hierarchy--source reduction--and sparking dialogue and engagement around food waste issues.
Program History & Goals
To engage the campus in issues of wasted food and its impact on our environment, economy, and society.
To develop innovative food waste reduction solutions and build skills around food portioning, preparation, and storage.
To help inform food service providers on campus about opportunities to reduce food waste through portioning, menu options, food donation, and partnering with students and faculty groups.
To gather data on food waste and student engagement that can ultimately inform a broader, collaborative Sustainable Food Action Plan for the PSU campus.
No Scrap Left Behind began in Fall 2015 and was designed and piloted at Portland State University based on programs at numerous other universities including the UC Davis Love Food, Don't Waste program. We've run food waste buffets quarterly to highlight uneaten food at our dining hall during the lunch hour, share resources with students, and capture survey data to inform perceptions about wasted food. At the end of each day, the amount of leftover student food scraps generated during the lunch period (11am-1pm) is weighed and composted to help us better understand the impacts of the buffet over the course of a week. 
In Spring of 2017, students participated in the food waste buffet as a part of the Waste Audit Living Lab Experience (WALL-E), a program designed to give students opportunities to engage in projects, gather data, and build partnerships across campus. Students helped at the buffet and captured survey data and recommendations in letters to our incoming food service provider, Chartwells. The program has helped inspire numerous other events and programs on campus to address wasted food, including:
A film screening of Wasted: The Story of Food Waste!, tabling event, and panel discussion during Hunger and Homelessness Awareness Week in Fall 2017.
A food runners pilot program to help divert uneaten food to the PSU Food Pantry. Through this program, Ole Latte has donated over 300 lbs of bagels since April of 2017!
A film screening of Just Eat it: A Food Waste Story in Spring 2017.
The NSLB program will continue in Fall 2017 in partnership with Chartwells, with the continued goal to raise awareness around the importance of planning, portioning, and composting, and create innovative solutions to reduce wasted food on campus. We are always looking for volunteers to engage with us, so if you have questions or comments please email sustainability@pdx.edu.