At Portland State, we recognize that there are many definitions and notions of sustainability. Bringing these definitions to life means recognizing the interconnections of social, environmental, and economic systems, and the need to take an integrated approach to addressing systemic inequities present in our systems to build healthy, just, and resilient communities.
Sustainability is a core part of our identity and culture at PSU, and requires knowledge from every field.
As such, sustainability at Portland State is not based in any single department. Instead, it spans the University to unite creative thinkers from across campus and throughout our community. In addition to being distributed throughout University culture, there are three organizations serving as anchors for Sustainability at PSU:
Student Sustainability Center
Planning & Sustainability Office
Institute for Sustainable Solutions
Our work is highly collaborative, with each department playing a unique role in Sustainability at PSU.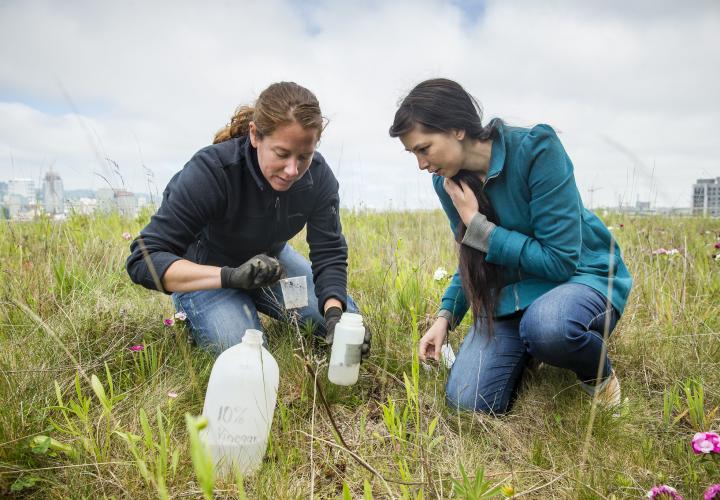 Creating a just, resilient future
Sustainability at PSU is a community, network, and framework for working together. There is so much work to be done to create a healthy and just future and at PSU, we believe our students, faculty, and staff will help to create that future through innovative and adaptive design, research, and solutions.
Learn & Connect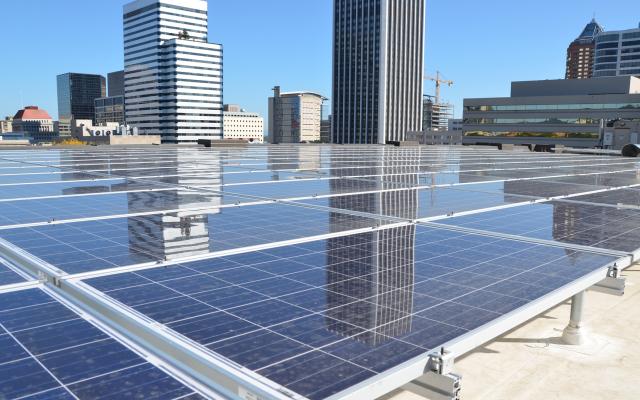 Campus programs & initiatives
It takes partnership and collaboration to align policies, practices, and planning with PSU's sustainability, resilience, equity, and educational goals. This work is manifest across many aspects of PSU's operations and academics. The Campus Sustainability Office enables a vibrant living laboratory for exploration and innovation.
Student programs & leadership
There are many educational opportunities, programs, and resources designed for students who want to create positive change on campus and beyond. The Student Sustainability Center offers ways to network with peers and professionals, build leadership skills, and partner with organizations within the University and in the community.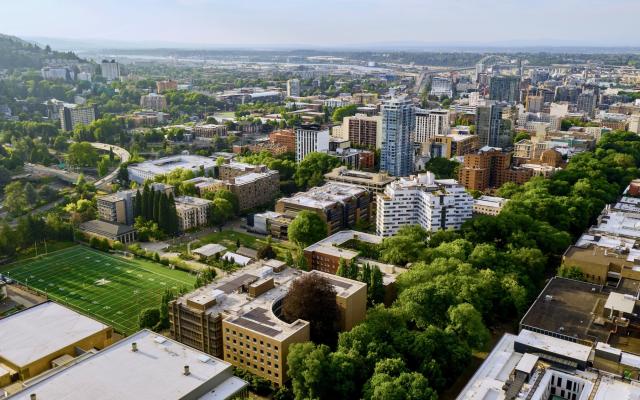 Collaborations with public & private partners
PSU students and faculty have a lot to offer and learn from the community, region, and world. The Institute for Sustainable Solutions helps to match the passion and expertise of PSU faculty and students with the experience and needs of community groups, government agencies, and businesses.
Keep up with recent sustainability news
June 9, 2021
Portland State has received its highest Sustainability Tracking, Assessment & Rating System (STARS) score to-date at 74.78 making this the 9th year the University has received STARS Gold. STARS isa transparent, self-reporting framework for schools to measure sustainability performance in a variety of categories.The STARS framework encompasses long-term sustainability goals for already high-achieving institutions, as well as entry points of recognition for institutions that are…
June 9, 2021
The Planning & Sustainability Office (PSO) is excited to welcome Jay Pierce as the newest member of our team! Pierce is in his third year at Portland State University studying Marketing and is PSO's new Marketing & Communications Specialist. Pierce, originally from Texas, moved to Portland with his parents and was excited to attend PSU because of its urban campus and surrounding natural areas. In his free time you can find Pierce building houses on the Sims or studying…
June 9, 2021
Spring time at a university is ripe with transition, a feeling of both completion and fresh beginnings at the…