Driving energy and water savings
Green Revolving Fund
The Green Revolving Fund (GRF) provides funding for efficiency projects across campus that support energy and water use reduction and climate action goals. It is a revolving fund in that a portion of the savings generated from each funded project are put back into the fund in order for it to sustain, grow, and fund additional projects over time.
In 2013 PSU's GRF was created with $500,000 "seed" from the State of Oregon for capital improvements. Since then, the fund has grown to over $1.5 million with these inputs:
savings from the University utility budget,
energy incentive rebates from the Energy Trust of Oregon,
and voluntary travel offset program funds.
To date, the GRF has supported over 15 projects and resulted in an anticipated energy savings of over $250,000 annually. 
With the GRF, PSU is part of the Billion Dollar Green Challenge, which encourages colleges, universities, and other nonprofit institutions to invest a combined total of one billion dollars in self-managed revolving funds that finance energy efficiency improvements.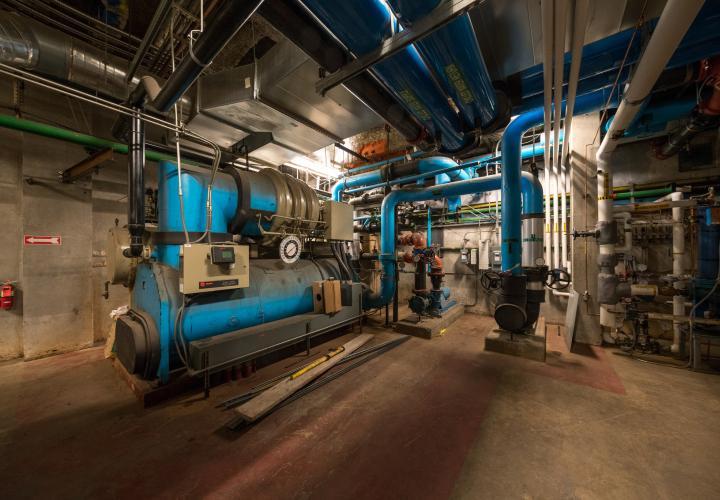 Do you have an energy or water efficiency project you would like to see implemented in a general education space on campus? Propose a GRF project to the Project Selection Committee.
Project Selection Committee
Projects are selected using the criteria listed here by a committee consisting of the following members:
Elliott Gall - Mechanical & Materials Engineering, Assistant Professor
Jenny McNamara - Campus Sustainability Office, Director
Amanda Wolf - Campus Sustainability Office, Program + Assessment Coordinator
Quinn Soifer - Capital Projects & Construction, Technical Services Manager
Cary Morris - Facilities & Property Management, Assistant Director of Operations and Maintenance
The Green Revolving Fund is managed by the Campus Sustainability Office in collaboration with Facilities & Property Management, Capital Projects & Construction, Engineering faculty, and the Planning, Construction, and Real Estate finance team.
GRF Project Archive
| Building | Project Description | Estimated Cost | Estimated Annual Utility Savings | Estimated Payback | Status / Year Complete |
| --- | --- | --- | --- | --- | --- |
| Richard and Maurine Neuberger Center | Retrocommissioning to identify and make energy efficiency improvements | $75,000 | $9,195 | 8 | In progress |
| Science Research & Teaching Center | Clean cooling coils to improve efficiency | $5,048 | $20,000 | 1 | In progress |
| Science Research & Teaching Center | Replace aging refrigerators and freezers in Biology labs with ENERGY STAR appliances | $14,800 | $1,500 | 7 | In progress |
| Engineering Building | Replace aging chiller with VFD chiller | $121,000 | $10,500 | 9 | In progress |
| Hoffman Hall | Install occupancy senors | $7,500 | $1,120 | 7 | Completed 2019 |
| Science Research & Teaching Center | Install Zenn Valve to reduce turbulence from water going through meter to reduce water usage | $30,000 | $40,000 | 1 | Completed 2019 |
| Science Building One | Install heat recovery chiller and electric domestic hot water heater to reduce load on campus loop boilers by shutting down steam to SB1 in summer | $531,000 | $54,000 | 10 | Completed 2018 |
| Science Research & Teaching Center | Heat recovery chiller that uses energy captured while cooling to heat other buildings | $390,000 | $48,000 | 8 | Completed 2018 |
| Richard and Maurine Neuberger Center | Replace electric boiler for energy efficient natural gas boiler | $271,000 | $30,500 | 9 | Completed 2018 |
| Millar Library | Stairwell lighting upgrade to LED | $6,500 | $2,325 | 3 | Completed 2017 |
| Lincoln Hall | Convert extraction well into injection well to operate CH chiller plant without dumping well water down storm drain | $259,000 | $28,000 | 9 | Completed 2017 |
| Urban Center Building | Enhance motion sensors | $97,000 | $14,700 | 7 | Completed 2016 |
| Science Building One | Outside lighting controls/timers so that lights are on for dark hours only | $10,500 | $2,500 | 4 | Completed 2015 |
| Campus Buildings | Enhance efficiency of buildings' morning warm up and cooling controls | $11,000 | $2,100 | 5 | Completed 2015 |
| Hoffman Hall | Switch to LED lighting fixtures | $62,000 | $8,000 | 8 | Completed 2015 |
| University Center Building | Retrocommissioning to identify and make energy efficiency improvements | $18,000 | $2,250 | 4 | Completed 2015 |
| Millar Library | Retrocommissioning & demand ventilation | $141,000 | $48,000 | 3 | Completed 2015 |
| Millar Library, East Hall, Cramer Hall | Lavatory fixture replacements | $34,000 | $10,750 | 3 | Completed 2014 |