Planning & Sustainability Office
Building capacity for a sustainable and resilient PSU
Mission
The Planning & Sustainability Office (PSO) nourishes a growing culture of sustainability within PSU and enables a vibrant living laboratory for exploration and innovation. Through partnership and collaboration, we aim to align policy, practice, and planning with PSU's sustainability, resilience, equity, and educational goals.
Think of us like sustainability & urban planning consultants
To support our mission, the PSO team:
Leads planning efforts to ensure continuous progress towards sustainability and resilience
Facilitates collaboration and builds capacity to meet campus sustainability goals
Supports students, faculty & staff through educational and inclusive programming, responsiveness, and engagement
Provides guidance on best practices for campus operations, planning, and policy
Benchmarks PSU's sustainability performance
In addition, the PSO team also oversees and manages specific programs and services on campus. This work includes utility management and tracking; overseeing waste management contracts and programs; and facilitating the Living Lab program.
Sustainability Dashboard shows downward trends in utility use,…
by Rob Hemphill & Emily Quinton

October 27, 2020
Have you ever wondered how much energy PSU uses? Or whether or not the University is making progress to meet our climate action goals? There is a new tool available to…
What guides our work
Our values
Sustainability is an adaptive, changing process, not a finite destination.
We value reciprocal communication, striving to both learn from and respond to the campus community.
We believe an equitable and regenerative future requires:
diverse perspectives
creative exploration
bold questions and innovative approaches
a continuous commitment to community well-being and environmental recovery and stability
Centering equity
Our work is framed by a commitment to anti-racism and equity. As our office participates in the next phase of PSU sustainability and climate action planning (timeline TBD), these principles must be held at the center of this work.
Anti-racism strategy development
As of Fall 2020, the PSO team is developing an anti-racism strategy while we participate in group training, learning, and discussions around systemic racism and intersections with the sustainability field and our work. We are working on a public document summarizing the guiding principles and process our team has identified to guide this work, which we will make available through this page. Here is a quick summary of where we stand now and activities we are launching:
Summer/Fall 2020: Committing to this work, gathering internal ideas, and preparing to move forward.
Fall 2020: Review and learn from various resources including a selection of equity frameworks that could be used for internal review.
Fall 2020/Winter 2021: Application of equity framework(s) to benchmark and understand how our current programs relate to equity principles and where they uphold systemic racism.
Winter 2021 and ongoing: Use what we learn from benchmarking our programs to identify areas for change and implement these actions on an ongoing basis, tracking and adjusting our work along the way.
As we move through this process, we also acknowledge the need to take immediate action to engage with the PSU community and make changes to our work. Here are a few examples:
PSO manages the Green Revolving Fund (GRF). In 2020 we are facilitating the adoption of a new racial equity criterion for projects funded with GRF dollars.
As we pursue opportunities to increase renewable energy use at PSU, we are focused on identifying programs that support equity goals.
We are listening to and engaging with the movement to reimagine safety on the PSU campus without firearms.
Plans and standards
In addition to University-wide commitments to sustainability and climate action, our office contributes to and is guided by a variety of campus plans and standards. Some plans, policies, standards, and guidelines are specifically designed to help PSU meet sustainability goals or otherwise incorporate sustainability into decision-making processes on campus.
Organizational details
PSO is a key part of Sustainability at PSU, along with the Institute for Sustainable Solutions and the Student Sustainability Center. We are a department of Planning, Construction and Real Estate, under Finance and Administration. In addition to the team members of CSO, the campus sustainability director also oversees Materials Management Services (MMS). See our org chart and visit the MMS site to learn about their services, including mail, surplus, and campus moves.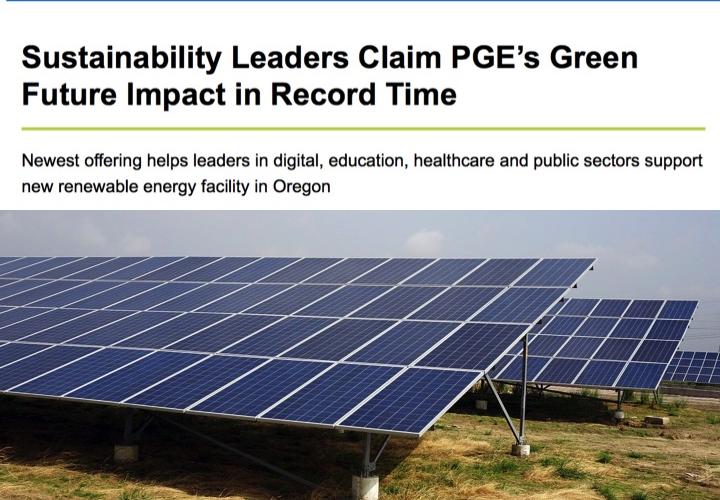 Taking action on renewable energy
In late 2021, PSU will begin receiving almost one quarter of campus electricity from regional solar through the Portland General Electric (PGE) Green Future Impact green tariff.
Follow Sustainability at PSU on Facebook and Instagram @sustainablepdx to see more stories like this.
Jenny McNamara
Campus Sustainability Director
jenny.mcnamara@pdx.edu
Jenny has a long background in campus sustainability planning. Before joining PSU, Jenny served for nearly 5 years as the Sustainability Manager at the University of North Carolina Greensboro where she facilitated broad-spectrum programming and cross campus collaboration. Prior to that, she worked at North Carolina State University where she helped conduct and write the first sustainability assessment for that university. Jenny has also served as an independent environmental consultant in both technical and educational capacities. She holds a BA in Environmental Studies and is honored to be a part of the vibrant and renowned sustainability community at Portland State University.
Amanda Wolf
Program Analyst
wolf@pdx.edu
Amanda coordinates projects, benchmarks PSU's sustainability performances, manages the university's utilities and works on standards and policies that help improve sustainable operations on campus. She holds a BS in Social Science, a Graduate Certificate in Sustainability and a Masters in Leadership for Sustainability Education from PSU. Born and raised in the Northwest, Amanda enjoys being outside, finding every opportunity to slip away from the city and connect with nature. Amanda believes that the key to sustainability is to eradicate the root causes of injustices, and the best way to accomplish this is through community-driven solutions, collaboration, and building resilient communities.
Brandon Lesowske
Waste Management Coordinator
blesowsk@pdx.edu
Reduce, reuse, and recycle is more than just a catch phrase to Brandon. As a lifelong Oregonian, he believes that these 3 actions can help preserve the beauty and bounty this great state has to offer. Prior to his role as the Waste Management Coordinator at PSU, Brandon worked at Oregon Health and Science University for over 5 years, where he oversaw their waste reduction and recycling operations. Additionally, he is engaged in the local sustainability community, where he has enjoyed volunteering his time and services with the Cascadia Green Building Council, International Living Future Institute, and SOLVE. He was awarded his BS in Community Development from Portland State University. He also completed the Sustainability Leadership Certificate Program from the University of Oregon. In his free time, Brandon appreciates visiting the splendors of the surrounding environment with his family. You can often find him lounging along the beaches of the Pacific, hiking trails in the Cascades, or camping in our lush forests.
Alesha Delaney
Communication & Marketing Specialist
dalesha@pdx.edu
Alesha is a PSU graduate and the communications and marketing specialist in the Campus Sustainability Office at Portland State. She focuses on supporting programs, activities, and events that advance sustainable behaviors on campus. In her studies, she has focused on human behavior and interaction with the environment, and is very passionate about fostering human connections to nature and education about environmental issues. In her spare time, Alesha is a climate organizer working in her community to advocate for a just transition to a sustainable future.  
Rob Hemphill
Sustainability Data Analyst
robert.hemphill@pdx.edu
Rob is PSO's Sustainability Data Analyst, gathering, analyzing, and reporting sustainability-related data for the campus. He brings experience working in the sustainability sector and utility energy efficiency sector. A current Master of Urban and Regional Planning (MURP) student, Rob's interests include addressing climate change through efficient and equitable cities, and specifically wants to work in the intersection between land use, housing, and transportation. Rob earned his BA from Macalester College, majoring in Political Science and minoring in Environmental Studies, and while there served as the student representative on the Sustainability Advisory Committee as they constructed their 20 year climate action plan. In his free time, he enjoys biking around town, attending Portland Thorns games, hiking, and cooking.
Hayden Henderson
Reuse Coordinator
hhender2@pdx.edu
Hayden helps reduce the campus's landfill-bound waste through redistribution and reuse education. They help lead a group of Student Sustainability Center volunteers, the Waste Reduction Task Force, to take on reuse events, projects, and campaigns. Hayden is working on their Masters in Leadership for Sustainability Education at PSU, and previously graduated with a BA from Reed College in Environmental Studies-Political Science, focusing on policy implementation strategies for public school and cafeteria environmental programs. Hayden was Reed's Student Sustainability Coordinator and Climate Action Plan Fellow, and is thrilled to continue talking trash at PSU. Hayden loves low-waste plant-based cooking and making crafts and sewing projects from would-be trashed material. They believe to sustain earth we must sustain and care for ourselves first and do what we are individually able to do and advocate for, a lesson learned from living with chronic illnesses, and in turn that the small communities around us will flourish.