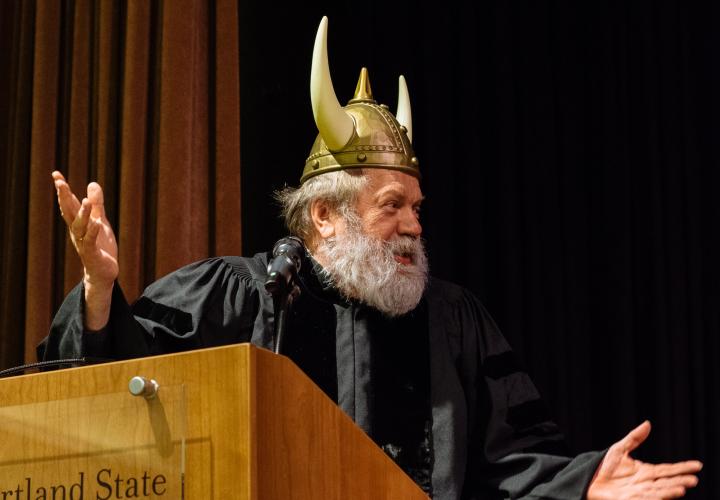 ECE Graduation Celebration
Each spring the ECE department holds a celebration of our graduates. This is separate from the main Portland State commencement ceremony.
Congratulations to the ECE Class of 2021!
This year's virtual ceremony can be viewed on our Youtube channel. We hope to go back to an in-person event at the end of the next academic year. More information will be available during winter and spring terms 2022.
PhD Day
Our annual PhD Day includes a keynote speaker, "Three Minute Thesis" presentations, and judged poster session. This event is a requirement for current ECE PhD students.
Student Appreciation
Each year the ECE department hosts an event that is an appreciation of our students.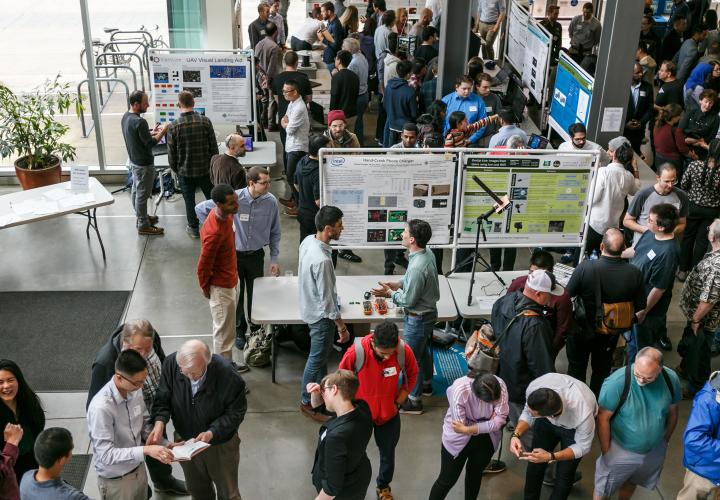 ECE Capstone Poster Competition
The senior capstone sequence of ECE 411, 412, and 413 culminates in a poster session each year. Students work in teams with a faculty advisor and industry sponsor to complete their projects and the posters that describe them.
THE CAPSTONE POSTER COMPETITION IS HELD ANNUALLY NEAR THE END OF SPRING TERM.
CONGRATULATIONS TO THE 2021 CAPSTONE WINNERS!
Most Creative
Team P5:  David Moore, Edward Rees, Mosleh Saleh
Project Title: Flux Magic  
Faculty Advisor: Jonathan Bird
Sponsor: FluxMagic, Inc.  
Best Presentation
Team P3: Juan Piedras Arenas, Martina Nasr, Edgar Ortiz Niño, Dylan Wangrud, Blessing Yumbe
Project Title: Continuous Solutions
Faculty Advisor: Jonathan Bird
Sponsor: Continuous Solutions
Best Project
Team 23:  Seth Rohrbach, Yusmel Pradera, Katie Loseke, Jennifer Jordan
Project Title: Test Stand Automation and Regulation
Faculty Advisor: Renjeng Su
Sponsor: Portland State Aerospace Society
Honorable Mention:  Innovative
Team 8:  Abdullah Almarzouq, Robert Fogg, Ranvir Sandhu, Mai Her
Project Title: Smart Cozy
Faculty Advisor: Melinda Holtzman
Sponsor: Smart Cozy, Co.
Honorable Mention: Design and Execution
Team 1: Matthew Wilson, Devon Mickels, Thomas Nicolas Courcy,  Stephanie Taylor
Project Title: Custom Tester for Sensor-Relay Board
Faculty Advisor: Doug Hall
Sponsor: Nexgarden
Honorable Mention: Well Executed, Thorough Testing
Team 3:  Jonathan Golobay, Aldo Zamora Pacheco, Elijah Penn, Hamed AlSaeghi
Project Title: Elephant Population Monitoring System
Faculty Advisor: Christof Teuscher
Sponsor: SightLine Applications Inc
Honorable Mention: Comprehensive Solution, Well Executed
Team 22:  Kelly Makinster, Miles Breslin, Daniel Sayenko, Daniel Bublik
Project Title: Realtime Mobile Dashboard for Manufacturing  
Faculty Advisor: Yuchen Huang
Sponsor: Northwest Fourslide