Commencement
Virtual Commencement
Sunday, June 13th, 2021 at 11 am Pacific time
All videos are pre-recorded and will be available to view and access after their debut. Each school and college will host its own event with individual student recognition. A general broadcast of the 2021 Virtual Commencement ceremony will be televised through Oregon Public Broadcasting Plus (OPB+) on Sunday, June 13th at 11:00 am PT.
Ceremony assignment is based on the student's major or certificate, if the student is not receiving a degree. For students with more than one major, major 1 listed in your Banweb account will be used to determine the assignment. If you do not see yourself in the ceremony for your primary major, search your name in the ceremony for your secondary major.
Share celebrations with us on social media using #2021PDXGrad!
Select Your School or College to Watch
American Sign Language (ASL) Virtual Commencement:
Then, navigate to the School or College below where your graduate received their degree(s).
---
How to Participate
Ceremony slides will be shown during the Conferral of Degrees at the virtual commencement. Each school or college will have its own virtual commencement ceremony, and graduates will be featured in the ceremony that corresponds to their primary degree.
Follow and use the hashtag #2021PDXGrad in your posts to keep up with the celebrations! 
Commencement Materials
The Printed program will be sent to all graduates at the address listed in Banweb.
Diploma covers have been shipped to 2021 graduates! If you have not yet received yours, it may arrive later in June. Diploma covers have been shipped to the address listed in Banweb. Diplomas will be shipped separately, and will be sent 3-4 weeks after grades are posted in Spring. 
Commencement Social Media Toolkit
Use these social media assets to showcase this major life achievement online, on social media and with your family and friends. Feel free to share this page so they can join in the celebration! Share your graduation moments using the #2021PDXgrad hashtag.
How to Celebrate With Your Graduate
Friends and family from far and wide are invited to join the virtual commencement ceremony. On commencement day, you will be able to select the ceremony for the school or college where your graduate received their primary degree.
The ceremonies will begin at 11 am, though viewers will be able to start watching the ceremony from the beginning at any point after its debut. 
More Commencement Ceremonies at PSU
Portland State also features more commencement celebrations for:
- Family-Friendly Virtual Commencement
- Honor Day
- Lavender Graduation
- Latinos Unidos Graduation
- Multicultural Graduation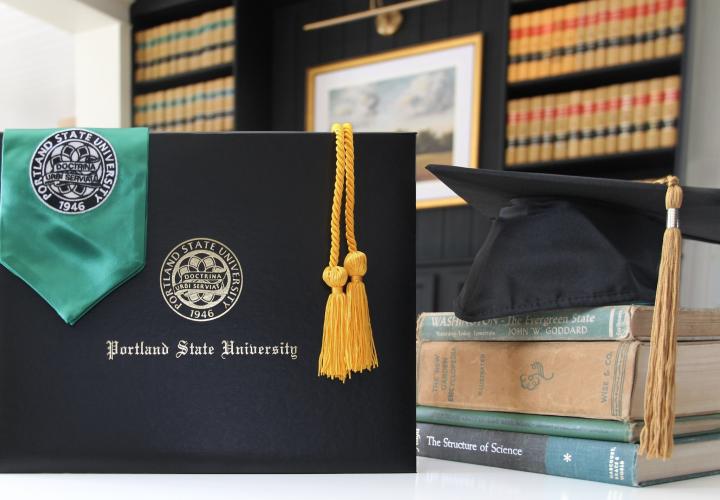 Get Your Commencement Regalia
Commencement caps, gowns, tassels, stoles, hoods can be ordered online through the University Box Office.
Get what you need right away at the University Market, 1925 SW Broadway, 8 am - 4 pm, Monday - Friday.
---
Graduate Photographs
Thank you for joining us for grad photos on June 2nd - 5th, 2021. Each participant will receive a gift of (1) printed 8x10 photo taken in front of the PSU branded backdrop. Other photos taken will be offered via email for purchase. Purchase is not necessary to receive the printed portrait.
Grad Cap Content
Decorate your mortarboard and enter our 2021 Grad Cap Decoration contest. Prizes will be awarded to the designs with the most votes.
---