Message from the Chair
I took over as Chair of the Electrical and Computer Engineering (ECE) Department on September 1, 2020 during what has been a challenging year for all of us. Our department is highly committed to student success and so we have re-shaped how we provide education in Electrical and Computer Engineering during this global pandemic. Our faculty successfully transformed all our courses to remote instruction in the spring of 2020 and we are continuing on-line into the fall. This has been a big change but we remain committed to delivering a high-quality education to all our students. The project-based and hands-on learning aspects of our curriculum were reworked to allow students to continue to have these experiences even while we are away from campus. 
The ECE department offers degrees at the Bachelors, Masters and Doctoral levels. Our undergraduate degrees are accredited by the American Board of Engineering Technology (ABET). Our department is the second largest in the Maseeh College of Engineering and Computer Science (MCECS), and we have one of the largest Master's Degree granting programs on the west-coast of the U.S. 
We are an urban research university located in downtown Portland, OR. Our research encompasses several areas, among our strengths are: Power Engineering, Electromagnetics, Acoustics, Signal Processing, IC Design and Test and Embedded Systems. Most of our faculty are members of their research societies and many are Fellows. There are opportunities for both undergraduates (through, for example, the MCECS Undergraduate Research and Mentoring Program) and graduate students to work with our faculty doing cutting edge research. We have excellent facilities for both teaching and research including our newly renovated and expanded Electronics Prototyping Laboratory (EPL).
Our department greatly values our diverse student body that is a mix of traditional and non-traditional students. Many of our students work part or full time while pursuing their ECE degrees and we do our best to schedule courses with this in mind and try to accommodate the variety of student needs. 
We have strong collaborations with local technology companies. These relationships have helped our department develop an outstanding Senior Capstone Program. Further, most of our undergraduate students have at least one internship and many have two or more. Many of our graduate students also participate in internships with local industry.
Our ECE Department continues to make important contributions to the local community while also doing research that has global impact. As we strive for continuous improvement, we invite you to join us and help strengthen us further.
Martin Siderius
Professor and Chair
Mission, Vision, and Values
Mission
We prepare students for successful engineering careers and lifelong learning, and we conduct research that creates new technologies and engineering knowledge.
Vision
Our vision is to be a source of premier electrical and computer engineering talent and high-impact research. This means our graduates are successful, our research is recognized worldwide, and we are the intellectual center for our discipline in the Portland region.
Values
We value:
The success of our graduates
Contributions to research and knowledge creation   
High intellectual and ethical standards
High quality education for traditional and nontraditional students
A diverse student population
Our contribution to the Oregon economy
Lifelong learning
Technical and professional relationships with the engineering community
 
Updated May 19, 2017
Accreditation
Portland State University's Bachelor of Science programs in Electrical Engineering and Computer Engineering are accredited by the Engineering Accreditation Commission / Accreditation Board for Engineering and Technology (EAC/ABET).
Accreditation certifies that a program meets or exceeds the minimum criteria for quality education, ensuring a quality educational experience for students.
You can find information about our undergraduate program educational outcomes here
Enrollment data for Bachelor of Science in Electrical Engineering and in Computer Engineering found here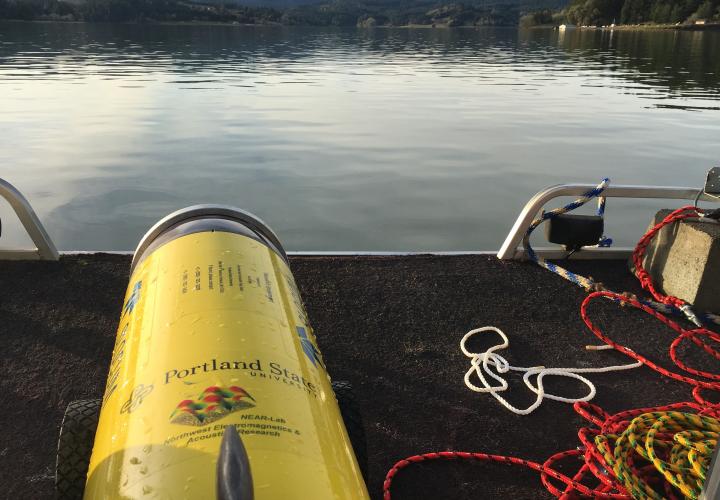 Environmental Sensing and Monitoring Focus
At Portland State, we focus on the Electrical Engineering challenges associated with the future of environmental sensing and monitoring.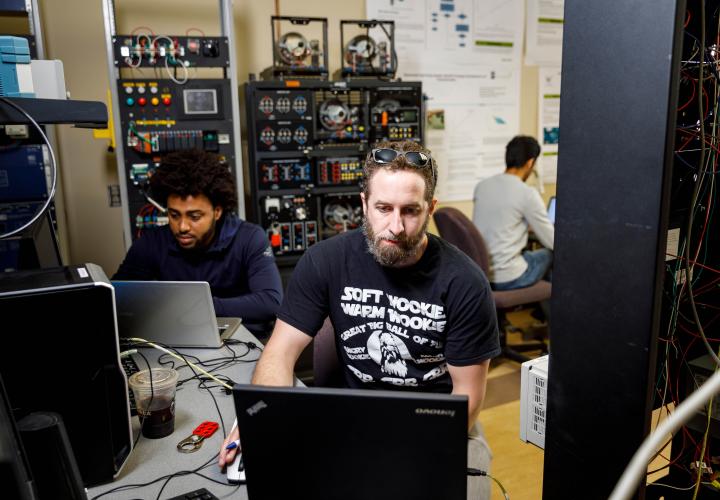 Power Engineering Focus
The Electrical & Computer Engineering Department at Portland State University currently has two areas focused on electric power: The Power Engineering Group and the Laboratory for Magnetomechanical Energy Conversion & Control.
Ethics
The ECE Department takes the issue of professional ethics very seriously. All students are expected to review and follow the Institute of Electrical and Electronics Engineers (IEEE) Code of Ethics.
Industrial Advisory Board
As part of our process for continuously improving our programs and the quality of our graduates, we regularly meet with our alumni and members of local industry for advising. The objectives of ECE's Industrial Advisory Board (IAB) are to provide feedback on strengths and weaknesses of recent graduates from our B.S. and M.S. programs, advise the faculty on how to best prepare our students for engineering careers, provide opportunities for students to apply for engineering positions and internships, promote our students and advocate our programs to the engineering companies within the region, and to provide program feedback as part of our continuous improvement and ABET accreditation processes.
Our IAB membership includes representation from many companies in the Portland region that hire graduates from our programs and develop technologies that include electrical and computer engineering. Our pool of advisors work at all levels from individual contributor to CEO of companies such as Intel, Siemens EDA, Bonneville Power Administration, Portland General Electric, Maxim Integrated Products, Allion USA, POWER Engineers, and Tektronix.
Industry Partnerships
We rely on our partnerships with Industry to help in our goal of producing the best graduates for professions in Electrical and Computer Engineering. We address this in a multitude of ways:
Assist industry in finding graduates for positions
Internship Program
We meet with our Industry and Alumni Board Quarterly to help give constructive input into our programs and students.
Industry partners can request to host an event in our Department by contacting our department chair, Martin Siderius, siderius@pdx.edu.
Industry partners can request to host a tour of the Department and its facilities by contacting our department chair, Martin Siderius, siderius@pdx.edu.
We hold many events that provide opportunities to meet others in the Electrical and Computer Engineering Community. Check out our Events page.
Host an Event
As part of our service to the community and city of Portland, we are proud to host events and meetings of professional societies, user groups, nonprofit organizations, and engineering honor societies. If you are interested in hosting a meeting or event at Portland State that is related to Electrical and Computer Engineering, please contact us: eceinfo@pdx.edu