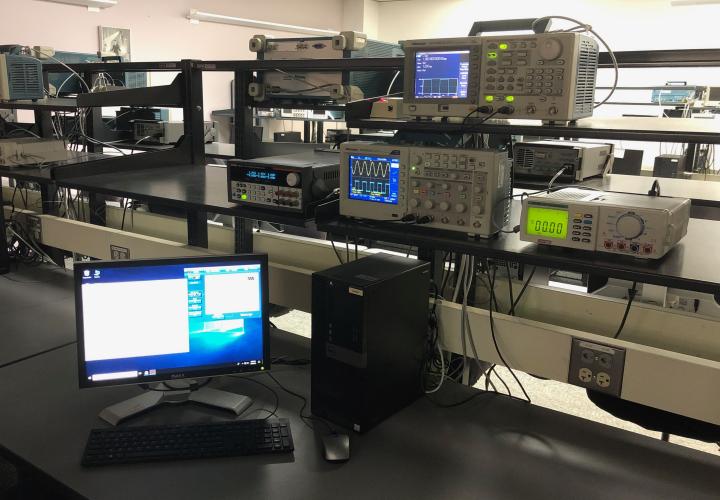 ECE Department Teaching Labs
Find out more about the labs used for ECE courses and various other resources available for students, including how to get your lab kits and parts.
Electronics Prototyping Lab
The Electronics Prototyping Lab (EPL) is a lab for rapidly prototyping electronics projects. The EPL hosts workshops, has a student store with components and supplies, rents lockers, hosts industry workshops and talks, and has a ton of equipment for you to use in your work either for classes or for your independent ideas.
The Electronics Prototyping Lab has recently set up a new Discord channel in addition to their Slack channel for questions about lab kits, DIY building, or just making cool stuff in your garage. Please feel feel to join one or all of their channels here:
Discord: https://discord.gg/Gc4ESYA
Slack:  https://eplabpsu.slack.com
General contact: epl@pdx.edu
They are available to answer your questions for you or point you in the right direction if need be.
Student Store
The  Student Store offers parts, toolboxes, and locker rental in FAB 84-10. Look for their schedule information at the Electronics Prototyping Lab.
Student volunteers help the Student Store run. To volunteer, or for more information, contact epl@pdx.edu.
There is also a parts vending machine down the hall from the EPL near the Circuit Lounge. Parts are available for reasonable prices 24 hours a day, 7 days a week, for students with access to the building.
Building Access
Fourth Avenue Building security access and keys for ECE spaces
To enter FAB outside the normal "open-door" hours, you need a PSU picture ID badge. Likewise, to access a special lab or a project workshop that is kept locked, you need the appropriate badge access or brass key. The steps to obtain these are as follows:
Building Access with ID Badge
You need to get a PSU picture ID "badge" at ID Services in FMH (Fariborz Maseeh Hall) on the corner of 4th Ave and Broadway.  The PSU ID will have a "badge" number assigned and we need that number to allow after hours access to FAB.
Visit MCECS Student Services (EB 100) to request general "24/7" outdoor key access. Email eceinfo@pdx.edu to request access for a particular ECE lab. 
Lab Access with ID Badge
If you need access to specific labs outside those for general student use, you must obtain permission from the lab owner. The lab owner, usually a member of the faculty, will request access on your behalf. Please provide the faculty with both your PSU ID number and badge access number when making the request.
Room Access with a Brass Key
Physical key requests are requested by emailing Rachelle Braido (braido@pdx.edu) with the exact office you need a key for and why (in most cases the professor will need to be copied to the email request to confirm). Once the form is complete, the student will be emailed to come sign the form then they can take it to FAPM. They will be emailed once their key is ready and they will have to go pick it up in person and sign for it. Please provide information regarding the suite and room access requested and faculty that has authorized access.
Within five business days, key(s) will be available the Facilities and Planning office on the Second floor of the University Services Building (USB 202: entrance on Montgomery between Sixth and Broadway).  You will need to present a picture id to claim your key(s).