Oregon Solutions
Collective Action
Oregon Solutions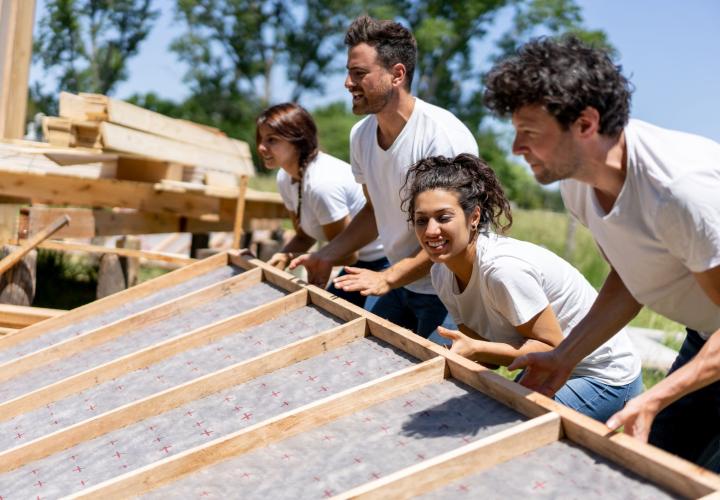 Together Communities Prosper
Finding the local support, financial resources, and best approaches to make a community project a reality requires collaboration. NPCC's Oregon Solutions has helped dozens of communities work together to make a change.
We help communities gain public support to implement sustainable ideas
Through NPCC's program Oregon Solutions, we work with communities to implement solutions to local problems through collective action. In general, the problem and the solution are not in dispute; however, finding the local support, financial resources, and best approaches to make the solution a reality requires collaboration. Oregon Solutions brings businesses, government, and nonprofits together to agree on what role each will play to address a community need. Oregon Solutions projects must meet at least two of Oregon's sustainability objectives. Those objectives are to foster a productive economy, equitable community, and healthy environment. The project must also be timely, with a broad group of interested parties who are ready to invest their time and energy.
How it works
A community in Oregon defines a problem that they want to solve.
A project champion such as a state senator, city council member, or community leader contacts Oregon Solutions to recommend a project. Oregon Solutions does research to assess the project's suitability.
The Oregon Governor designates an impartial convener to bring people together.
If Oregon Solutions determines that a project is suitable, and the governor approves the project, the governor issues a formal letter of designation and appoints a convener to serve as a neutral chair of the project team. Oregon Solutions provides a project manager.
The team collaborates to develop an integrated solution.
Oregon Solutions and the convener bring together a group of stakeholders and other entities. They jointly problem solve. Meetings are chaired by the convener and facilitated by the Oregon Solutions project manager.
Participants sign a Declaration of Cooperation.
Once the group reaches consensus about what to do and how to do it, they sign a Declaration of Cooperation that identifies the specific contributions (of money or action) that each party will make in order to implement the project.
Implementation begins.
The community completes the project based on the commitments that team members have made. Six months later, Oregon Solutions meets with the group to assess progress and report to the governor.
Sample Oregon Solutions projects
Oregon Solutions has completed more than 100 community projects that address Oregon's sustainability goals. The following are just a few of the solutions we've helped implement:
Early literacy. The Klamath Tribes/Chiloquin Community Early Literacy Project addressed poverty long-term by uniting parents and the community to ensure that local children are ready to read when they enter school.
Water management. The Columbia River-Umatilla Solutions Taskforce identified ways in which water withdrawals from the Columbia River could benefit fish, farms, and economic development in Eastern Oregon.
Education. The Prosperity Pilot for Career Technical Education project expanded technical education for Malheur County high school students in the welding, manufacturing, and allied health fields.
Technology. The Regional Accelerator Innovation Network provided a plan for uniting business, communities, government, and higher education to increase technology businesses and jobs in the South Willamette Valley.
Flood prevention. The Tillamook Basin Flooding Reduction project identified and prioritized strategies to diminish severe flooding and damage in the Tillamook Basin.
Forest management. The Umatilla Forest Collaborative Group developed an implementation plan for a 30,000-acre forest restoration project in the Heppner Ranger District.
Disaster recovery. Government and community leaders collaborated to secure a site and funding to rebuild Vernonia's school after a devastating flood.  
Find out more
Learn more about how Oregon Solutions collective action works, and read about more projects by visiting the Oregon Solutions website or contacting us at (503) 725-9077 or npccdesk@pdx.edu.