Admission Process and Requirements for the Master of Science Program
Please review the information on this page and the frequently asked questions at the end. If you still have not found an answer to your question you can reach out to us at eceinfo@pdx.edu.
Application Requirements
Deadlines for applying to the masters program:
Fall (September start) - March 1st 
Winter (January start) - October 1st
Due to the sequence of classes, we generally do not admit students to our masters program for Spring or Summer
We do not have a separate priority admission deadline for the masters program.
Applicants to our MS program are normally expected to meet the following eligibility criteria:
BS degree in electrical and/or computer engineering
Overall undergraduate GPA of at least 3.0
Technical GPA of at least 3.0 in junior and senior-level courses 
Applicants who do not meet both of the GPA criteria may be permitted to enroll in a series of up to four of our graduate engineering courses as a post baccalaureate student with permission of our Graduate Program Director. The courses have to be in the area of the desired MS Track. If the applicant attains a B or better in at least three of these courses and an overall graduate GPA of at least 3.0, they will be eligible to apply for admission to our MS program. If the applicant is admitted to our MS program, up to 4 of the pre-admit courses, with grades of B- or higher, will count towards the MS course requirements. requirements. Note that an applicant whose B.S. degree is from a university in a country where English is not the native language must provide proof of English language proficiency as required by PSU International Admissions in order to qualify for this path to MS admission.
The GRE is required as part of our MS program application, but the GRE will be waived if the BS degree is from an ABET-Accredited Program (includes most domestic universities).
Applicants with a B.S. degree in some other field (e.g., mathematics, physics, computer science, mechanical engineering, economics, etc.) will be required to take an individually specified group of undergraduate ECE classes as a Post-Baccalaureate student to gain the basic skills needed to succeed in an ECE Master's program. Upon successful completion of these undergraduate ECE "bridge" classes with grades of B or better, an applicant will be considered for admission to the Department of Electrical and Computer Engineering as a regular M.S. student. You can find more information about the bridge program here.
Application Process
We have implemented a single online graduate application, available via the link the below. Portland State University's graduate application requires the following documents:
Copies of your transcripts from each post-secondary institution attended
Proof of English Language Proficiency through the submission of TOEFL, IELTS, or PTE Academic exam scores (for applicants whose first language is not English)
In addition to the above requirements, our department requires:
Three letters of recommendation (waived for students who have gone through our bridge or 4+1 programs)
Official GRE scores (not to be more than 2 years old at time of application)
The GRE is waived for students with a BS degree from an ABET-accredited program (which includes most domestic programs)
International applicants must also submit:
When both the PSU and ECE requirements are complete, and the application deadline has passed, the ECE Department will evaluate all application materials. PSU Admissions will then review all application materials. If all is in order, PSU Admissions will send a formal letter to the applicant and generate an I-20, if needed. Applications that are not complete by the deadline will not be considered. Admissions are selective.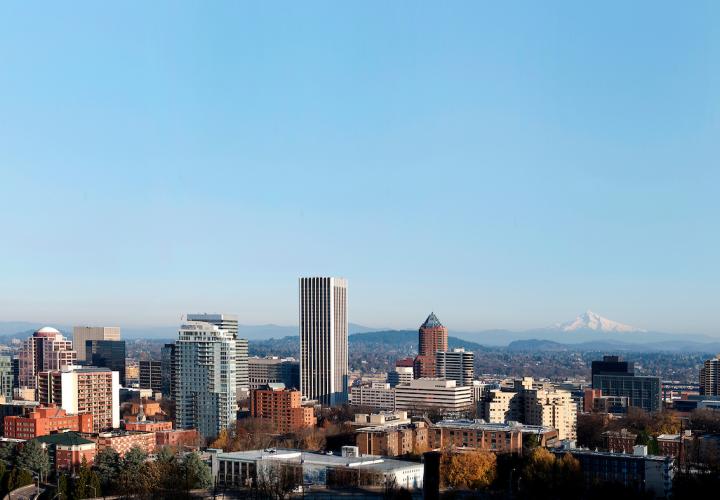 Apply Online to the M.S. in Electrical and Computer Engineering Program
Join the largest electrical and computer engineering graduate program in the Pacific Northwest. Start or continue your application here.
Deferring Admission 
Graduate applicants, with the support of the department, can defer their term of application up to four terms i.e. Fall 2020 to Fall 2021. You can only defer to winter or fall terms since those are the terms we admit for the MS program. You have up until the end of the term you were admitted to submit this form and change your admission. If you were admitted for Fall 2020, for example, you would need to send us the form before Fall 2020 ends (in December). If you do not attend a course in your term of admission and do not submit the change of term form by the end of that term your admission will be cancelled.
If you need to update your admission, complete the Admission Update form and submit to the ECE office for approval.
Transfer Credits
Up to 15 quarter credits or 9 semester credits of transfer credit can be accepted as elective, pending advisor approval. Credit that has been applied toward any master's degree cannot be used toward a second master's degree at PSU.
Please note you must comply with all policies listed in the PSU Bulletin and Office of Graduate Studies.
Thesis and Coursework Options
The Master of Science program has two options, each requiring 45 credits: thesis or coursework-only.
Thesis Option
For the M.S. thesis option, students take 24 credits of approved ECE graduate lecture classes, 12 credits of approved graduate electives and nine credits of ECE 503: Thesis. The thesis credits require the student to research, develop, write, and publicly defend an approved thesis. Though students are accepted for the M.S. thesis program and are assigned an interim faculty adviser, they must be accepted by a thesis adviser and submit an adviser-approved course study plan following one of the Graduate Tracks no later than the completion of 16 ECE graduate credits. Please see the master's program page for more information.
Coursework-only Option
For the coursework-only M.S. option, students take courses following an adviser-approved track of graduate classes. The pre-approved advisory tracks are shown on the Graduate Tracks page. These tracks were designed by the faculty to give both depth and breadth of knowledge in the specified study area. This approach greatly improves a student's ability to get a job or do research in the specified area. Most M.S. students will follow one of the pre-approved, faculty-designed tracks. However, it is possible to develop a custom track with a faculty adviser and Graduate Program Director approval. The credit requirements for this option are sixteen credits of ECE graduate lecture classes that form a core, sixteen credits of ECE graduate lecture classes that provide depth and breadth, four credits of elective ECE graduate lecture class, and nine credits of approved graduate electives.
Coursework-only students must submit an adviser-approved study plan no later than completion of sixteen credits of ECE graduate credits. Please see the master's program page for more information.
Frequently-Asked Questions for Graduate Applications
When is the deadline for accepting admission to the program?
There is no deadline to accept admission if you are accepted into the program. We recommend not waiting too long though so you can get everything in order to begin the program and to register for courses before they fill up.
What is your GRE score cutoff?
Because all applicants are unique, we have no specific cutoff or minimum. It depends on your other qualifications.
Scores are not accepted if more than 2 years old at time of application.
What is your TOEFL/IELTS score cutoff? (International students)
We adhere to PSU standards. If your English language score is not passing, we will contact you to ask you whether you are willing to be considered for conditional admission. Remember, English language scores are taken into consideration when the Graduate Director makes admission decisions.
What is the GPA requirement?
By PSU standards, all incoming students must have a 2.5 GPA for conditional admission and a 2.75 GPA for regular admission. We normally expect students to have at least a 3.0 undergraduate GPA.
Can you accept my application, even though it's after the deadline?
Unfortunately, we cannot. If you are a local student who wishes to start your program, please discuss your options with Dr. Hall. 
Will I be admitted with my profile?
We cannot predict whether you would be admitted and will not evaluate your profile. 
What's my application status?
You will receive an update on your application when there is one. Sometimes there will be no updates for a while, especially if you applied early. Many admissions decisions are not made until closer to the application due date.
How can I check my application status online?
You can check your letters of recommendation online and if there is anything else you need to submit.
Have you received my GRE/English proficiency test scores?
For application purposes you only need to attach your unofficial scores. The Graduate School handles the collection of your official test scores and you can contact them at gradschool@pdx.edu if you have any questions.
What is Portland State's institutional code to send test score reports? 
When ordering test score reports, use PSU's institutional code: 4610
How do I apply for financial aid?
There are several forms of financial aid.
For information on financial aid for domestic students, please contact PSU's Financial Aid office.
Scholarships are available for international and domestic students. Students can find more information on Scholarships for ECE Students page.
Teaching Assistantships and Research Assistantships are rarely given at the time of admission. Visit our assistantships page for more information.
When will I get my I-20?
The Graduate School will have information for you with the admissions letter they send. If you have questions you can follow up with them at gradschool@pdx.edu
How do I get my PSU ID number? How do I set up my account after admission?
Your PSU ID number will be provided by the Graduate School in your admission letter, as well as a link to a checklist to take your next steps as an admitted student.
What do I need to mail to the ECE Department?
Nothing! The application for ECE is all done online. When you apply to PSU through the Admissions Office, they do need official documents. Please do not mail materials for the ECE application to PSU Admissions or any other office.
If you need to submit GRE scores, they should be submitted directly through ETS to University Code 4610, Department Code 1201 or 1203.
How can I submit my resume or statement of purpose?
We do not review non-required items for MS students. Please only upload what the application asked for and answer the questions it asks in place of a statement of purpose.