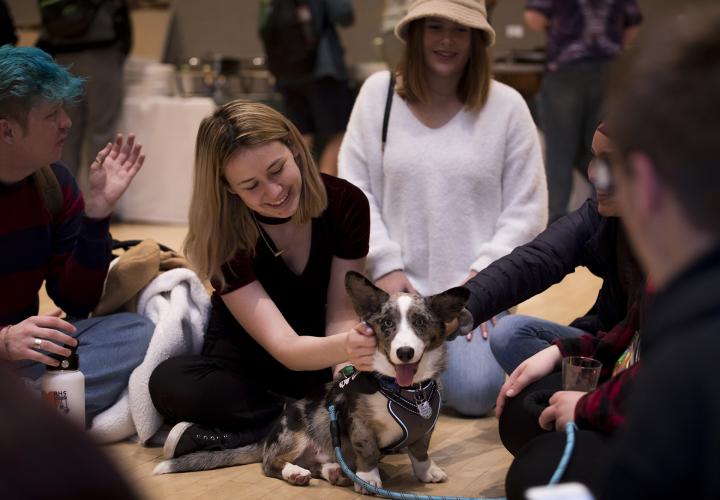 Reserve Your Spot in Smith
Hold your conference, meeting, event, or entertainment in Portland State University's living room on campus. Use a meeting venue in Smith Memorial Student Union and Hoffmann Hall or host a table event outside Smith.
Committed to providing outstanding hospitality and service to clients and guests, Smith is your first stop for planning your next conference or event.
HOW TO RESERVE ... PSU DEPARTMENTS, GROUPS
Portland State departments and student groups can use our online reservation system to book meeting spaces in Smith Memorial Student Union, Hoffmann Hall, and to host tables outside Smith. Visit events.pdx.edu and log in to see meeting spaces that are available for booking. You can customize your room setups, request catering, and request AV from the form directly.
The EMS Portal Online Guide can help you learn more about the system.
HOW TO RESERVE ... ALL OTHER CLIENTS
For all others interested in holding a conference, event, or entertainment at PSU, you can a request a meeting or event space in Smith Memorial Student Union, Viking Pavilion, or our other campus locations by completing the Event Inquiry Form.
Room Rental Rates
For information on the room rental rates in Smith, view the Room Rental Rates (PDF). 
For information about other Portland State University venues and lodging options visit our Venues web page.
All events must adhere to the Campus Events & Student Union Facilities Use Agreement (PDF).
Available Space and Specs
Our Space & Specs Guide (PDF) shows floorplans, specifications, and capacity for available meeting areas in Smith Memorial Student Union. 
Room Size Categories
Marquee (200-plus attendees)
Large (100-200)
Medium (20-100)
Small (up to 20)
Catering
Let PSU Caters guide you, from designing the perfect menu to personalizing all the details of your unique gathering. Our catering services can accommodate any size, theme, or individual requirements, in virtually any location — on or off campus. You can view menus and begin the order process with PSU Caters' online form.