BE601: Leading Sustainable Change: Culture
About This Course
The only constant is change. Effective change leaders drive that change in intentional ways — they don't pinball from one challenge to another. This course takes a whole systems view of organizational life and the concept of company culture. Rather than aiming for an end state, the focus is on creating the conditions for a culture of continuous improvement. Structured around a set of organizing principles, this course empowers participants to be more effective change agents and to help drive lasting workplace improvements.
Course Snapshot

Format
 
Course delivered in a virtual format with live instructor & student interaction

Frequency
 
2 times per year (Fall and Winter)


Length

1 day, 8:00am - 4:30pm

Cost
 
$399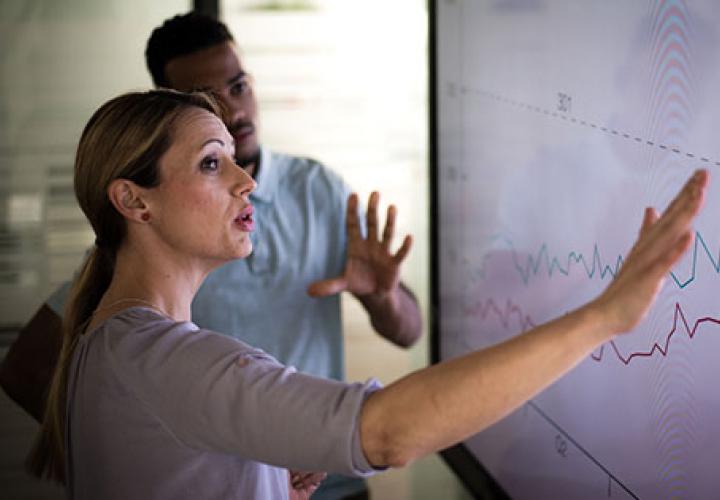 Process Improvement
Process improvement methodologies take organizations to the next level by introducing efficiencies that use proven traditional methods to address modern-day challenges — in any industry and any function...
What You'll Learn
Upon completion of this course, students will have gained the knowledge to:
Have greater self-awareness of their personal leadership styles and the underlying assumptions driving their behaviors;
Understand the concept of organizational culture and the levers to effect lasting change;
Develop strategies for interpersonal communication to enhance collaboration;
Develop a personal game plan for positively influencing workplace culture.
The Learning Environment
This course is delivered in a virtual format and combines lectures, discussions, and group activities. 
Courses in the Process Improvement Certificate Track
Enrolling in the full certificate program allows for more comprehensive learning in regard to process improvement. Required and elective courses are: 
Courses may be taken individually and in any order unless otherwise noted. Six courses are required to complete the certificate. If pursuing the certificate, all courses in the certificate program must be completed within three years. Visit the program page for a recommended sequence.
Meet the Instructor
David Hall
David Hall is an educator and organizational consultant who appreciates the opportunity to help others create better ways to live and work together. In addition to serving as an adjunct faculty member at Portland State University, David has worked as a consultant and sustainability advisor. He earned an M.S. in Industrial/Organizational Psychology, and a Ph.D. in Systems Science: Psychology from Portland State University.