About This Course
Visual Management is about making the workplace "work".  In short, the work area should "talk to you" rather than you trying to figure out what is or should be happening.  Implementing the principles of visual management to order a workspace and materials can make routine work easy and provide time and bandwidth to solve more challenging problems.
In this course, students will learn to see their workplace and materials through a visual lens and practice using visual management to achieve bottom-line results and a learning environment.
Course Snapshot

Format
 
The course is delivered remotely, with a blend of virtual live sessions and self-paced activities.

Frequency
 
2 times per year (Fall & Spring)


Length

One week with a 15-hour workload. Please check the schedule for live session dates and times.

Cost
 
$649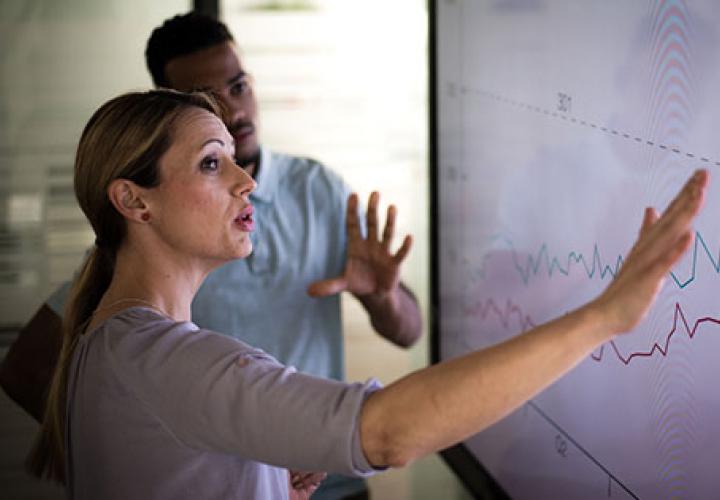 Process Improvement
Process improvement methodologies take organizations to the next level by introducing efficiencies that use proven traditional methods to address modern-day challenges — in any industry and any function...
What You'll Learn
Upon completion of this course, students will have gained the knowledge to:
Think Visually;
Map Your Workplace;
Set Up a Visual Workplace;
Standardize and Improve a Visual Workplace;
Sustain a Visual Workplace;
Determine Where to Start.
Tools used include 5S, Spaghetti Mapping, Kanban, and Glenday Sieve. 
The Learning Environment
The course is delivered remotely, with a blend of synchronous and asynchronous activities. Virtual live sessions provide opportunities to engage with the instructor and other students in real-time and self-paced activities give students the chance to work through content on their own schedule.
Courses in the Process Improvement Certificate Track
Enrolling in the full certificate program allows for more comprehensive learning in regard to process improvement. Required and elective courses are: 
Courses may be taken individually and in any order unless otherwise noted. Six courses are required to complete the certificate. If pursuing the certificate, all courses in the certificate program must be completed within three years. Visit the program page for a recommended sequence.
Meet the Instructor
Teri Danielson
Teri Danielson works with clients to design, develop, and implement improvements to plant operations and food safety, launch products, and design custom solutions for a range of manufacturing environments. She has worked for Starbucks Coffee, Quest International, and Bridgeport Brewing. Teri holds a B.S. in Microbiology from Oregon State University and a Project Management certificate from Portland State University.