Engineering & Technology Management
Are you an engineer or scientist who is ready for the next career step? Our programs prepare you for leadership at the intersection of management and technology.
Today's employers want more than technical skills - they expect knowledge of business fundamentals, adaptability, and the skills to collaborate effectively with non-technical colleagues. Our experienced instructors build on your background in engineering and technology. You will develop competencies in business, project and product management, and leadership - in flexible programs that are designed for working professionals.
Programs
Affordable graduate programs develop proficiency in state-of-the-art management practice, sound business strategy, disciplined decision-making, and leadership. Degree contents can be tailored to fit your interests and career goals. Schedules are flexible - part-time, full-time, face-to-face, or remote-enabled. Programs start every three months, including summer.
Department & Community
The department, located in the College of Engineering, has a thirty-year track record of defining the field of Engineering and Technology Management and attracts international students and colleagues. Small classes, global perspectives, and instructors with first-hand experience in the tech industry create a diverse community of learners. Students become part of a global network of alumni and foster deep connections to technology companies in one of the most livable cities in the US.
Research
We value innovative research because past experience is not enough to master the future. Our research-active faculty involve students in the creation of new knowledge: Practice-focused research projects are part of every class and set our students apart as critical thinkers, innovators, and life-long learners.
News & Events in Our Department
Welcome Letter
Thoughts on Starting an ETM Program During COVID-19
A welcome letter from the Department of Engineering and Technology Management's Department Chair, Dr. Tim Anderson.
What is happening at ETM?
Event announcements
Learn about upcoming department events on MeetUp and Twitter!
Special Event on 9/22 at 2pm with Dr. Corsi! Sign up on MeetUp
Are you an alum? Find us on LinkedIn.
Changes due to COVID-19
ETM courses and meetings are remote
Our physical location is currently closed. All operations and fall classes are online. Please check the PSU website for updates.
Stay in touch
Virtual office hours Monday-Friday, 11 to noon (PST)
Join us for virtual office hours via Zoom. We can help with questions, forms, and advising. If you need to meet at a different time, please contact us by email.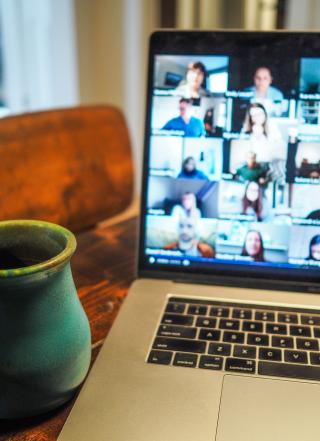 Graduation 2020
We celebrated remotely!
Graduation was different this year. ETM professors delivered graduation gifts and well wishes to our proud Class of 2020 - one student at a time. Dr. Weber even in Viking attire!
Previous Hero Slide
Next Hero Slide
32
Median Age of Students
38
Countries represented at ETM
20
Students per Class on average
$94,670
Market Salary (avg.)
Tweeting with Engineering & Technology Management
The

@ETMdeptPDX

is hosting electronic office hours - Zoom 11a -noon, Mon - Fri. Visit on Zoom! We're able to assist with questions, filling ...