Academy of Distinguished Alumni
The Maseeh College Academy of Distinguished Alumni was founded in 1997 with the mission to recognize and honor alumni who have attained excellence in the field of engineering or computer science. Members are community leaders and role models for future engineers and computer scientists. These individuals have given service to their profession and the community, and elevated the stature of the Maseeh College and PSU through their achievements.
Watch the Class of 2021 Virtual Celebration
We are honored to have the opportunity to induct seven new members and our first honorary member into the Academy Class of 2021!
Esina Alic
B.S. Mechanical Engineering '97
Al Barkouli
B.S. Civil Engineering '83
M.S. Civil Engineering '87
Hermann Colas, Jr.
B.S. Computer Science '77 
Subha Dhesikan
M.S. Computer Science '96 
Andreas Eberhart
M.S. Computer Science '96 
Loren Christien Hotchkiss
B.S. Electrical Engineering '94
M.B.A. '00
Gerald H. Williams, Jr.
Ph.D. Engineering Management '03
Dr. H. Chik M. Erzurumlu
Founding Dean, Honorary Member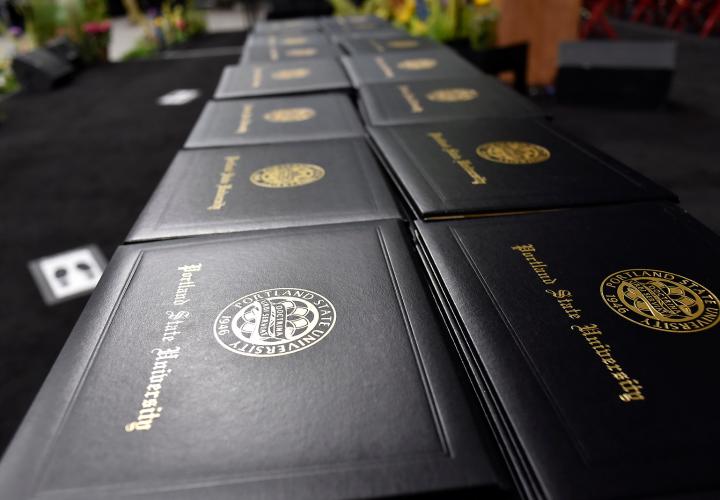 Academy of Distinguished Alumni Scholarship
The Academy of Distinguished Alumni Scholarship was created in 2019 to invest in the success of Maseeh College students. This scholarship is sustained through the generosity of faculty, alumni, and Academy members. As our Academy membership grows we also hope to grow this scholarship year after year.
Jory Miller Abrams, '79
Retired from CH2M HILL
Ali R. Afghan, '82, '83
Genentech
Hamid R. Afghan, '77, '85
AAI Engineering
Esina Alic, '97
Res Novae Group
Gary C. Anderson*, '85, '93
Anderson Construction Management
Morteza Anoushiravani, '78
Portland Bureau of Water Works
Al Barkouli, '83, '87
David Evans Enterprises, Inc.
Tim Bennington-Davis, '97
Smart/RG
Mark S. Borquist, '78
Retired from PacifiCorp
John H. Brunke, '74, '80
Bonneville Power Administration
Jim Calnon, '00, '02
US Army Corps of Engineers
Matthew D. Carter, '86
The Boeing Company
Selahattin Cimen, '92
Ministry of Energy and Natural Resources, Turkey
Hermann Colas, Jr., '77
Colas Construction
Alan L. Courts, '72
AC Engineering LLC
Philip S. Crosby, '65
Retired from Network Elements, Inc.
Darrell K. Cross, '88
Nacco Materials Handling Group, Inc.
Tugrul U. Daim, '94, '98
PSU Department of Engineering & Technology Management
Subha Dhesikan, '96
Amazon Web Services
Andreas Eberhart, '96
Dashjoin GmbH i.G.
Karen Beekman Eden, '96, '97
OHSU
H. Chik M. Erzurumlu*, Honorary Member
Founding Dean of Maseeh College
Judith Estep, '17
Bonneville Power Administration
Douglas Wrenn Fiala, '70
Mackenzie
Richard S. Fitterer, '70
GHD, Inc.
John R. Goulding, '90, '96, '97
Electro Scientific Industries, Inc.
Erwin "Al" L. Herman*, '98
Quantric Corporation
Daniel R. Higgins, '88
Sullivan, Higgins, and Brion Power Plant Engineering
Loren Christien Hotchkiss '94, '00
Intel Corporation
Deanna Hotchkiss Agostinelli, '88
Intel Corporation
James T. Hubler*, '65
Retired from Freightliner LLC
Laila R. Jones, '94
Axian, Inc.
Tricia R. Justice, '88
Video Server Group
Leon Kempner, Jr., '97
Retired from Bonneville Power Administration
James W. Laughton, '82
Atlas Pacific Engineering Company
Gerald E. Lee, '74
Bonneville Power Administration
Ross A. Lisle, '70
NW Natural
Tom Long, Sr., '98
Network Elements, Inc.
Jeff Lusardi, '98, '00
Department of Defense
Michelle Maynard Collins, '85
NASA
Fariborz Maseeh, '80, '84
Picoco LLC
Thomas C. McCormack, '75, '87, '96
Saint Martin's College
Roger McGarrigle, '66
Consultant, Civil & Structural Engineering
Raymond T. Miller, '66
Miller Consulting Engineers
Kathryn Mohror '99, '04, '10
Lawrence Livermore National Laboratory
Blake Patsy, '90
KPFF Consulting Engineers
Erik Peterson, '97
Peterson Structural Engineers
Janice C. Peterson, '83
Retired from Bonneville Power Administration
Brian L. Ray, '85
Kittelson & Associates, Inc.
Reynold "Dale" Richwine, '81, '92
Richwine Environmental, Inc.
Dennis H. Ross, '76
Retired from American Public Works Association
Linda R. Schaefer, '88, '91
Credence Systems Corporation
Cathryn Scott, '86, '94
Retired from Intel Corporation
James R. Teeter, '95
SmartRG
Jack Weast, '99
Intel Corporation
Leonard Weitman, '93
Veeco
Manuela Whelan, '83, '94
Retired from URS Corporation
Gerald H. Williams, Jr., '03
Construction Research, LLC.
Pan Wu, '94
Panwireless, Inc.
Angela Wykoff, '72, '75, '80
Retired from Bonneville Power Administration
Mo Zareh, '69, '71
Retired from MZ Consulting, LLC
*deceased