Education Abroad for Art Practice Majors
Education Abroad for
Art Practice Majors
Globalize Your Education
Art Practice majors are highly encouraged to study abroad. Go beyond borders and explore idea generation, influences, materials, tools, and methods abroad and add a valuable experience to your degree. 
Review the resources here to help decide how an international experience can fit into your degree plan. It is important to work with your College of the Arts Undergraduate Advisor and an Education Abroad advisor early on in the application process to make sure that you are choosing the best program to fit your goals and meet major requirements. Your Education Abroad advisor can also help you explore ways to use financial aid, scholarships, and grants to finance your travel! 
You Can Afford to Study Abroad!
Receiving FAFSA? All subsidized & unsubsidized Stafford Loans will automatically work on your study abroad program.
Veteran? Use your Veterans Benefits to help cover the cost of your program fee! 
Pell Grant Recipient? Not only can you use your Pell Grant, but you are also eligible for the Gilman Scholarship, worth up to $5,000.
Need Scholarships? The PSU Ed Abroad office offers scholarship workshops every term and has a multitude of resources online for students on a budget. Come meet with us so we can talk about awards ranging from $500 - $10,000.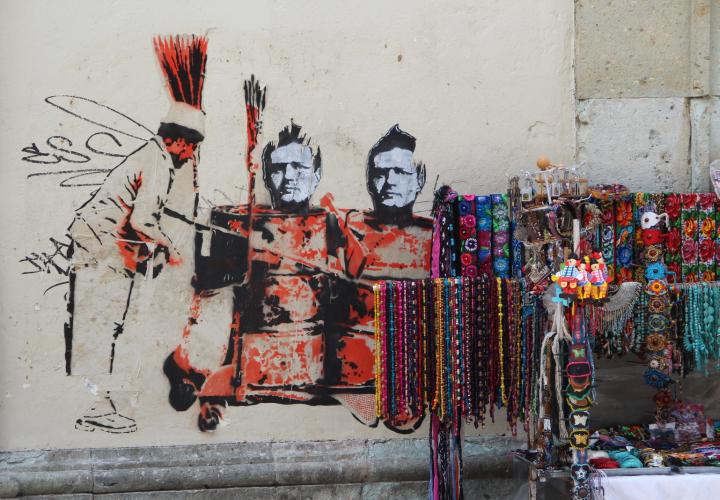 Short-Term Study Abroad in Mexico, Summer 2021
Printmaking in Mexico
Immerse yourself for a two week intensive in Guanajuato, Mexico, a UNESCO World Heritage city, rich with Pre-Colombian, Colonial, and Revolutionary history. Examine printmaking, art, and culture during studio time, and experiential outings to local shops, museums, and galleries.
Virtual Study Abroad: Italy - Summer 2021
Art City Lab in Italy
Join Professor Michelle Illuminato in this online interactive course that explores art and the "nature of place". Will connect with our Italian partners on the ground in Florence!
Short-Term Study Abroad in Italy, Summer 2021
History of Dress 2 in Italy and Portland!
This unique course offers a travel program in Italy, as well as an online version if you are interested in the course but unable to travel! In 4 weeks, earn 4 Art or Theater credits, which also count toward the Junior Cluster requirement: Interpreting the Past.
Short-Term Study Abroad in Italy, Summer 2022
Florence and Milan - City Lab
Spend four weeks in Italy, exploring Florence, visiting Milan and developing a personal relationship with an area of the city that will inspire artmaking. Earn 8 credits!
What Programs Work Well for Art Practice Majors?
The programs below not only offer a wide variety of Art + Design courses, but also may offer courses to fulfill general education requirements, minor, certificate, or elective credit. 
Worldwide
IE3 Global Internships: Full-Time Internships Abroad
Africa
USAC Ghana: African Studies in Africa 
USAC South Africa: Stellenbosch University
Asia
PSU Exchange Japan: Kansai Gaidai University in Osaka 
CIEE India: Arts & Sciences in Hyderabad 
Europe
USAC Czech Republic: Politics, Culture, and Art Studies in Prague 
DIS Denmark  Study Abroad in Copenhagen,
USAC England: University of Brighton Undergraduate Courses 
PSU Faculty-Led England: Similarly Different - Graphic Designers in London 
IE3 Global Germany: Baden-Wuerttemberg 
PSU Faculty-Led Germany: Berlin - The Fall and Rise of an Art City 
GEO Ireland: Summer Cinema Studies in Dublin 
PSU Faculty-Led Italy: Florence - CORE Abroad Italy Lab (SU '19) 
USAC Italy: Intensive Italian Language, History, Mediterranean Studies, and the Arts in Viterbo 
USAC Sweden: Linnaeus University in Växjö or Kalmar
Latin America
CIEE Chile: Liberal Arts Valparaiso, Chile
IFSA Costa Rica: Universidad Nacional in Heredia 
IFSA Mérida Universities Program, Mexico 
PSU Faculty-Led Mexico: Mixed Media in Guanajuato
Middle East
PSU Direct Enroll Israel: Hebrew University & Rothberg International School in Jerusalem
Oceania
USAC Australia: Griffith University in Gold Coast or Brisbane 
USAC New Zealand: Massey University in Palmerston, Auckland or Wellington
Don't see a program that works for you? Click here for the complete list of programs. 
Ready to take the Next Step?
Attend an Ed Abroad 101 session to learn more about studying abroad at PSU. These are 30 minute sessions offered when classes are in session. They cover the application process and direct you to next steps.