First Step to Studying Abroad
Attend a Fall 2020 Education Abroad 101 Session. Each session is 30 minutes and conducted over Zoom. 
| | | |
| --- | --- | --- |
| Week 2 | | |
| Week 3 | TBA soon | TBA soon |
| Week 4 | TBA soon | TBA soon |
| Week 5 | TBA soon | TBA soon |
| Week 6 | TBA soon | TBA soon |
| Week 7 | TBA soon | TBA soon |
| Week 8 | TBA soon | TBA soon |
| Week 9 | TBA soon | TBA soon |
| Week 10 | TBA soon | TBA soon |
You Can Afford to Study Abroad!
Receiving FAFSA? All subsidized & unsubsidized Stafford Loans will automatically work on your study abroad program! Veteran? Use your Veterans Benefits to help cover the cost of your program fee! Pell Grant Recipient? Not only can you use your Pell Grant, but you are also eligible for the Gilman Scholarship, worth up to $5,000! Need Scholarships? The PSU Ed Abroad office offers scholarship workshops every term and has a multitude of resources online for students on a budget. Come meet with us so we can talk about awards ranging from $500 - $10,000.
Already Attended a 101 Session? Start an Advising Profile
Starting an Advising Profile will get you access to all Pre-Advising materials like scholarship resources, help with choosing a program, and links to make appointments with your Education Abroad Advisor. 
What Kind of Program is Right for Me?
Programs range from 2 weeks all the way up to an academic year! At this early stage, think about what kind of experience you're looking for. Are you someone wanting structure and support while abroad or would you prefer to be in a more independent setting? Is language immersion a priority for you or is the ability to complete an internship the most important compontent? 
Direct Enroll Programs
This option is a great choice for students who want to most immersive experience possible. Enroll as an international student in a university abroad and take courses with local students from local professors. Often, your credit isn't evaluated until after you return home, so this model works well for students who have lots of elective credits left or a flexible degree. Talk with your advisor early to determine if this program model is a good fit for you. 
Island Programs
Study abroad at a study center with American study abroad students. This option is great for students who want more structure and support than the direct enroll and exchange model. Take courses that are similar in structure to your American courses but enjoy the excitement of living abroad. Often these programs include excursions and activities organized for students on weekends. 
Hybrid Programs
Would you like a mix of taking American-style courses with a structure you're familiar with combined with the immersive experience of a direct enroll program? Consider a program that is a hybrid model. Students can choose between courses taught at the local university abroad and courses taught at a study center exclusively for study abroad students.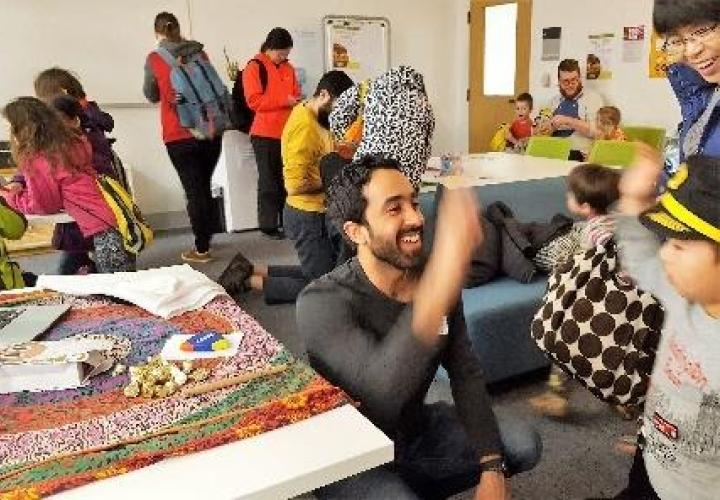 Internships Abroad
Did you know you can participate in an internship overseas? Some internships are only a few hours a week, designed to complement your courses taken abroad, others are full-time opportunities. Consider this option if you're looking for an immersive and exciting way to add to your resume.
Earn Your Capstone Abroad
Reporting Live
Consider completing your Capstone abroad! The Reporting Live course is offered Fall & Spring quarters which is completed in tandem with your chosen study abroad program.