About This Course
Developing and executing business strategy is a critical leadership skill. This course will take a practical, step-by-step approach to strategy development. Participants will learn about key components in the strategic management process and be introduced to strategy development tools that can be used to deliver logical, actionable strategies.
Course Snapshot

Format
 
Course delivered in a virtual format with live instructor & student interaction

Frequency
 
Once per year (Fall)


Length

One week with a 15-hour workload. Please check the schedule for live session dates and times.

Cost
 
$549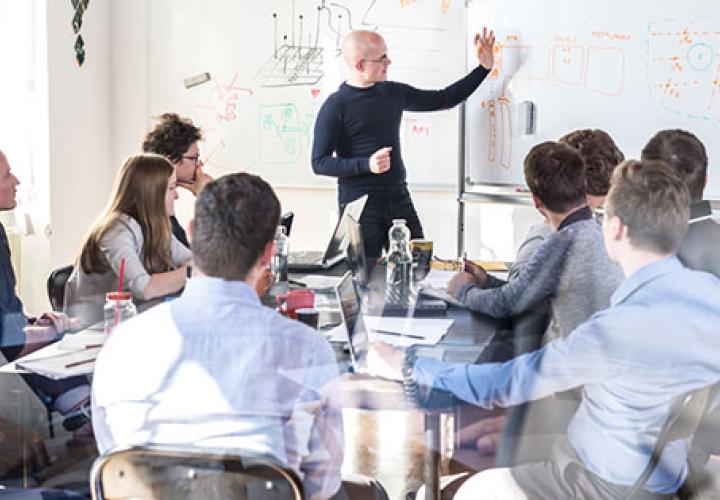 Business Management
High performers are often promoted to management positions given their specific skills related to their areas of expertise. However, they may not be fully prepared for the complex spectrum of management responsibilities, which includes managing people, motivating teams, managing budgets, and creating...
What You'll Learn
Upon completion of this course, students will have gained the knowledge to:
Complete an external analysis to identify market opportunities and threats through a broad environmental scan and industry analysis;
Complete an internal analysis assessing an organization's relative strengths and weaknesses, competitive advantage, and core competencies;
Develop specific, actionable strategies through connecting and prioritizing external and internal analysis;
Gain an understanding of differentiation, cost leadership, and vertical integration strategies;
Gain insight into how a strategic plan gets integrated into a company's execution activities;
Gain a sense for how strategic alliances and acquisitions can be used to fulfill a strategy;
Integrate uncertainty and risk assessment into a strategic plan.
The Learning Environment
This course is delivered in a virtual format and combines lectures, discussions, and group activities. 
Courses in this Certificate Track
Enrolling in the full certificate program allows for more holistic learning in regard to business management.
Courses may be taken individually and in any order unless otherwise noted. Five courses are required to complete the certificate. If pursuing the certificate, all courses in the certificate program must be completed within three years. Visit the program page for a recommended sequence.
Meet the Instructor
Dave Garten
Dave Garten teaches business strategy, acquisitions, and negotiation for Portland State University. He has extensive experience in strategy development, management, marketing, product development, and finance. Dave is the former CEO and board chair for SeQuential. Previously, he worked as an Intel executive. He earned an MBA from Massachusetts Institute of Technology and an MEng from Rensselaer Polytechnic Institute.