Education Abroad for
Honors Students
Globalize Your Education
Honors students are highly encouraged to study abroad. Participating in a study abroad is an ideal way to add a global perspective to your PSU degree through the first-hand experience living and studying in another country and culture. Students can earn credit towards their major in addition to completing honors graduation requirements. 
You can Afford to Study Abroad
Receiving FAFSA? All subsidized & unsubsidized Stafford Loans will automatically work on your study abroad program! Veteran? Use your Veterans Benefits to help cover the cost of your program fee! Pell Grant Recipient? Not only can you use your Pell Grant, but you are also eligible for the Gilman Scholarship, worth up to $5,000! Need Scholarships? The PSU Ed Abroad office offers scholarship workshops every term and has a multitude of resources online for students on a budget. Come meet with us so we can talk about awards ranging from $500 - $10,000.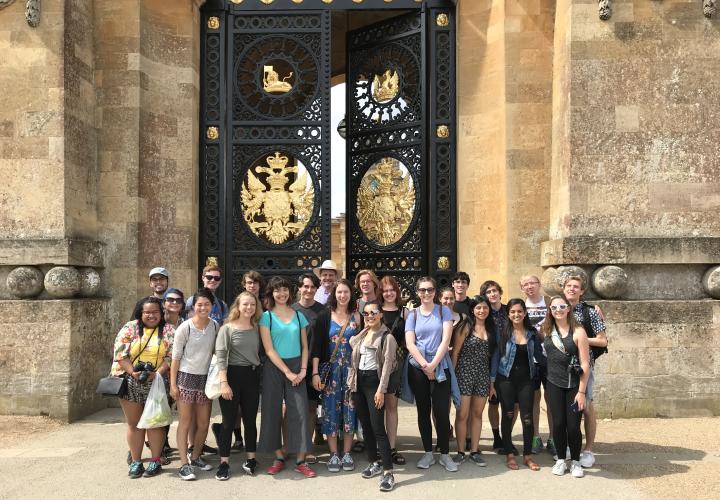 Short-Term Study Abroad in England, Summer 2021
Gateway to Marvels and Mysteries: Medieval Science and Modern Stage

Experience in the global city of London where representations of identity are negotiated through theater, literature, and the museums and streets of the city. Earn 8 credits toward your Honors Junior Seminar requirement during 4 weeks abroad
Short-Term Study Abroad in Borneo, Spring Break 2022
Environmental & Cultural Sustainability

Students will work closely with a local non-profit organization in order to learn first-hand about the tensions that exist between conservation goals and economic growth. Earn 4 credits toward your Honors Junior Seminar
What Should I Keep in Mind when Planning a Study Abroad as an Honors Student?
You can choose from a long list of programs from all over the world ranging from 2 weeks all the way up to an academic year. However, you should make sure you are choosing a program that fits the Honors curriculum and the major map of your academic department. 
What Programs Work Best for Honors Students?
The programs listed below not only offer internship or research options but also may offer courses to fulfill general education requirements, minor, certificate or elective credit towards your major.  
Honors Students may apply up to 8 Education Abroad credits towards their Junior Honors requirements. All other credits earned abroad should go towards major or minor requirements.
Worldwide
IE3 Global Internships: Full-Time Internships Abroad
Africa
USAC Ghana: African Studies in Accra
SIT Morocco: Arabic Language and Community Service
CIEE Senegal: Development Studies Program in Dakar, Senegal
SIT Senegal: Global Security and Religious Pluralism
CIEE South Africa: Summer Global Internship Program in Cape Town
CIEE South Africa: Open Campus in Cape Town
SIT Tanzania: Climate Change and Sustainability from Mount Kilimanjaro to Zanzibar
SIT Tanzania: Wildlife Conservation and Political Ecology
Asia
CIEE China: Summer Global Internship Program in Hong Kong
CIEE China: Summer Global Internship Program in Shanghai
USAC China: Chinese Language and Culture Studies in Chengdu
USAC China: Chinese Language and International Business Studies in Shanghai
CIEE India: Summer Global Internship Program in Mumbai
SIT India: Sustainable Development and Social Change
USAC Japan: Hiroshima University Undergraduate Courses
SIT Nepal: Development and Social Change
SIT Nepal: Tibetan and Himalayan Peoples
CIEE Singapore: Summer Global Internship in Singapore
Europe
CIEE Czech Republic: Summer Global Internship Program in Prague
USAC Czech Republic: Politics, Culture, and Art Studies in Prague
DIS Denmark: Study Abroad in Copenhagen
CIEE England: Open Campus London
USAC England: London Metropolitan University Undergraduate Courses
CIEE France: Open Campus in Paris
USAC France: French Language and European Studies in Pau
CIEE Germany Summer Global Internship Program in Berlin
USAC Germany: German Language, and German/European Studies in Lüneburg
USAC Italy: Intensive Italian Language, History, Mediterranean Studies, and the Arts in Viterbo
USAC Italy: International Business, Architecture/Design/Art, and Italian Studies in Torino
ALBA Spain: Study Abroad in Barcelona
USAC Spain: International Business, Spanish and Cultural Studies in Bilbao
USAC Spain: Spanish and European Studies in Madrid
USAC Spain: Spanish Language, European and Women's/Gender Studies in Alicante
USAC Spain: Spanish, Basque, European Studies, and Psychology in San Sebastián
Latin America
CIEE Chile: Summer Global Internship Program in Santiago
USAC Chile: Spanish Language, Latin American, Anthropological, and International Studies in Santiago
USAC Costa Rica: Life and Health Sciences, Spanish and Culture Studies in San Ramón
USAC Costa Rica: Spanish Language, Ecological and Latin American Studies in Heredia
USAC Costa Rica: Spanish Language, Ecological, and Latin American Studies in Puntarenas
IE3 Global Mexico: Merida Universities Program
SIT Peru: Indigenous Peoples and Globalization
Middle East
CIEE Jordan: Arabic Language and Culture Program in Amman
PSU Direct Enroll Israel: University of Haifa
Oceania
USAC Australia: Griffith University Undergraduate Courses in Gold Coast or Brisbane
USAC New Zealand: Massey University Undergraduate and Graduate Courses in Palmerston North, Auckland, or Wellington
Don't see a program that works for you? Click here to search through the complete list of PSU Education Abroad options. 
Ready to take the Next Step?
Attend an Ed Abroad 101 session to learn more about studying abroad at PSU. These are 30 minute sessions offered when classes are in session. They cover the application process and direct you to next steps.