Grant and Scholarship Information
If your tuition and fees are 100% covered by the VA, then a tuition-based scholarship will be the first to apply to your tuition and fees, then the VA will pay the remainder. You will not receive that money, but the VA will receive a discount. Be mindful of the wording of any scholarships when applying yourself or recommending to other VA beneficiaries.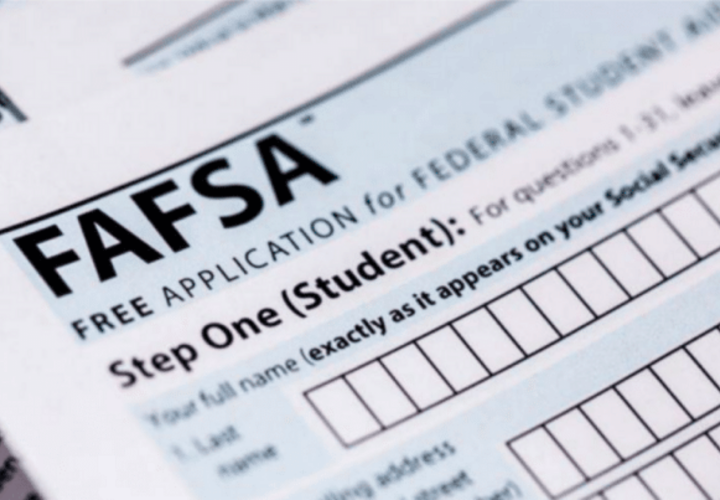 Free Application for Federal Student Aid
To apply for federal educational grants, those who qualify must first complete the Free Application for Federal Student Aid (FAFSA).
Completing the FAFSA will also allow you to apply for other forms of federal student aid such as student loans and work-study opportunities.
You must complete a FAFSA application each academic year you seek financial aid.​ This includes grants like the Pell Grant and Federal Supplemental Education Opportunity Grant.
Fore more detailed information regarding FAFSA, or to file online, use the following link:
For assistance with FAFSA applications or qualifying information please contact Financial Aid.
*Students are not required to accept offers of aid such as Federal student loans, even if they appear as an option on a student's financial aid award letter.
Yellow Ribbon Program
If you are attending as a non-resident, Portland State University (PSU) is a Yellow Ribbon school, meaning the remaining non-resident tuition that the Post-9/11 GI bill doesn't cover could be matched by both PSU and the VA. You must be an undergraduate or graduate student in an approved program with 100% Post 9/11 eligibility. Please contact the PSU Veterans Certification Office if you have questions about your benefit and Yellow Ribbon.
The PSU Office of the Registrar provides more information about the Yellow Ribbon Program.
---
OREGON DEPARTMENT OF VETERAN'S AFFAIRS (ODVA)
Educational Bridge Grant
In response to the COVID pandemic and school class availability this grant is specifically for students who are unable to complete an academic program due to the unavailability of one or more required courses at their school. 
More information about Educational Bridge Gap.
Voyager Tuition Assistance Program
For Oregon veterans who served as members of the National Guard or Reserves on an active duty capacity ​in a combat zone on or after September 11, 2001​.
For more information, contact the campus financial services office.
---
VETERAN SCHOLARSHIP OPPORTUNITIES
Veteran Hero Scholarship
Disperses $5,000 scholarships every 6 months based on essay winners. Essays vary on military topics like: "​What do you wish the American people better understood about military service or military families?" 
more information about Veteran Hero Scholarships
Army Women's Foundation
College, University, and Graduate Program Legacy Scholarships will be awarded up to $2,500. Scholarship checks are sent directly to your school's student accounts or financial aid office.
more information about Army Women's Foundation Scholarships
Armed Forces Communications & Electronics Association (AFCEA)
STEM Majors (for 2021)
War Veterans Scholarship (for 2020-2021)
Intel Graduate Degree (for 2020-2021)
Veteran's of Foreign Wars (VFW) Student Veteran Support
Scholarship for​ junior enlisted (E-4 and below) veterans or active duty service members.​ Provides service members and veterans with the financial assistance they need to complete their educational goals without incurring excessive student loan debt.
more information about VFW student veteran support scholarships

The VFW Department of Oregon also maintains its own list of scholarship resources which can be accessed with the following link: VFW Department of Oregon scholarship resources
Fleet Reserve Association
The Foundation sponsors a scholarship program that helps deserving students (​affiliated with the US Navy, Marine Corps or Coast Guard, veteran or dependent)​ with up to $5,000 for trade school, community, four year college, and graduate degrees.
more information about Fleet Reserve Association scholarships
BHW Group Women in STEM Scholarship
Available to women who are pursuing an undergraduate or master's degree and are ​majoring in STEM (science, technology, engineering, or mathematics) ​during the 2021 school year.​
more information about BHW Group Women in STEM scholarship
Nursing Scholarships for Veterans
Premiere Nursing Academy scholarships for veterans
Lint Center Scholarships
Aggregation/administration of various military scholarships. Scholarship winners will receive the opportunity to have a mentor from the Counterintelligence or National Security profession sponsored by The Lint Center for National Security Studies, Inc.
more information about Lint Center scholarships
Other Veteran Scholarships
Aggregation website for searching scholarships of all types. ​Requires registration.​ Security of your data cannot be confirmed by the PSU VRC.
more information about other veteran related scholarships
---
VETERAN GRANT OPPORTUNITIES
American Veterans (AMVETS)
AMVETS group offers education grants each year. They give away two grants to veterans or active duty military and two grants to the children of veterans or active duty military. Grant amounts are $4,000 and $12,000, and it is divided up into four equal payments, with you receiving one payment per year for four years. ​The window to apply is every January through April.
more information about AMVETS grants
Coast Guard Mutual Assistance (CGMA)
The Coast Guard Mutual Assistance (CGMA) Supplement Education Grant (SEG) reimburses certain costs associated with seeking a first associate or bachelor degree or a Vocational or Technical Training Certificate or a General Equivalency Diploma. ​Restricted to Coast Guard.
more information about CGMA grants
---
DEPENDENT SCHOLARSHIPS AND GRANTS
There are a variety of military scholarship programs available for service members' children and spouses. At the VRC, we would like to provide any information available to suit your educational needs. The following opportunities are also available for various institutions outside of Portland State University as well. *Please check with each desired institution for their scholarship and grant availability.
Oregon Department of Veteran's Affairs (ODVA)
Survivors' and Dependents' Education Assistance Program offers education and training opportunities to eligible dependents of veterans who are permanently and totally disabled due to a service-related condition or of veterans who died while on active duty or as a result of a service-related condition.
more information about Survivors' and Dependents' Education Assistance
Academic Top Scholars (ATS)
All dependent children, age 24 and under, and all spouses of Active-Duty U.S. military Service Members are eligible to apply for scholarships.
more information about ATS scholarships
American Legion Legacy Scholarship
Available for children or legally adopted children of active duty U.S. military and Guard, and Reserve personnel who were federalized and died on active duty on or after September 11, 2001.
more information about Legacy scholarship
Army Scholarship Foundation
The Army Scholarship Foundation awards one-year financial scholarships (not grants or loans) on an annual basis to qualified and deserving students. The amount of award ranges from $500 to $2000 for undergraduate studies at accredited educational/technical institutions.
more information about Army Scholarship Foundation
Dolphin Scholarship Foundation
Grants are available on a competitive basis to high school or college children/stepchildren (unmarried, under age 24 at time of deadline) of: (1) members or former members of the Submarine Force who have qualified in submarines and have served in the Submarine Force for at least eight years; or of (2) Navy members who have served in submarine support activities (e.g., submarine bases, tenders, and rescue vessels) for a minimum of ten years.
more information about Dolphin Scholarship
Chief Petty Officer Scholarship Fund
Must be the immediate family member of either an active duty, retired, honorably discharged, reserve or deceased Chief Petty Officer of the United States Navy (children may be natural, adopted or step-children).
more information about CPOSF
Marine Corps Scholarship Foundation
Must be the child/step-child of one of the following: Active duty, reserve, or veteran U.S. Marine, a Marine killed while serving in the U.S. Marine Corps; Active duty, reserve, or veteran U.S. Navy Corpsman who is/was attached to a U.S. Marine Corps unit or who was killed while serving with a U.S. Marine Corps unit OR A U.S. Navy Chaplain or Religious Programs Specialist who is/was attached to a U.S. Marine Corps unit or who was killed while serving with a U.S. Marine Corps unit.
more information about Marine Corps Scholarship Foundation
Tailhook Scholarship Program
High school graduate AND child or grandchild of a current or former Naval Aviator, Naval Flight Officer, or Air-crewman. OR Children/grandchildren of individuals who served onboard a U.S. Navy aircraft carrier AND Accepted for undergraduate enrollment at an accredited college.
more information about Tailhook Scholarship
Wings Over America
Providing college scholarships to dependent children and spouses of all US Navy personnel - officer and enlisted - active duty, retired, honorably discharged or deceased who served within Naval Air Forces. Recipients are selected on the basis of scholastic merit, community service, extra-curricular activities and character.
more information about Wings Over America Scholarships
---
FELLOWSHIP OPPORTUNITIES
Tillman Scholar Foundation
Program awards veterans or spouses of active and deceased veterans. Eligible applicants must submit two 400 word essays, letter of recommendation, FAFSA, and other documents. The awards range from $1,500 to $23,000.
more information about Tillman Scholars program
Veteran Innovation Partnership
The Veterans Innovation Partnership (VIP) Fellowship is a unique twelve-month program funded and administered by the U.S. Department of State (State) that recruits talented veterans. Veterans and separating service members ​must have completed a Master's Degree program or higher​ in the preferred fields of International Business, International Relations/Affairs, Political Science, Public Policy, Public Administration, Global Affairs, or a related field within two years of the application submission dates.
more information about VIP fellowship
---