Deepen your engagement through a year-long service leadership program!
Student Leaders for Service is a year-long leadership program that facilitates students' involvement in both the Portland State and greater Portland communities. Students serve at a community partner site on a weekly basis, supporting the work of the community partner and bringing its mission back to the PSU campus. In addition to serving in a designated volunteer role with their organization, a key component of this role is for the SLS member to serve as a liaison between the community partner site and PSU, developing awareness for the community organization throughout campus and promoting the organization's volunteer opportunities to PSU students.  
I was able to meet some amazing people and make close connections to the others in the group. I had a sense of importance by being in SLS and apart of a community at PSU. 
-- SLS Member
SLS members also support engagement with the Student Community Engagement Center through facilitation of large Days of Service, shorter Serve Your City projects, tabling, and other outreach events on the PSU campus. Student Leaders for Service develop their leadership skills and identities through weekly Friday leadership classes each term and work to incorporate their learning into their service with their community partner site and vice versa throughout the year.  
Time commitment: 8-10 hours/week (varies based on student position and time of year)
Application: Opens now through May 13th! Apply today!
2021-22 Community Partner Sites: Check out all of the SLS community partner site options for the upcoming school year through our SLS Community Partners GivePulse group.
Some of our 2021-22 SLS Community Partner Placements are...
Communications Intern with Brown Hope
AVID Tutor with Beaverton AVID
Placemaking Intern with City Repair Project
Communications intern with Lloyd EcoDistrict
David's Harp Program Assistant with Cascadia Behavioral Health Care
Guest Services & Hospitality Volunteer with Rose Haven
Community Room Host with Maybelle Center
Mentor with HOLLA
Alder Elementary Student/Family Support Specialist with Greater Than
Community Connections Association with The Shadow Project
Student Program Support Lead with the TRSRC
Youth Crisis Support Volunteer with YouthLine
and many more...
Each year brings a slightly different array of community partner host sites for SLS members, offering a variety of roles for students seeking to serve with an organization that matches their interests, skills, area of study, and more.
Each SLS member is responsible for:
Serving 4-6 hours per week for the entire academic year at a community organization
Developing service opportunities for PSU students with community organization
Raising awareness for community organization at PSU
Volunteering to table at events or speak in classes representing community partner or the community engagement experience in general
Serving as an ambassador for their community partner at PSU
Actively participating in discussions, contributing to new topics, and bringing new ideas to meetings
Participation in planning and leading project at three large days of service: Portland State of Mind Day of Service, MLK Day of Service, and Earth Day of Service. 
Attending seven weekly Student Leaders for Service meetings per term, Fridays 2-4pm.
Benefits of becoming an SLS Member:
Leadership development focused on civic engagement and social change
Personal and professional growth on self-defined goals
Develop skills to plan successful large scale and small scale service opportunities
Connection to other students engaged in community work
Understand the importance of social justice
$500 ELSA scholarship each term**
Optional three 400-level credits per term (up to 6 credits)
** NOTE: You may only receive one ELSA scholarship managed by Student Activities and Leadership Programs, even if you hold multiple leadership roles. Students can choose which ELSA to accept from those for which they are eligible. You can still participate in SLS even if you choose to receive an ELSA from a different leadership position.
To become a SLS member, you must:
Apply when applications go live in Spring of the prior year (applications are often due by mid-May but sometimes extend through summer).
Be an undergraduate with over a 2.5 Portland State GPA and plan to take at least 6 credits per term or be a graduate student with over a 3.0 Portland State GPA and plan to take at least 5 credits per term.
Be able to attend weekly Friday meetings - members of Student Leaders for Service can only miss two meetings per term and remain eligible for the $500/term ELSA award. 
Be open to new experiences, motivated and hardworking, service oriented, and have a desire to develop as a leader.
I think that not being afraid to fail is one of the things that I learned a lot about with my site and cohort this year. There are a lot of bumps in the road with service work and being flexible and [the ability] to keep a positive attitude i what makes an event and the work go smoothly.
 
[My biggest take-away is that] I am capable of making a difference in my city and that I am not alone in my dedication to making the world a better place for all.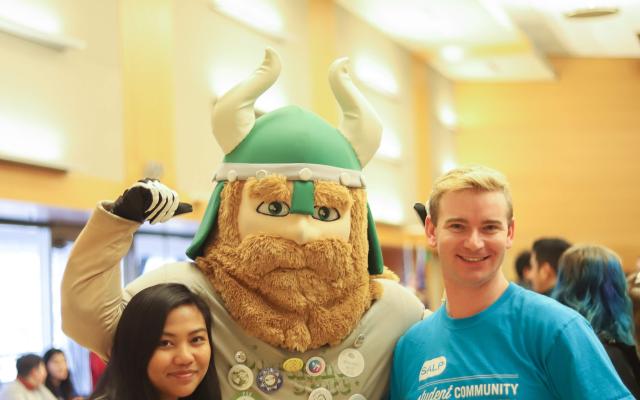 APPLY TO BE A 2021-22 STUDENT LEADER FOR SERVICE, DUE MAY 13TH
Strengthen your leadership skills, build your resume with hands-on experience, inspire others to get engaged, and show your dedication to the community as a dedicated Student Leader for Service! Student Leaders for Service are awarded a $500/term scholarship.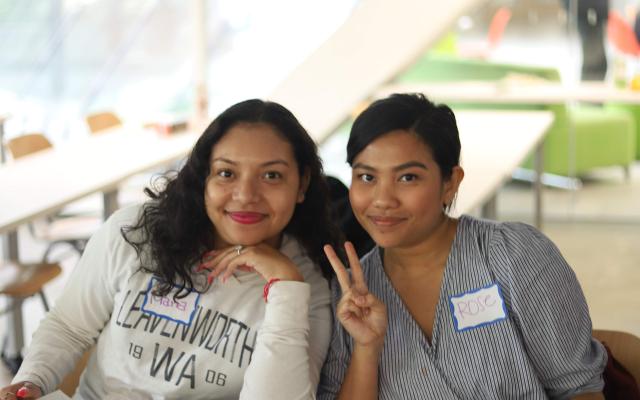 WATCH PAST SLS MEMBERS EXPERIENCES!
Want to learn more about the SLS program? View SLS members who took over our Instagram (@portland_state_volunteers) share what their typical day as a Student Leader for Service looks like!