DT401 Design Thinking Fundamentals
About This Course
This course shows participants how to apply a design thinking process to their organizations to create innovative products and services. Participants will explore the fundamentals of the creative process and get hands-on experience with design thinking models. They will experience the nuts and bolts of the creative process and will build creative confidence to solve future business problems in their own professional settings.
Course Snapshot

Format
 
Course delivered in a virtual format with live instructor & student interaction

Frequency
 
Once per year (Fall)


Length

One week with a 15-hour workload. Please check the schedule for live session dates and times.

Cost
 
$549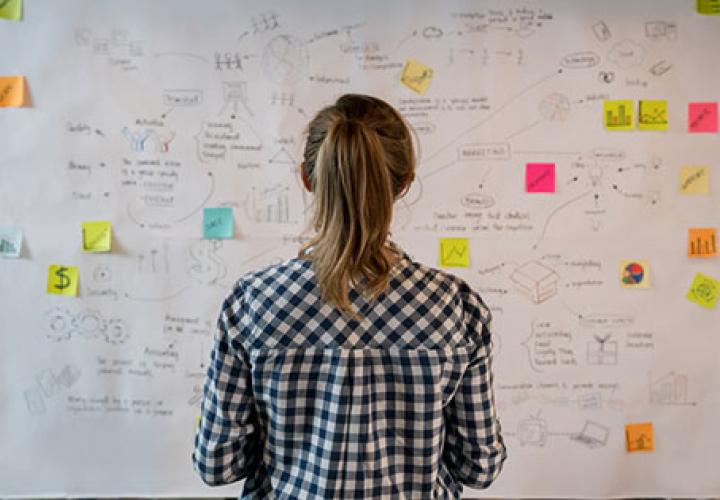 Design Thinking and Innovation
Design Thinking is a holistic, human-centered way to tackle the challenges of today's increasingly automated business environment. Design thinking methodology and tools integrate higher order thinking skills like problem solving, critical thinking, creativity, and collaboration to align with customer...
What You'll Learn
Upon completion of this course, students will have gained the knowledge to:
Develop skills of empathic inquiry and define innovation opportunities with attention to a specific business challenge.
Be familiar with divergent, convergent, and integrative thinking principles.
Build creative confidence in team settings.
Create an innovative solution that addresses a problem for a customer/user and community.
Build new product and service prototypes that simultaneously create customer/user, business, and community value.
The Learning Environment
This course is delivered in a virtual format and combines lectures, discussions, and group activities. 
Other Courses in this Certificate Track
Enrolling in the full certificate program allows for more comprehensive learning in regard to design thinking and innovation.
Courses may be taken individually and in any order unless otherwise noted. Four courses are required to complete the certificate. If pursuing the certificate, all courses in the certificate program must be completed within three years. Visit the program page for a recommended sequence.
Meet the Instructor
Albrecht Enders
Albrecht Enders serves as principal of endersgroup. He possesses 25 years' experience in innovation leadership, including work at Siemens and A-dec. Today, Albrecht teaches and consults with organizations that seek to innovate and grow their market share. Albrecht teaches at Portland State University and the University for Economics and the Environment. He has an MS in Mechanical Engineering from Fachhochschule Darmstadt.