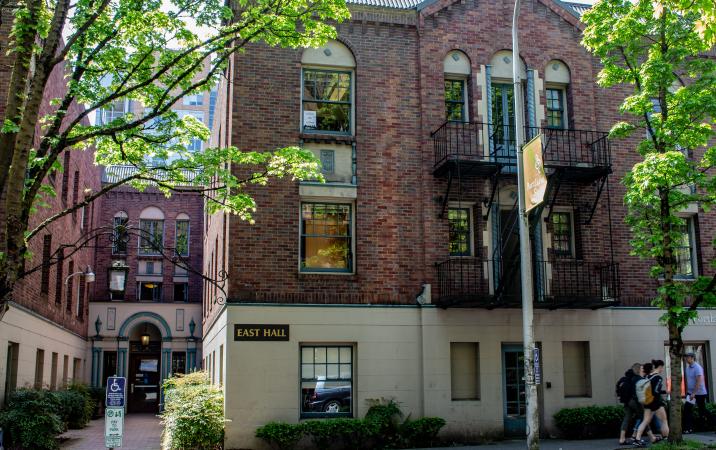 Address
632 SW Hall, Portland, Oregon 97201-5215
Building Features
All Gender Restrooms Nine single-occupancy restrooms in the following locations:
Floor 1 - Rooms 105 & 116
Floor 2 - Rooms 203, 204, & 245
Floor 3 - Rooms 304, 315, 336A, & 347
About the building
East Hall is a Georgian Courtyard style three-story U-shaped brick and timber building located on the corner of SW Hall Street and Broadway. It is just south of Parking Structure One and just east across Broadway from Shattuck Hall.
Building Naming History:
East Hall (EH), 1999-present
College of Urban and Public Affairs (CUPA), 1997-1999
School of Urban and Public Affairs (UPA), 1987-1997
East Hall (EH), 1966-1987
Nixon Apartments, 1924-1966
East Hall has served as an administrative and academic space since it was acquired by Portland State College in November 1966 for $227,000. East Hall was originally an apartment building designed by the architect, Charles W. Ertz, for real estate developer, Ezra I. Nixon. It was constructed in 1924.
The building is currently home to PSU's Office of International Affairs. Previous residents in East Hall have included the School (later College) of Urban and Public Affairs (UPA) beginning in 1987-88 when the original UPA building, Francis Manor, was demolished to make way for the School of Business building. UPA relocated to the Urban Center Building in 2000. Prior to UPA's tenure in East Hall the building was itself home to the School of Business Administration until the completion of the School of Business Administration building (now Karl Miller Center) in 1988.
Historical photos of East Hall in the University Digital Gallery
Building Details
Square Footage
Gross Square Footage: 23,223
Net Assignable Square Footage: 14,959
Building Code: EH
Number of Levels: 3
Year(s) Built: 1924