OAI Teaching and Learning Offerings for
Department Workshops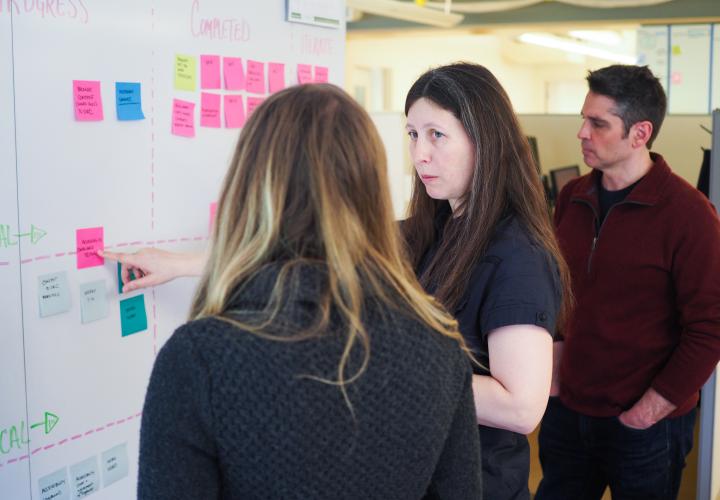 Book OAI for short 15-minute info sessions at your next department meeting
We'll bring new teaching tips and resources on a topic of your choosing, and get to know your department's support needs. We can customize the length of time to your needs: sessions can run as short as 15 minutes, or offer a more in-depth exploration of a topic in a 45 minute session.
Introduction to Teaching Support & Resources at PSU
Get to know your teaching and learning resources at PSU. This session will offer your department an overview of all faculty support, teaching workshops and professional development opportunities, and get to know your department's specific teaching interests and needs.
Remote Teaching & Learning
This brief introduction will share concrete ideas in one area of remote teaching and learning. Select from virtual classroom ideas, asynchronous engagement strategies, remote assessment activities, or request a specific area of need for your department.
Using Multimedia in Your Courses
Get a crash course in why we love using multimedia to teach and resources available at PSU.
Creating Inclusive Courses with Proactive Accessibility & Universal Design
This session offers a short introduction to inclusive pedagogy and student centered course design. Universal design for learning can be applied to the syllabus (E.g assignments, assessment, lecture and textbook selection). As well as the classroom culture and physical environment (E.g technology, student interaction, professor interaction).
Teaching Training & Professional Development for GTA's & Early Career Faculty
PSU has a new way to support graduate students, adjuncts, and early career faculty in their role as teachers, researchers, and new professionals in their fields. This brief talk will provide you with the details about the Certificate of Innovation in College Teaching, how it will benefit your department, and how graduate students and adjuncts can get started working toward it. 
Sustainable Program Assessment Planning
Get started with or revise your program level assessment planning. This information session will provide you with a clear outline of components of the program assessment process. You'll know of resources that can support you as you create or revise your program's assessment planning, and you'll be ready to launch the next steps in a sustainable, doable assessment cycle for your program.
Teaching Digitally at PSU
Many faculty want to incorporate technology into their course but are uncertain how to begin. This session is a brief overview of the digital learning tools available at PSU for teaching and learning, some best practices in incorporating technology and multimedia in your course, and an overview of the support services that OAI provides faculty.
Equity & Inclusion in the Classroom
This brief introduction to equity and inclusion in the classroom will provide you with useful definitions of "diversity," "equity," and "inclusion" as well as three practical tips for incorporating inclusive practices into your syllabus, assignments, and course activities.
Designing Student-to-Student Interactions
Explore creative ideas for student group work, peer review, and discussion forums. We'll briefly introduce resources on creating interesting and novel group assignments and forums that increase student engagement and learning, and discussing the impact of group and peer-to-peer interaction on student engagement in a course.
 
Open Educational Practices as Teaching and Learning Tools
A brief introduction to Open Educational Resources, Open Pedagogy, and the Open Education Initiative at Portland State University. We'll discuss where to find OERs, what Open Pedagogy looks like, and how you can learn to incorporate Open Pedagogy strategies into courses.
Let's Make a Deal!: The Negotiated Syllabus
How can students contribute to the shape and structure of a course by co-creating parts of the syllabus? Explore the value and impact of students' participation in syllabus creation, and identify one or more sections of your syllabus that can be created with student input.
Introduction to Community-based Learning
Are students making connections between your courses and their off-campus lives? How does your curriculum integrate knowledge and experiences from the current social justice movement?  Community-based Learning (CBL) is a high-impact educational practice your department can utilize to deepen student learning while forwarding PSU's mission. This session will offer a brief overview of CBL as it relates to your discipline.
 
Teaching & Learning Info Sessions