2013 Summer Institute on Youth Mentoring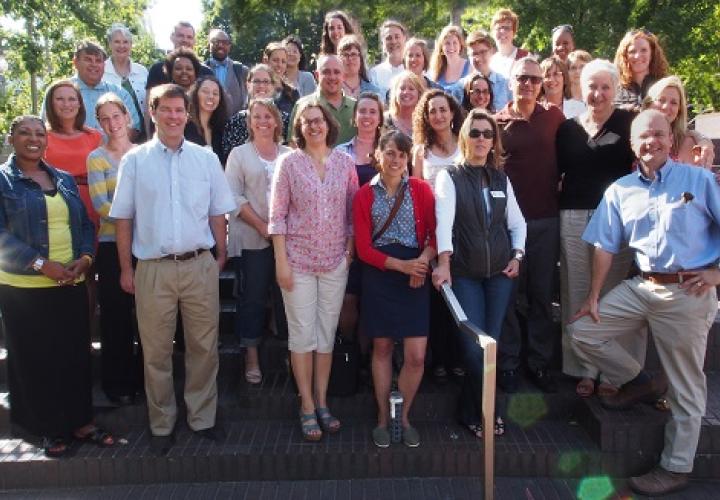 Mentoring and personal and environmental factors
The 2013 Summer Institute focused on the role of risk and other personal and environmental factors that influence mentoring relationships and their effectiveness.
---
Timothy Cavell, Ph.D.
Dr. Cavell is a professor of Psychology and Director of Clinical Training at University of Arkansas. Professor Cavell's research focuses on the mentoring of aggressive children at risk for later delinquency and substance abuse. He and colleagues have conducted two NIDA-funded studies on the PrimeTime prevention-focused mentoring intervention. In addition to numerous academic articles and chapters on mentoring, Professor Cavell is the author of Working with the parents of aggressive children: A practitioner's guide, published by the American Psychological Association.
Carla Herrera, Ph.D.
Carla Herrera is an independent consultant who was formerly a Senior Research Fellow with Public/Private Ventures. Dr. Herrera was the Principal Investigator on a major randomized trial of Big Brothers Big Sisters school-based mentoring programs. She also directed the recently completed multi-site study evaluating how match experiences and the effects of mentoring vary by the risk status of participating youth. The study was conducted in collaboration with Washington State Mentors.
Noelle Hurd, Ph.D. MPH
Dr. Hurd is an Assistant Professor of Psychology at the University of Virginia. Her research focuses on the ways in which natural mentoring relationships promote resilience during adolescent development. She gives particular attention to the role of contextual factors in promoting or deterring the formation of intergenerational relationships and shaping the nature of interactions between marginalized youth and the adults in their communities.
Michael Karcher, Ph.D., Ed.D.
Dr. Karcher is a Professor in the College of Education & Human Development at University of Texas at San Antonio. He is an expert on cross-age peer mentoring in schools. Currently he is co-Principal Investigator of an OJJDP study to better understand the role of advocacy in effectively mentoring delinquent youth. He conducted one of the first large-scale school-based mentoring studies, the Study of Mentoring in the Learning Environment (SMILE) funded by the William T. Grant Foundation and is co-editor of the landmark Handbook of Youth Mentoring. 
Sarah E.O. Schwartz, Ph.D
Sarah E.O. Schwartz, Ph.D., is an Assistant Professor of Psychology at Suffolk University. Professor Schwartz focuses on ways in which mentoring relationships and networks of support foster healthy outcomes during the transition to adulthood. She conducted early and influential research on youth-initiated mentoring. More recently, she received funding from the WT Grant Foundation to evaluate an intervention she developed to teach first-generation college students to cultivate mentoring relationships and social capital in the transition to college
Thomas Keller, Ph.D.
Thomas Keller, Ph.D., is the Duncan and Cindy Campbell Professor for Children, Youth, and Families with an Emphasis on Mentoring and Director of the PSU Center for Interdisciplinary Mentoring Research. Professor Keller studies the development of mentoring relationships and initiatives to enhance the effectiveness of youth mentoring programs. He also directs a major NIH-funded research training program for undergraduates from backgrounds historically underrepresented in biomedical sciences.
---
Research Highlight: Dr. Carla Herrera
Dr. Carla Herrera discussed the nation's first large-scale study to examine how youth's levels and sources of risk may influence their mentoring relationships and the benefits they derive from participating in mentoring programs. The study: The Role of Risk: Mentoring Experiences and Outcomes for Youth with Varying Risk Profiles, has been released by leading national researchers Carla Herrera, David L. DuBois and Jean Baldwin Grossman, with the support of the the Bill & Melinda Gates Foundation. Oversight and support for the project were provided by Washington State Mentors. The study involved more than 1,300 youth, drawn from seven programs serving young people in Washington State. In addition to important findings with regard to youth risk factors, the study also looked at outcomes not widely examined in mentoring programs in the past: particularly there are very interesting findings on youth and depression.
Research Highlight: Dr. Sarah E.O. Schwartz
Dr. Sarah Schwartz discussed mentoring relationships through the lens of attachment theory, which generally states that formative experiences with caregivers (often at a very young age) form working models in our brains of what relationships look like. These formative experiences influence how we perceive our connections to others and behave in relationships throughout the rest of our lives. The question Dr. Schwartz poses is whether youths' relationship histories with parents, teachers and peers impacts their ability to form new, positive relationships with a mentor leading to positive outcomes. Her study looked at 1,139 mentoring matches from 10 Big Brothers Big Sisters  programs offering mentoring in 71 schools.