Our Guiding Values and Timeline
Our Mission and Vision

Our vision: The Student Sustainability Center empowers all students to be keepers of an interdependent, healthy, regenerative world. 
 
Our mission: The Student Sustainability Center is an accessible hub that empowers students to become intersectional sustainability leaders by providing experiential learning opportunities and resources. 
Our Values
Values are guiding principles and themes that describe why we join together as a team toward the departmental vision and mission. 
 
Varied Levels of Engagement: We strive to create accessible, experiential learning opportunities for students at Portland State where they can engage in sustainability based on their interest level including the options to volunteer, participate as a leadership fellow, and/or be employed as a part-time staff member.
Community Oriented and Cause Driven: We orient our work around supporting the greater campus community's sustainability needs from an intersectional lens. We recognize our role in strengthening mutually beneficial partnerships with centers outside of our own and work to grow our network of exchange and impact over time.

Intersectionality and Inclusivity: We work to center equity, cultural sustainability, intersectionality, and anti-racist practices in our work. We commit to reflexively examining our own programming and the work of the greater sustainability movement in dismantling harmful systems of oppression.
Responsibility to Accountability, Reflexivity, and Responsiveness: We hold ourselves accountable to the values that guide our purpose, actively seeking to assess and address issues within our program, and take measurable steps to improve them.
  
Sustainability Leadership: We empower students to identify as sustainability leaders in the PSU community and beyond, encouraging systems thinking and adaptive leadership through our offerings of educational growth opportunities.  
Sustainability is an important part of PSU's mission, and SSC makes sustainability accessible to students by their physical location, student focus and programs. Social justice and sustainability go hand-in-hand toward creating a valuable experience for our students and addressing global challenges. Cynthia Gomez, Executive Director of Cultural Resources Centers
SSC Timeline
All SSC programs and activities have been developed with support and feedback by student participants and the PSU community.
2008  Students from across campus, including the Student Sustainability Leadership Council, advocated for a student-focused sustainability engagement program when PSU received the Miller Foundation Challenge Grant.
2009 The Student Sustainability Center launched with financial support through the Institute for Sustainable Solutions.
2010 EcoReps and Sustainability Volunteer Program launch.
2011 Created learning outcomes and assessment plan to measure impact and learning of our programs and activities.
2012 First quarterly field trip is hosted.
2014 SSC completed an extensive strategic planning process that charted future growth through 2019.
2015 The SSC became a new fee funded area with support from the Student Fee Committee.
2016 Began reporting to Student Activities and Leadership Programs and moved to centrally-located office in Smith Student Union.
2019 The SSC celebrated its 10 year anniversary.
2019 The SSC and SCEC launched our Hub office space in Smith Student Union.
2020 The SSC completed its first term of remote volunteering. 
2020 The EcoReps program was rebranded and consolidated with the Student Sustainability Leadership Council, introducing the new Campus Representatives program. 
Laihha Organna, Interim Coordinator
Growing up as a creative, close to nature, Laihha found her passion in all things green space design. She just received her Bachelor's Degree in Geography from PSU with a focus on Sustainability, Water Resources and Permaculculture. She continues to be involved in the SSC as an alumni.
Serena Dressel, Graduate Assistant (Leadership Programs Coordinator)
Serena grew up in the Willamette Valley and on the Oregon coast, driving her connection to place and passion for sustainability. Serena is pursuing her Masters in Public Affairs with a specialization in Global Leadership and Management, and a certificate in Postsecondary Adult and Continuing Education.
Caitlin Costello, Volunteer Coordinator
Growing up just a short distance from Yosemite and the California coast, Caitlin moved to Oregon 15 years ago. As an environmental science and anthropology student, Caitlin hopes to find and develop ways of making environmentalism more inclusive and accessible.
Cami Ort, Cultural Sustainability Coordinator
Cami grew up on the island of Kauai, as well as Alabama, Florida, and California for a short period of time before finding her way up to Portland. She is majoring in Psychology, pursuing an interest in working with children and families. Earth Care, People Care, and Fair Share guide her success.
Gianna Sullivan, Garden Coordinator
Gianna is found her greatest love in nature, agriculture, and design through studying the creative work of friends and mentors. Her studies of ecosystem design throughout the world are continued. She is working on a Bachelor's in Architecture with a double minor in sustainability and Italian Language
Advisory Board 
The Student Sustainability Center Advisory Board provides guidance as we implement our strategic plan. Members provide insight and feedback about the SSC's programs and activities, major decisions, and budget allocations. They also advocate for the SSC throughout Portland State University.
Advisory meetings are convened once per quarter.
143
Volunteer Positions Filled
90%
Undergraduate Students
Service Hours Volunteered
SSC Learning Outcomes
2020-2021
Social Justice
Controversy with Civility
Consciousness of Self
Sustainability Leadership and Systems Thinking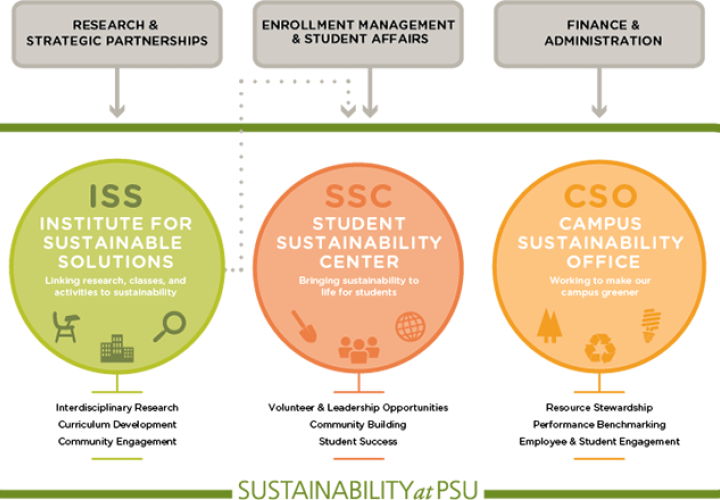 Our Partners
We partner with on-campus and community organizations on shared programs and initiatives. Our primary partners include the Student Community Engagement Center and the organizations that encompass Sustainability @ PSU (The Campus Sustainability Office, and the Institute for Sustainable Solutions).
Learn more about Sustainability at PSU in this video.