About the Center for Improvement of Child and Family Services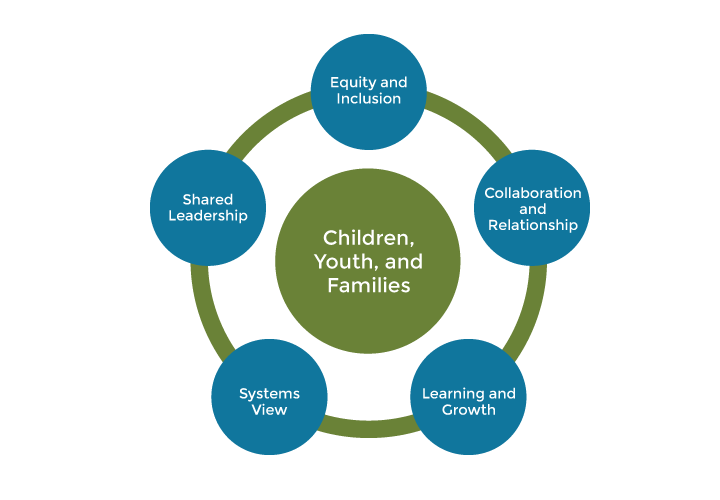 Our Work Strengthens Organizations and Communities
Building the workforce through training, education, coaching, and mentoring

Advancing systems change through convening, collaborating, and consultation

Informing change with research, knowledge partnerships, and program evaluation.
---
History of The Center for Child and Family Services
The Center grew out of our founding program – the Child Welfare Partnership. Founded in 1993 this program combined research, evaluation, education, and training to the ongoing improvement of child welfare.  
Over the years it became clear that child welfare alone could not address the many challenges faced by vulnerable children, youth, and families in our society. It was important to get upstream to build family resilience. It was important to weave the services of multiple systems together and center the voices of parents and youth in supporting child and youth development. It was important to meet the underlying challenges of poverty, systemic racism, and exclusion that led to family problems.  
We wanted to be part of the solution to these broader issues, while continuing to work closely with child welfare.  We expanded to build allied programs, housed under the umbrella of the Center for Improvement of Child and Family Services.  
The System of Care Institute promotes interagency case planning and systems integration for Oregon and other states to support well-being of youth who have complex challenges.
The Family Support and Early Childhood Research Team conducts program evaluation research to advance equity-rooted child abuse prevention / family support practices such as home visiting, school and community based family support, and parent-child visitation, as well as other intervention research and evaluation.
The Child Welfare Partnership continues to meet the workforce development and practice improvement needs of Oregon's child welfare system.
We have developed significant programs and impact in partnership with community coalitions and national groups promoting racial equity in child and family services, leadership development, and rural and tribal services.
---