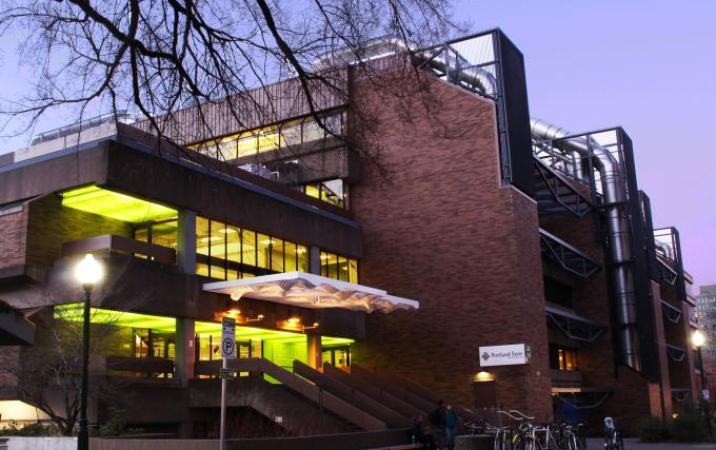 Address
1719 SW 10th Avenue, Portland, Oregon 97201-3203
Building Features
All Gender Restrooms: Six single-occupancy restrooms in the following locations:
Basement - Room B2-34
Basement - Room B2-38
Basement - Room B1-22
Basement - Room B1-58
Floor 4 - Room 426
Floor 4 - Room 452
Bike Parking (Indoor)
Student Lounge
About the building
Science Research and Teaching Center (SRTC) occupies portions of two blocks. One is between SW Tenth, Eleventh, the Mill Street right-of-way and the Montgomery Street right-of-way. The building extends south across the Montgomery Street right-of-way. Science One is just to the north, the Harrison Street Building and the North/South Greenhouses to the south, and the student residence Joseph C. Blumel Hall to the west. 
SRTC has four-floors above ground, and two basement levels. An accessible covered sky-bridge extends from the second floor at the north end to the second floor of Science Building 1. Wheelchair access to SRTC is located on both the southwest and southeast corners of the building.
Campbell-Michael-Yost designed the building in the new brutalism style, which was completed on November 1, 1971 for a total cost of $7.045 million. Originally the building included two levels of parking but in 1975 these areas were converted into laboratory and office space. A recent hazardous materials building addition and a remodel and seismic upgrades to the main building were designed by IDC Architects and completed in 2011.
Naming History
Science Research and Teaching Center (SRTC), 2011-present
Science Building 2 (SB2), 1969-2011
Project History
Renovation, Hazardous Waste Facility expansion, and seismic upgrades, 2011, designed by IDC
DEQ & State Health Laboratories Expansion, 1975, designed by Campbell-Yost-Grube
Original construction, 1971, Campbell-Michael-Yost
Historical Photos: Science Research and Teaching Center from the University Digital Gallery
Building Details
Square Footage:
Gross Square Footage: 215,860
Net Assignable Square Footage: 119,989