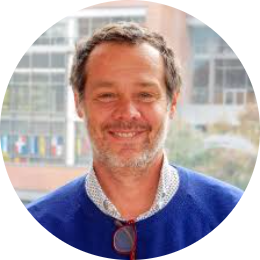 Leopoldo Rodriguez
---
Associate Professor
OFFICE HOURS CONTACT INSTRUCTIONS
Office hours will be via Zoom. Email Dr. Rodriguez to make an appointment for office hours.
BACKGROUND
I grew up in two major cities in Latin America: Buenos Aires and Mexico City. The social contrasts and economic problems I witnessed growing up led me to seek solutions in the field of economics when seeking a B.A. at the University of Texas-Austin. Heterodox approaches to economics made a strong impression on me, particularly in their relevance to conditions present in developing countries. Seeking to step from theory into policy led me to a Master in Public Affairs at the LBJ School of Public Affairs, only to rediscover the call of theory and my desire for an academic job, resulting in a PhD in Economics, once again from UT-Austin.
INTERESTS
My research interests are broad and interdisciplinary. I have worked on labor markets, migration, financial crises, the political economy of market reforms, rural development and the Cyprus conflict. Currently I have a strong interest in sustainability, particularly in relation to rural environments and agriculture. In addition to work on rural development in a small community in NW Argentina, I have studied the environmental and social impacts of the expansion in the use of GMO seeds, particularly RR soybeans, in the country. More recently, I have focused on the barriers and motivations faced by farmers in Argentina to adopt agroecological methods of production. I am particularly interested in how and why horticulturalists, primarily Bolivian immigrants to the country, make a transition to agroecology. Another recent strand of my research has been on Argentine politics, particularly the relation between political scandals, corruption allegations and the judicial system.
I am a gregarious person who enjoys teaching and have high expectations from my students. My background in economics gives my courses a marked orientation; something that at times represents an unexpected challenge to students. I am passionate about what I teach and hope to get students fired up about the things that excite me. I do not claim objectivity, but attempt to present several sides to any one issue, leaving it up to my students to decide where they stand after weighting the evidence.
I have ample teaching experience, starting at the University of Texas-Austin, followed by Austin Community College, Eastern Mediterranean University in North Cyprus and, since 2001, Portland State University. I have led study abroad courses in Rosario and San Pedro de Colalao, Argentina, as well as in Oviedo, Spain. 
COURSES TAUGHT:
INTL 201 Introduction to International Studies
INTL 240  Introduction to Latin American Studies
INTL 341  Environment and Development in Latin America
INTL 390  Foundations of Global Studies
INTL 397  Theory and Policy in International Development
INTL 407  Seminar 
INTL 490  Global Sustainable Development 
Education
Ph.D. in Economics
University of Texas at Austin
B.A. in Economics
University of Texas at Austin
M. Public Affairs
University of Texas at Austin