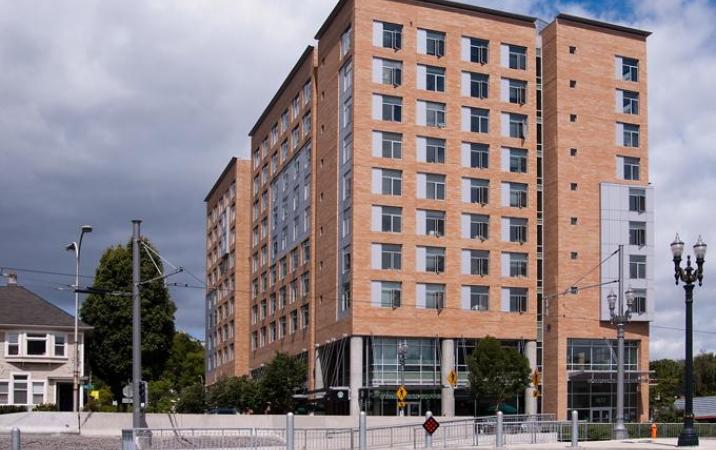 Address
625 SW Jackson Street, Portland, Oregon 97201-4922
45.50940318598, -122.6845509117
About the building
Broadway Residence Hall is an eleven-story student residence located at the corner of SW Broadway and Jackson Street. Broadway is an L-shaped structure with its northern-wing extending to SW College Street and its eastern-wing to SW 6th Ave. Broadway Hall is the building just west of University Pointe and across the street east of the Shattuck Hall parking lot.
The housing portion of the building operates Fall through Spring terms and consists of furnished studio apartments for both first-year students and upperclassmen. Amenities include kitchenettes with 2-burner stoves (no oven) and mini fridges, private bathrooms (showers but no bathtubs), polished cement floors, and lounges on every other floor. There are classrooms and a computer laboratory located on the second floor and retail businesses dominate the ground floor.
Designed by Otak, Broadway was completed in 2004 and achieved LEED Silver Certification for its environmentally friendly features which includes: an 18,000 sq. foot Eco-roof, a climate responsive design to reduce reliance on energy consumptive mechanical and electrical systems, low flow water fixtures, high performance window glass, and less toxic room finishes. The Broadway received a 2005 BEST Award for Storm water Management.
Building Details
Square Footage
Gross Square Footage: 220,399
Net Assignable Square Footage: 143,313
Building Code: BDWY
Number of Levels: 11
Year(s) Built: 2004