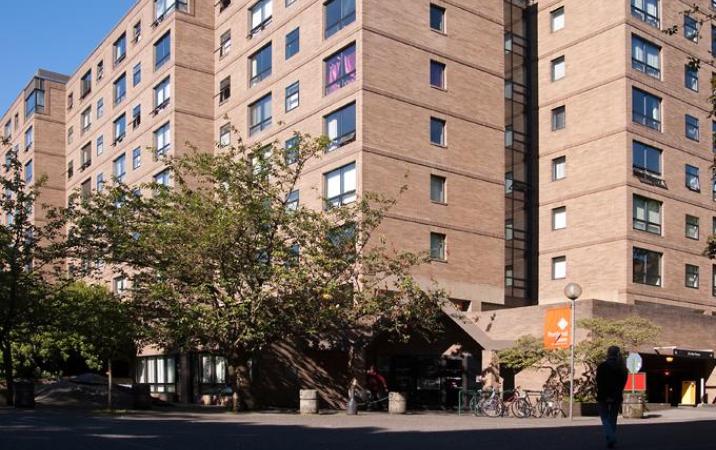 Address
1705 SW 11th Avenue, Portland, Oregon 97201-3001
About the building
Joseph C. Blumel Residence Hall (known as Blumel) is a nine-story, L-shaped, student residence with two parking levels surrounding the Saint Helens Building. It is located along SW Mill Street and 11th Avenue between Mill, 11th, Montgomery, and 12th. Parking Structure 3 is located to its west, Science Research & Teaching Center to its east, and King Albert and Stephen Epler residence halls to its south. Blumel Hall consists of 189 furnished, one-bedroom units and includes a student lounge space on the first level. The building includes two-levels of parking for 169 vehicles including 92 spaces reserved for student residents. The building was originally designed by Michael & Lakeman and built for PSU.
Building Naming History:
Joseph C. Blumel Residence Hall, 2009-present
West Hall, 1988-2009
Student Housing Project, 1986-1988
Blumel Residence Hall is named after the fourth president of PSU, Joseph Carlton Blumel (1928-2007). During his long career at Portland State, Blumel served as a faculty member teaching economics, head of the economics department, dean of undergraduate students, dean of faculty, vice president for Academic Affairs, and the university's longest serving president (1974-1986). One of the many accomplishments of Blumel's presidency was the establishment of four professional schools: College of Engineering, College of Urban and Public Affairs, School of Fine and Performing Arts, and the School of Health and Human Performance (dissolved in 1992 due to financial exigency).
Building Details
Square Footage
Building Gross Square Footage: 124,607
Building Net Assignable Square Footage: 97,572
Parking Gross Square Footage: 79,929
Parking Net Assignable Square Footage: 62,587