2020 Summer Institute on Youth Mentoring
Mentoring Older Adolescents for College and Career
Portland State University and MENTOR: The National Mentoring Partnership are pleased to announce the 12th annual and 1st virtual Summer Institute on Youth Mentoring, July 27-31, 2020.
The 2020 Summer Institute on Youth Mentoring is offered in a virtual format and focuses on the theme of mentoring older adolescents for college and career readiness in the transition to adulthood. Participants in the Summer Institute learn about the latest developments in theory and research on youth mentoring, engage in discussions with peers, and think creatively about program innovation. Online sessions feature leading scholars and will include time for participants to critically discuss implications for program policies and practices. Ideal participants have several years of experience in the field of youth development and are seeking an advanced professional development opportunity. 
---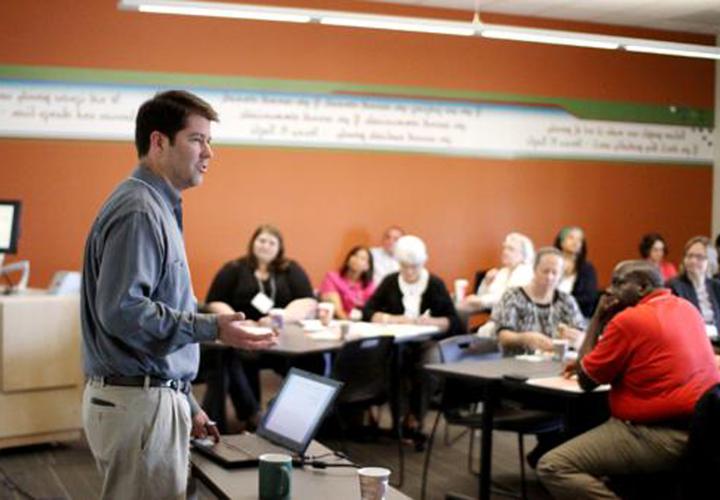 2020 Speakers
Researchers presenting at the Summer Institute have been selected for their expertise in mentoring and youth development
Jess Britt
Jess Britt is the Director of Research and Evaluation for direct service programs at Year Up, a program connecting young adults who need opportunity with employers who need their talents and empowering them to move from minimum wage to meaningful careers in just one year. Her research has examined not only the outcomes for Year Up participants, but also the unique role that relationships with caring adults—at Year Up as well as community, college, and corporate partners—play in supporting these young adults as they build skills, network, and pursue ongoing career and educational opportunities.
Aisha Griffith
Aisha Griffith, Ph.D., is an Assistant Professor in the Department of Educational Psychology at the University of Illinois at Chicago. Professor Griffith's research investigates supportive relationships between adolescents and non-parental adults within formal and informal learning contexts. In particular, she focuses on factors influencing the development of trust within youth-adult relationships and the importance of establishing trust to support positive adolescent development. She is committed to connecting this research with practice in out-of-school time programs promoting youth development. 
Lidia Monjaras-Gaytan
Lidia Monjaras-Gaytan, is a Ph.D. student in Psychology at DePaul University. Her research investigates what predicts the formation of natural mentoring relationships. She is specifically interested in relationships between underrepresented college students (i.e., first-gen, ethnic/racial minority students, low-income) and on-campus mentors. Lidia also is a graduate instructor and mentor for DePaul's McNair Scholars Program, a program that supports underrepresented college students to get PhDs. 
Bernadette Sanchez
Bernadette Sanchez, Ph.D., is a Vincent de Paul Professor in the Department of Psychology at DePaul University. Professor Sanchez has expertise in the role of race, ethnicity, and culture in youth mentoring relationships. Her research also examines the influence of informal mentoring relationships and social networks in supporting the academic achievement and educational opportunities of Latinx adolescents in the transition from high school. Most recently, she has received funding from the National Science Foundation to examine the role of mentoring in the sciences among adolescents of color.
Sarah E.O. Schwartz
Sarah E.O. Schwartz, Ph.D., is an Assistant Professor of Psychology at Suffolk University. Professor Schwartz focuses on ways in which mentoring relationships and networks of support foster healthy outcomes during the transition to adulthood. She conducted early and influential research on youth-initiated mentoring. More recently, she received funding from the WT Grant Foundation to evaluate an intervention she developed to teach first-generation college students to cultivate mentoring relationships and social capital in the transition to college.
Shannon Varga
Shannon M. Varga, Ph.D., is a Research Assistant Professor in the Wheelock College of Education & Human Development at Boston University and is Associate Director of Research and Evaluation for the CERES Institute for Children and Youth. Professor Varga's research has the goal of optimizing programs, policies, and practices that take a relational approach to promoting the healthy development of young people. In her work with America's Promise Alliance, she has studied the role of social capital, networks, and social support in workforce development and re-engagement initiatives with risk immersed and emergent bilingual youth.
---