The Application for the University Studies Mentor Scholarship for the 2021-2022 Academic Year is now open. The application for Undergraduate Peer Mentors is due Friday, January 15, 2021 by 11:59 p.m.
Currently, the application for Graduate Mentors is not yet available. Please check back for updates.
Call the University Studies Office at 503-725-5890 if you have questions.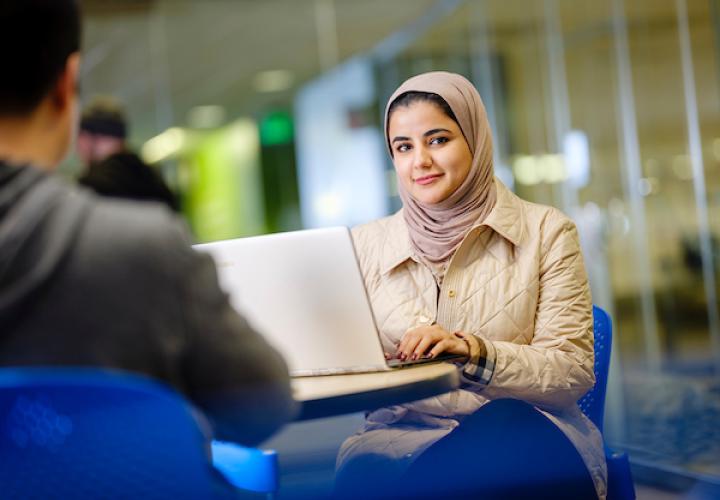 Application for Undergraduate Peer Mentor Position
INTERVIEW TIMELINE for Undergraduates.
Applicants will be notified of their initial status in early February, 2021.  
For those selected, interviews will take place in mid-February.
Finalists will be notified in mid-March, 2021, and will attend a required spring training class. 
Our scholarship, the "University Studies Peer Mentor Scholarship," is listed under "General University Scholarships," which you can find by clicking "Application for Peer Mentor Positions." Undergraduate Mentor Scholarships are listed under the same link.
Portland State University and the University Studies Program are equal opportunity employers, and Peer Mentors receive competitive compensation for their work.
Who is eligible to apply?
All applicants for Undergraduate Peer Mentor positions must have a 3.25 current overall GPA.  Undergraduates who will have successfully completed 90 credits, including all transferable credits, or more by September 2021 may apply to become Peer Mentors for Freshman Inquiry classes. Post-Bac students and those pursuing only graduate certificates are not eligible to apply.
University Studies Mentor Program Application Hints and Tips
Apply early! The General University Scholarship application is used by many programs, and it is lengthy. Be sure to get an early start and give recommenders ample time to write you a letter of reference.
The Peer Mentor Scholarship due date is EARLIER than most other scholarships due to the size of our applicant pools, the number of awards we offer, and our Spring training requirements. NOTE: Your recommenders need to meet OUR deadline, so please communicate this to them early as well. We cannot make exceptions.
Be sure to save your work! If you have not finished your application and you do not save before you exit the online application, your work will not be saved and you will have to start over again.
Remember to select "Review Answers and Submit" at the end of your application!
Check your spam filter for mentor program e-mails and adjust your filter settings to avoid these e-mails going into your junk box in the future.
If you need to have your application re-opened (for other scholarships that occur at a later time), you must communicate this with us and the Financial Aid office so that the database system does not lose access to your application for mentoring. If you re-open your application after our deadline, without contacting both parties, your application may not appear in our final pool. 
What are the additional requirements for the application?
Along with the application, you are required to write two short essays including the University Studies Mentor Essay and the UNST Mentor Diversity Essay.
*Please note that if you are only applying for the Mentor Program's scholarship, you do not have to complete the essays for other departments or scholarships.  You only need to complete the 2 (two) University Studies Mentor Scholarship essays (including the UNST Mentor Diversity Essay).
Two letters of recommendation are required. One of the letters of recommendation should be an academic reference. The other recommendation may be from a person who can speak to your work experience or life in the community.  The letters of recommendation are submitted electronically. You will be asked to provide an email address for those who are writing your letters of recommendation.
If you have any questions, please contact the University Studies office: 503-725-5890.
What is the recruitment and hiring process?
Applications are due by mid-January 2021.  Keep in mind this deadline is earlier than all other scholarship applications.
Applications will then be reviewed for minimum requirements, and those who meet the requirements will have their applications forwarded onto a committee for review.
NOTE: If an application does not meet minimum requirements by the due date, it will not be able to receive a review. We cannot notify applicants about incomplete applications, so please check it carefully and follow up with your recommenders about our due date.
Applicants selected for interviews will be contacted by email to set up an interview time.  Interviews will take place in mid-February.
Some interviewees will be invited as Mentor finalists to attend a training course that takes place during the Spring Term, and may be taken for academic credit or surveyed without credit. Mentor Finalists are REQUIRED to take this training opportunity. Once a Mentor Finalist has successfully completed the Spring training course, they become Mentor Candidates who are then eligible for open positions in Fall. 
Pending Fall enrollment projections, successful Mentor Candidates will be offered contracts in August to begin mentoring in the fall or be placed on a waitlist for an open class.
Mentor Compensation
Undergraduate Peer Mentors receive an Oregon Laurels Scholarship that pays in-state tuition up to 12 credits at the Standard Base Rate (excluding fees). They also receive a monthly Educational Leadership award. See Mentor application for this year's award. Please note that out-of-state and international Undergraduate Peer Mentors will be billed for tuition exceeding the cost of 12 in-state credits per term.
Graduate Peer Mentors are hired as Graduate Teaching Assistants and receive graduate tuition up to 9 credits at the Standard Base Rate, a portion of their mandatory fees, and a monthly stipend. All GTAs are assessed tuition at the in-state rate. More information on university-wide Graduate Assistantships is available from the Office of Graduate Studies HERE. Post-baccalaureate and certificate-only students are not eligible for the Graduate Assistantship positions; mentors must be enrolled in a degree-granting program at PSU.
What are other benefits?
Every mentor benefits in unique ways. Mentors become part of a community of scholars who help others to critically and responsibly engage in our increasingly diverse and interconnected world. Mentors gain valuable leadership experience, develop close working relationships with faculty and become even better students themselves. They also actively participate in over 70 – 100 hours of available training opportunities and may create Mentor ePortfolios as part of their professional development experience in the program. Peer Mentors can also receive independent study credits and explore research collaboration opportunities with UNST faculty and staff.
What experiences or skills do I need?
Have at least an overall 3.25 GPA.
For Undergraduate Peer Mentors: Have 90 or more PSU credits (including transferred credits) by the September they begin work.
For Graduate Peer Mentors: Be admitted into a graduate program. (You may be able to apply for this position if you have not been accepted yet. Please see application details. However, we can only hire those who have been admitted into a graduate program AND who are not post-bac or certificate-only students).
Be an excellent student and superior writer.
Be willing to be an "academic generalist" and approach the content of the courses in an interdisciplinary manner.
Have well-honed interpersonal skills and the ability to work using an equity lens within a culturally-diverse environment.
Have adequate to excellent technology skills (i.e., Pebble Pad, Google Suite, D2L, etc).