Sustainability Education
Graduate Certificate in Sustainability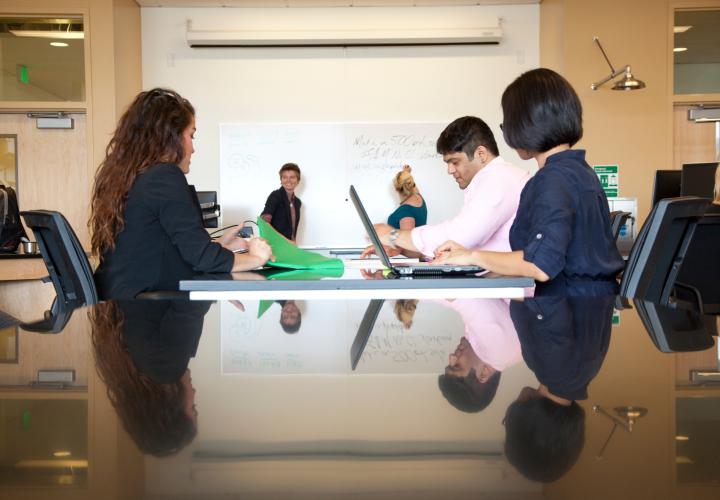 About
Addressing the world's toughest challenges—from poverty and globalization to climate change and urban development—requires unprecedented collaboration and knowledge from every field. This is sustainability.
Program Overview
Portland State University's Graduate Certificate in Sustainability provides students with an in-depth understanding of the connections between social, environmental, and economic systems, and equips them with the knowledge to apply sustainable, integrated problem solving approaches in their lives and careers.
The graduate certificate is open to students from all areas of study and professional backgrounds. It is available as an add-on to a master's or doctoral degree program at PSU—courses in the certificate can often double as requirements for graduate degree programs—or as a stand-alone program for professionals and college graduates seeking to broaden their understanding of sustainability issues. Graduates of the certificate pursue careers in a broad variety of fields, from engineering and urban planning to teaching, communications, and business. 
The Graduate Certificate in Sustainability is offered by the PSU Institute for Sustainable Solutions in collaboration with 14 participating departments and schools on campus. 
Course Requirements
Students must complete the four core courses for 15 credits and two electives totaling at least 7 credits for a minimum of 22 credits total in order to obtain the Graduate Certificate in Sustainability. Students may consult with an adviser to select the two elective courses that will best help them meet their career goals. 
Check specific dates and times for courses and register online here.
Required core courses (15 credits)
COURSE NUMBER

COURSE NAME AND DESCRIPTION

CREDITS

TERM OFFERED

Environmental Science and Management
(ESM) 588

Environmental Sustainability

Sustainability in natural and human-influenced ecosystems, with a focus on processes of regeneration, maturity, collapse and renewal. Topic areas include natural provisioning of ecosystem services, processes of change in ecological systems, interactions among ecological and social systems, economic valuation of ecosystem services, and ecosystem management.

4

Fall

Urban Studies and Planning
(USP) 588

Sustainable Development Practices

Introduction to analytic and management approaches intended to limit the social and environmental harms associated with most past patterns of development. Builds upon basic understanding of socio-environmental change and provides a foundation for subsequent in-depth studies of particular sustainable development strategies and analytic techniques. Students study a broader range of sustainable development topics, tools, and techniques. 

3

Spring

Economics
(ECON) 522

Economics of Sustainability

Economic concepts and theories for analyzing sustainable development, including the emerging field of ecological economics. Roles and practices of the business, government and nonprofit sectors in fostering sustainability.

4

Winter

Sociology
(SOC) 565*

Environmental Sociology

Analysis of the types of social forces that frame the nature of environmental problems concerning resource use and distribution across spatial and geopolitical levels. Examines the social forces that influence which problems are tackled; the mechanisms selected to solve the problems; and the social impact of the selected solutions. 

4

Spring
Elective courses (7 credits)
Elective courses for the Graduate Certificate in Sustainability are offered by various departments across campus. Browse currently offered electives here.
Apply
The Graduate Certificate in Sustainability is available as a stand-alone program, or as an add-on for students concurrently enrolled in a master's or doctoral degree program at Portland State University.
Application Due Dates:
Fall Admission: June 30
Winter Admission: October 26
Spring Admission: February 4
To apply: Complete PSU's online graduate school application.
You will be asked for the following information:
Name, contact information, and some personal details.
Choice of Program: In "Program Selection," choose "Institute for Sustainable Solutions," then "Sustainability, Certificate."
Transcript(s) and Degree Information: You will be asked to upload a scan (an unofficial copy) of transcripts from each post-secondary institution you have attended. Please see what an Unofficial Transcript is here. *Please note that you will need to provide Official Transcripts if you are admitted to the university. For further details regarding graduate admissions, please visit the Office of Graduate Admissions.
Emails for three professional letters of recommendation (a request for a recommendation letter will be automatically sent to the emails you provide)
Resume
Questions?
For information or questions, visit our FAQ page or email gradsustaincert@pdx.edu
Program Director: Sahan Dissanayake, sahan@pdx.edu, 503-725-3915