News
Alumni in the News: Viking Great Freeman Williams Highlights Movie Screening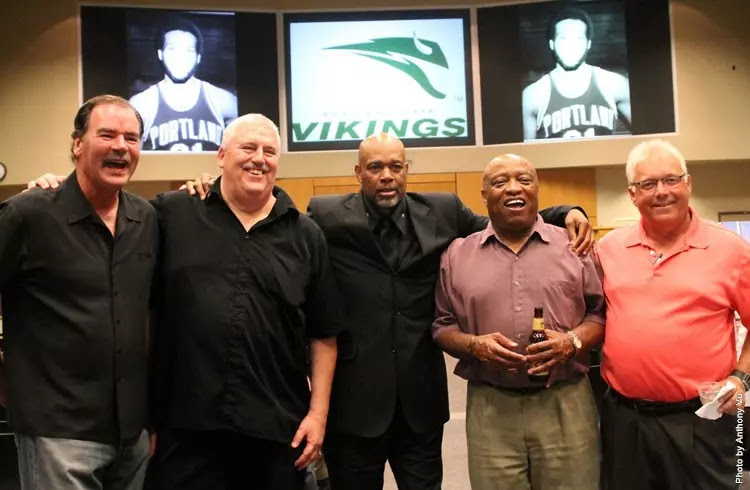 Freeman Williams (center) spent time with former teammates and friends on the Portland State campus at the screening of the movie "Inner City Champions".
A screening of "Inner City Champions" took place on the Portland State campus Tuesday night, and allowed Viking fans, boosters, teammates, athletes and staff express their affection for legendary basketball star Freeman Williams.
The movie tells the story of Manual Arts (CA) High School stars Williams and Dwayne Polee lives and their attempts to revive their alma mater's basketball program. Williams and movie creator and producer Frederick Hawthorne attended the screening that was viewed by some 200 people at Hoffmann Hall.
After many handshakes and photos, the film was screened, then Williams and Hawthorne took part in an question-and-answer session that remembered Freeman's 81-point game (official Howard Mayo who worked that game was also in attendance and spoke) among other career highlights at Portland State and throughout his career.
Freeman Williams played basketball at Portland State from 1974-78. He scored 3,249 points in his career - second only to Pete Maravich in NCAA history. Williams was a first team All-American in 1978. He want on to play six seasons in the NBA for the San Diego Clippers, Atlanta Hawks, Utah Jazz and Washington Bullets.
Inner City Champions won the Los Angeles Underground Film Festival Award last year.