DT403 Narrative and Communication Design
About This Course
Narrative development and communication are critical components in the design thinking process. Building a narrative is how organizations communicate with their teams and their customers. The success of innovation often depends on the success of a communication strategy because communication is a key, and often undervalued, component of the innovation process. Silos and lack of communication can hamper progress, while open, empathic communication can lead to breakthroughs.
In this course, participants will unpack the components of strategic communication, communication challenges, strategies for working in interdisciplinary teams, and communication strategies for supporting the innovation process. A key component of this course will focus on narrative development through story listening and storytelling. Stories convey an understanding of what already exists and provide a context for brainstorming and developing new insights.
Course Snapshot

Format
 
Course delivered in a virtual format with live instructor & student interaction

Frequency
 
Once per year (Fall)


Length

One week with a 15-hour workload. Please check the schedule for live session dates and times.

Cost
 
$549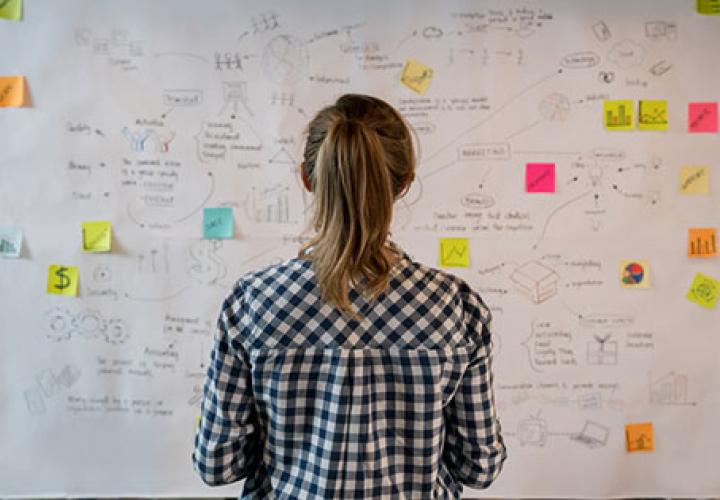 Design Thinking and Innovation
Design Thinking is a holistic, human-centered way to tackle the challenges of today's increasingly automated business environment. Design thinking methodology and tools integrate higher order thinking skills like problem solving, critical thinking, creativity, and collaboration to align with customer...
What You'll Learn
Upon completion of this course, students will have gained the knowledge to:
Understand the impact that communication has on design thinking and the innovation process;
Be able to ease and excite users and stakeholders through the changes that innovation brings;
Be able to successfully represent a project to various stakeholders and decision makers;
Increase cohesiveness of narrative regardless of perspective.
The Learning Environment
This course is delivered in a virtual format and combines lectures, discussions, and group activities. 
Other Courses in this Certificate Track
Enrolling in the full certificate program allows for more comprehensive learning in regard to design thinking and innovation.
Courses may be taken individually and in any order unless otherwise noted. Four courses are required to complete the certificate. If pursuing the certificate, all courses in the certificate program must be completed within three years. Visit the program page for a recommended sequence.
Meet the Instructor
Roel Uleners
Roel Uleners is a design partner who loves playing at the intersection of design, strategy, and people. Previously, he was the vice president of strategic design at Chehadé & Co. and an assistant professor at the Pacific Northwest College of Art. Roel earned his MFA from the Royal Academy of Arts and his Masters-after-Masters in Visual Communication from Sint-Lucas School of Arts and Design.