DT402 Human-Centered Design
About This Course
Service, business, software, and product design organizations have increasingly looked to users and customers to inspire their next innovations. Taking a human-centered approach, this course follows the design thinking process of user research, qualitative and quantitative data analysis, problem identification, ideation, prototyping, testing, and implementation. Different from other traditional approaches to innovation, human-centered design will first satisfy human needs before looking at technology applications and business cases.
Humans are infinitely more complex than any business model or technology advancement. To better understand the complexities and needs of humans, this course draws from many fields, including organizational management, engineering management, research methodology, performing arts, visual arts, sociology, psychology, business foundations, and communication.
Course Snapshot

Format
 
Course delivered in a virtual format with live instructor & student interaction

Frequency
 
Once per year (Fall)


Length

One week with a 15-hour workload. Please check the schedule for live session dates and times.

Cost
 
$549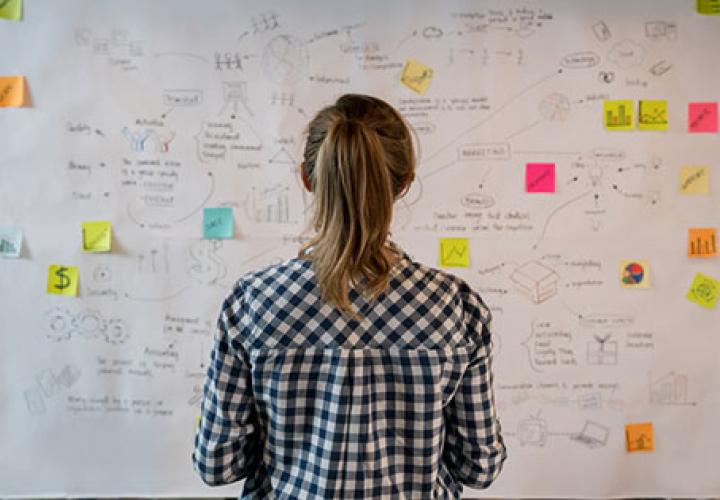 Design Thinking and Innovation
Design Thinking is a holistic, human-centered way to tackle the challenges of today's increasingly automated business environment. Design thinking methodology and tools integrate higher order thinking skills like problem solving, critical thinking, creativity, and collaboration to align with customer...
What You'll Learn
Upon completion of this course, students will have gained the knowledge to:
Develop a clear link between design decisions and user needs;
Be able to form and participate in interdisciplinary teams;
Be more agile with changing perspectives to enable multi-stakeholder understanding;
Learn how to develop a persona, and then how to use the persona as a design partner.
The Learning Environment
This course is delivered in a virtual format and combines lectures, discussions, and group activities. 
Other Courses in this Certificate Track
Enrolling in the full certificate program allows for more comprehensive learning in regard to design thinking and innovation.
Courses may be taken individually and in any order unless otherwise noted. Four courses are required to complete the certificate. If pursuing the certificate, all courses in the certificate program must be completed within three years. Visit the program page for a recommended sequence.
Meet the Instructor
Sara Mesing
Sara Mesing is a senior experience designer for Cambia Health Solutions. She has delivered over 30+ human-centered design projects across social impact, healthcare, higher education, corporate, and government sectors. Prior to Cambia, Sara worked as a systems lead at XPLANE. Sara holds a BA in English Literature and French Studies and an MBA from Case Western Reserve University.