News
Alumni in the News: Neumayer retires after four decades as CPA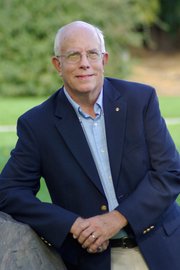 #Ben Neumayer has seen a lot of changes in his almost 40 years as a CPA, most of those working with the same firm in The Dalles.
#Neumayer announced his retirement from the firm of Friend and Reagan on April 15 after the close of the income tax season.
#"Tax return preparation has changed immensely," Neumayer said Tuesday. "When I came here we did every tax return longhand." He joined the firm of Bailey, Clark and Byers in 1976.
#Every number was confirmed by the supervisor and checked with a purple dot if in agreement.
#"If he didn't agree, he'd give it back to you to fix."
#Neumayer had been preparing tax returns long before that. He started as a teen, doing them longhand at the kitchen table for the family farm near Mollala. He served in the Navy for seven years and he helped his buddies with their returns – for beer.
#"A simple tax return was a case of beer and a complicated one was more," he said.
#He was working his way part-time through college at Portland State University, changing majors periodically, in about his sixth year of attendance, before he finally settled on accounting. His wife, Arlene, a nurse, had a co-worker whose husband taught the accounting class at PSU.
#"I decided I wanted to take his class," he said. Within a few weeks he found accounting suited him. "It makes sense, it's precise, it's concise and everything has to balance in the end."
#Neumayer had worked at Montgomery Ward before serving in the Navy. He finished his business degree while in the Navy and had re-employment rights at Wards, joining their controller training program. Every store with revenues of over $10 million had its own controller, so he landed a position as a store controller in San Bernardino, Calif., where he worked for 2½ years.
#"But that was accounting and internal auditing," Neumayer said. "It didn't qualify me to become a CPA and that was my goal, so I left Montgomery Ward and took an entry-level job with a public accounting firm in Riverside, Calif."
#He was there when he passed his certified public accountant certification.
#"About the same time, I got a job here and relocated."
#At the time he joined the firm, it was called Bailey, Clark and Byers CPA, but the name changed over the years. After Dude Bailey retired, Neumayer and Gary Bradford bought into the firm and the name became Clark, Byers, Neumayer and Bradford. When Ron Clark retired, it became Byers, Neumayer and Bradford, which it remained until 2010, even after John Byers retired. Then Carol Friend and Nate Reagan bought the practice from the two remaining partners, Neumayer and Bradford, and the firm gained its current name, Friend and Reagan. It was a smooth transition, Neumayer said, after both principals had worked at the firm for a number of years.
#Neumayer and Bradford have continued to work on contract since the change.
#Over the years, the firm was a good fit, Neumayer said, and followed a full-service business model that provided full-time employment for skilled business professionals.
#Tax returns kept them employed through mid-April, followed by a brief slow period, then audits — mostly municipal audits — kept the staff occupied in summer and fall.
#While the core of the business remained the same over the years, other things changed.
#The 1980s arrived and so did the age of computers.
#"We got our first computer for taxes somewhere in the mid-1980s," Neumayer said. "It was a huge mainframe computer in the basement."
#The accountants filled out data forms, then one employee input all the data. The output was a tax return on six-part perforated paper, providing copies for all the required purposes.
#"Then we had to bust them all apart," Neumayer said. "It was a big process."
#Automation of the process meant changes were relatively easier to make. And as technology improved, so did the workload involved in tax season.
#"In the old days, there used to be 60- or 70-hour weeks, but it's not that way now — things are so automated. There's still some overtime and we are still open Saturdays, but that seven-day-a-week demand is not normal anymore."
#The era of computerized self-preparation hasn't affected the firm much, Neumayer said, other than the occasional need to unsnarl a problem for someone who got in over their head. Generally speaking, Friend and Reagan handles more complex tax returns than just the standard W-2 wage-earner.
#"There are changes every year," he said, "but if you do your tax return yourself every year, the changes aren't overwhelming. But if you've never done them and you jump in and do a complex tax return, then it gets overwhelming."
#Organized record-keeping helps, he said.
#"I always tell people it's a year-round thing, not a First of April thing. The decisions you make all year long are going to affect your tax return."
#He said he and his fellow CPAs have always tried to strategize with clients to help them make the wisest decisions. During his tenure, sometimes those relationships have stretched over generations.
#"Succession planning has been fun, too," he said. "I've been here long enough that I've been involved in a number of business transitions to the next generation, or wound up business, or sold to outsiders."
#Neumayer has also seen the local economy change over the years, becoming more complex and diversified. When he started, he said clients usually consisted of "the downtown business corridor, medical and other professionals, and agribusiness. Now it's much more interesting and diversified."
#Though he had done a number of kinds of work before turning to public accounting at the age of 30, the latter turned out to be the right fit for a lasting career and The Dalles was the right place to build that career.
#Neumayer supported the family with his accounting business, while his wife, Arlene, worked part-time as a nurse to help put their two children through college.
#The Neumayers have no plans to move away from The Dalles and Neumayer isn't entirely certain what retirement will bring, although travel and time with grandchildren are both on the list. They have both done a fair amount of overseas missionary work during their lifetime and Neumayer isn't ruling out more. But he also has a lot of friends across the country and hopes to spend some of his time visiting and seeing the United States.
#Summing up the twists and turns his life has taken over the decades, Neumayer notes that he and his wife are both Christians and he feels a guiding hand led him to this point.
#"We believed the Lord moved us here," he said. "It's a fantastic place to live. We prayed about not living in California and about not buying into an accounting firm there. Then a window opened here and we believe it was providence. There were a number of times when I felt like the Lord was leading me in a certain direction."